Note: Prizing & samples courtesy of Mega Bloks. All opinions are my own. Giveaway open to U.S. addresses only. ©2013, MEGA Brands Inc. ©2013 Mattel. All Rights Reserved.
My daughter loves all her Mega Bloks sets and when I found out that there was a new Mega Bloks Barbie® Build 'n Play Super Star Stage coming out, I knew she'd love it. Music is so important in our family. My husband comes from an all musical household and I feel like ours is going to head in the same direction. The kids all love to go downstairs and crank the music and play on Daddy's drumsets and with his percussion instruments.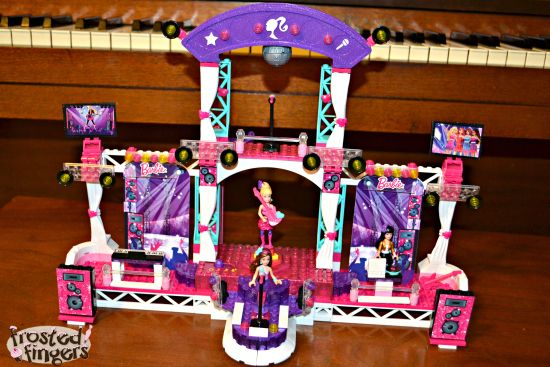 My 8 yr old son put this stage together for his sister since he LOVES building blocks. He had a few issues getting the stage to stay together as he built it, but I have a hunch that if he'd made it on a solid surface instead of switching back and forth between the piano bench and the carpet, he'd have been fine. It took him approximately an hour to build the stage for his sister.
I love all the details they put into this set. They have guitars, keyboard, microphones and a DJ booth. Monkey pulled up all her Barbies from her Mega Bloks sets and had them play on the stage. I need to get the basement cleaned up so she can set up all her sets together to play at once. (Not to mention it's time to do the semi-annual purge, especially with baby coming sooner rather than later!) I took pictures of Monkey playing with the set, but it was kind of dark in the room and they just didn't turn out well.
Get ready to rock 'n roll with Barbie® and her friends as they put on the hottest show in town with the Mega Bloks Barbie® Build 'n Play Super Star Stage. Build this huge two-story rock show any way you want with 5 stage pieces and real concert controls that let you direct the show in two different ways!

Mode One lets you start up the real multi-color flashing lights and change between four different songs as Barbie® and her friends play their latest hits that will be sure to get all of her fans rocking!

Mode Two lets you choose the music! Play or sing along to your favorite songs on the radio and the concert lights will flash right along to the music! Put on a show filled with all of your favorite songs that Barbie®'s fans will never forget!

Special concert pieces like silver scaffolding, huge amplifiers, glittering blocks and a sparkling disco ball set the mood, while the stage elevator and large video screen lets everyone enjoy watching Barbie® perform anywhere at the concert. Hit the lights, check the sound and roll camera as Super Star Barbie®, Raquelle® and Teresa® get up on stage and rock the roof off with a keyboard, guitar and 3 different microphones.

Ideal for children aged 5-10!
The Mega Bloks Barbie® Build 'n Play Super Star Stage is priced at $69.99 on Toys R Us right now. You can win one right here, though, by filling out the Rafflecopter form below.