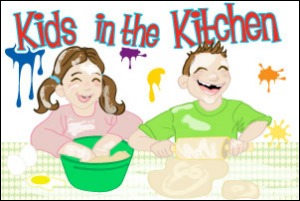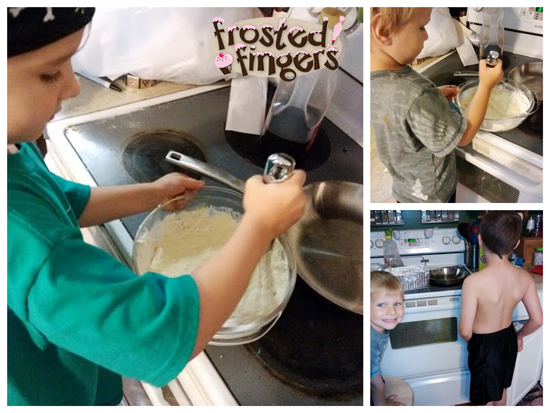 Yesterday morning the boys asked what they were having for breakfast. I said "whatever you make." They decided they wanted to make pancakes. Seeing that they can't even crack eggs alone, yet, I needed to get up and help them. Buddy got all the ingredients out himself by reading the back of the box and I also made him read to me to tell me what we needed to do with those ingredients. I measured the ingredients because I didn't feel like cleaning up Bisquick or milk this morning. The kids all took turns mixing the batter. Monkey even ran in and helped. (She doesn't normally dress like a pirate, it's pirate themed day camp this week.) Of course once the batter was done the kids scattered when it came to actually cooking the pancakes. It's ok, I burn enough without their help!

Did you have fun in the "kitchen" this week? Did you try a new food or a new kid friendly restaurant? Did your littlest ones use their snacks to count to 10? We invite you to share your experiences, photos, stories or recipes that include your #kidsinthekitchen.
Come join me and my co-hosts, Melinda at Look What Mom Found and Sara at Sensibly Sara, each week linking up a post, new or old, that feature the theme Kids in the Kitchen. It doesn't matter what you are doing as long as you are doing it together, enjoying it and learning something along the way.
preparing healthy snacks
having a tea party
discovering a local restaurant that your kids love
creating new family friendly recipes
Don't have a blog? Share an instagram photo or Facebook update.