Outback Steakhouse in order to honor some of our amazing troops from the area. Operation Homefront put together this amazing lunch and had a special guest show up. As you can see from the picture above, the special guest was Tim McGraw.
Chicago News and Weather | FOX 32 News
It was so nice to see the military honored in such a way, and I wish they could have invited more people to honor! I was thinking that my friend Manny should have been there at the lunch. Had I had a way to invite him, I would have! Tim McGraw was amazing. He made sure he visited and spent time at every table, even ours, even though we were not any of the honored guests at lunch. I like that he took the time to make everyone feel special.
Yesterday I was honored to be invited to a lunch at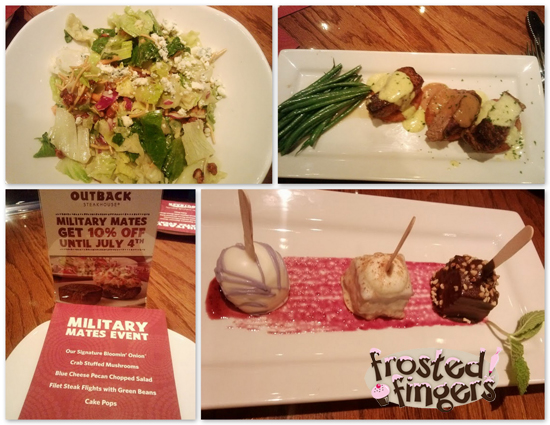 When I go to Outback I always get the same things, so it was kind of nice to step outside of my usual for once. I realized when I left that I never got any of my favorite bread from the, though. (I also missed having a Wallaby Darned, which is my favorite alcoholic drink of all time!) For lunch they served us the famous Bloomin' Onion, Crab Stuffed Mushrooms (which I didn't try), Blue Cheese Pecan Chopped Salad, Filet Steak Flights with Green Beans, and Cake Pops. I actually REALLY liked the salad. I normally get their tangy tomato dressing, but next time I'll have a difficult choice to make when I go. The steak flights are a new menu item and you get a choice of four different sauces to try on them. I chose the brandy peppercorn and the bernaise sauce. I thought the steaks and sauces were good, but I did not care for the potato pancakes that they were served on.  Also new to the menu were the cake pops. They have three different flavors for those: cheesecake melba, chocolate peanut butter and carrot cake. I loved the cheesecake pops followed by the carrot cake. I wasn't a fan of the chocolate one, because it tasted like it was dark chocolate to me. Overall I really enjoyed the lunch and was glad I got to try something new off their menu.
If you are a member of the military (#MilitaryMates), you get 10% off of your bill until July 4. I think it's a great, small way to honor our troops! Thank you again to Outback, Operation Homefront, and Tim McGraw for our awesome lunch!
Note: I was invited to the Operation Homefront event at (and sponsored by) Outback Steakhouse. I received lunch and a gift bag on the way out but was not financially compensated for this post, and writing this post was not a condition of attending.