Note: I received product samples to facilitate my review as well as a promotional item as a thank-you for participating in this campaign.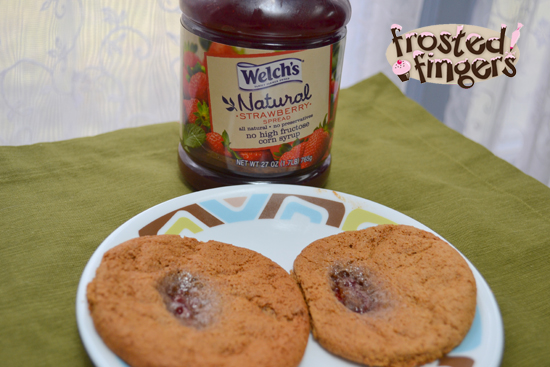 Did you know that April 2 is National Peanut Butter and Jelly day? Little Man will be super happy, as he asks for a PB&J sandwich every day! In our house we use Welch's Natural Spreads because the contain no high fructose corn syrup, no artificial flavors or colors, and no preservatives. I like grape, but the rest of the family likes strawberry. I decided to make peanut butter and jelly cookies to celebrate PB&J day. We had no peanut butter in my house since my son is such a PB&J hog, so I made my own peanut butter using Sara's directions. My patience stinks some days and that was one of them. My peanut butter never really got creamy but I used it for the cookies anyway. They didn't look very pretty, but they tasted good! I loved that the cookies remained soft even a few days after baking them. I'm not a fan of crunchy cookies. With the jelly in the middle of the cookies and them being soft, I would fold them in half to eat them and save the jelly for the end. I may be just a tiny bit weird, it's ok to say. 🙂
Peanut Butter and Jelly Cookies Recipe
Ingredients
1

cup

smooth peanut butter

1/2

cup

light brown sugar

1

teaspoon

baking soda

1

large egg

1/4

cup

Welch's Strawberry Fruit Spread
Instructions
Preheat oven to 325 degrees F.

Lightly grease a cookie sheet with butter or use a silpat or liner. Combine in a medium mixing bowl 1 cup smooth peanut butter, brown sugar, baking soda, and egg. Roll into 12 balls and evenly space on the cookie sheet. Slightly press cookies down and make a small indentation with index finger or the back of a teaspoon. Place 1 teaspoon Welch's Strawberry spread in the indentation. Bake cookies for 15 minutes. Let cool on the pan for 5 minutes and transfer to a wire baking rack to cool completely.
Welch's is running a Facebook contest "PB&J Your Way" – You create a spin on the classic sandwich for a chance to win $500 and a one year supply of Grape Jelly, plus 50 people will win a sandwich keeper.
If you want, you can watch my goofy self on a video below talking a little about my cookies, showing off my son's lunch and talking about the Facebook contest.
Note: I participated in a campaign on behalf of Mom Central Consulting for Welch's. I received product samples to facilitate my review as well as a promotional item as a thank-you for participating.