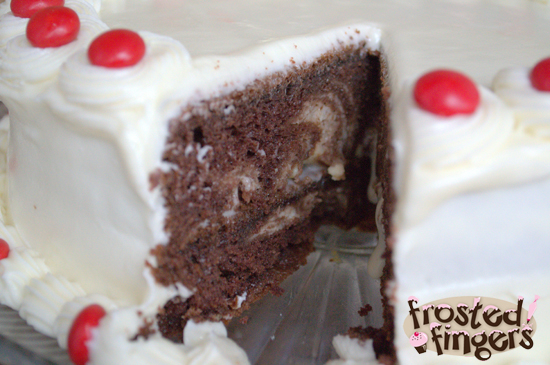 I went to Target today to pick up some ingredients to help me make this Cheesecake Swirled Devil's Food Cake. I got Pam baking spray, Wesson Canola Oil and White Chocolate Peppermint M&Ms. I found my new holiday favorite; those Peppermint M&Ms are delicious! While my cake was cooling I used my extra M&Ms to make pretzels that have melted candy cane Hershey's Kisses and the Peppermint M&Ms. YUM! I was very pleased with the performance of the Pam baking spray. The cakes fell right out of the pans with no sticking; I'm sold!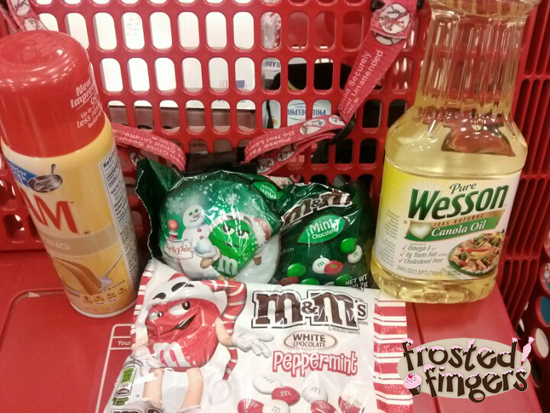 There's a few of the items I picked up at Target today. To see more about my shop, you can visit my Google + Album. I have a few deals to share in there!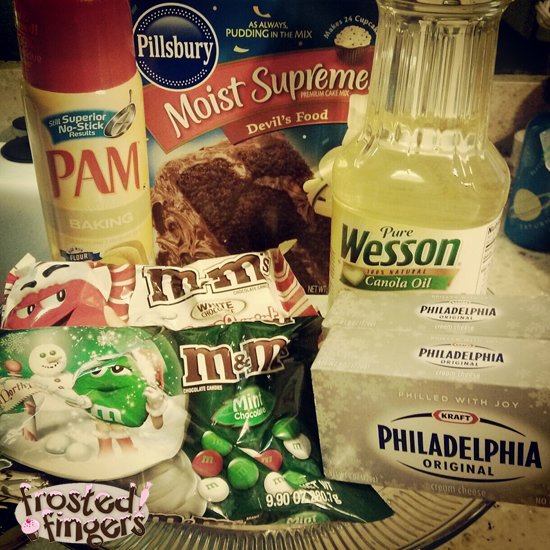 I gathered my ingredients and got ready to bake. The kids all wanted to help, but this time I didn't let them for two reasons 1)they have the flu and 2) cakes are therapeutic for me. I had forgotten how much I enjoyed making cakes until today. It's been so long!
I thought the cake looked really pretty right out of the oven. It surprised me when it fell a little while it was resting. While the cake was baking I made the frosting. My husband decided to try dipping the pretzels in the frosting and said I should share that on my blog, that it makes a great dip.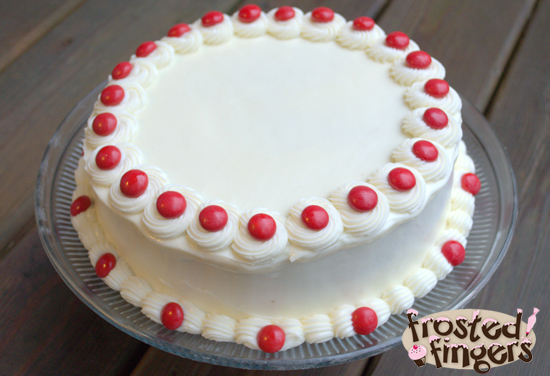 Cheesecake Swirled Devil's Food Cake Recipe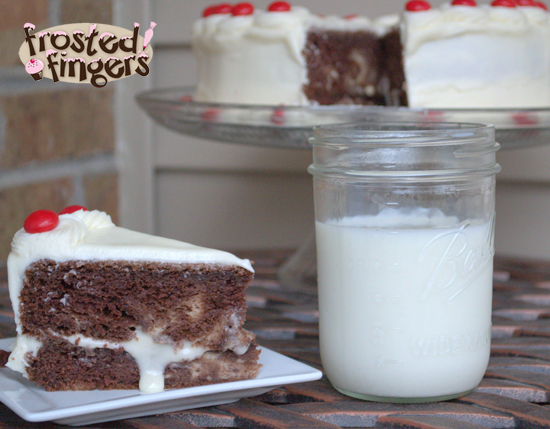 Ingredients
Cake
1 package (8 ounces) cream cheese, softened
4 eggs
¼ cup sugar
½ teaspoon vanilla extract
1 package devil's food cake mix (regular size)
1-1/4 cups water
½ cup canola oil
Frosting
8 ounces unsalted butter, softened
8 ounces cream cheese, softened
4 cups powdered sugar
2 teaspoon vanilla extract
Instructions
Cake
In a small bowl, combine the cream cheese, 1 egg, sugar and vanilla; set aside. In a large bowl, combine the cake mix, water, oil and remaining eggs. Beat on low speed for 30 seconds; beat on medium for 2 minutes.
Spray two 8 or 9" round baking pans with Pam baking spray. Pour half of the batter into each of the sprayed pans. Drop half of the cream cheese mixture by tablespoonfuls over the batter. Cut through batter with a knife to swirl the cream cheese mixture.
Bake at 350 F for 35-40 minutes or until a toothpick inserted near the center comes out clean (cake may crack). Cool on a wire rack.
Frosting
In a large bowl, beat together the butter and cream cheese with an electric mixer. With the mixer on low speed, add the powdered sugar a cup at a time until smooth and creamy. Beat in the vanilla extract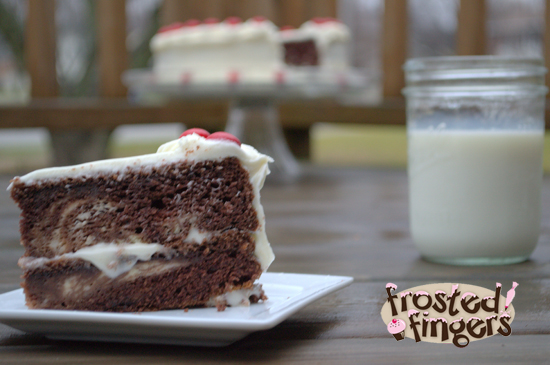 The key to getting the frosting smooth is to first do a crumb coat and let it set and then frost over the crumb coat. When you have the desired amount of frosting on your cake you take your spatula, dip it in hot water, shake it off, and then skim over the top and sides of the cake. Refresh spatula as needed. I decorated the cake with the White Chocolate Peppermint M&Ms and I think it added a nice flavor to the cake. I almost  wish I'd added them in the cake, too, but I think it may have been overkill at that point. Overall I am VERY happy with this cake. It was very moist and didn't have an overly strong chocolate flavor. My husband said it could have used a little more frosting. I think it was fine as is. 🙂 If you try this cake let me know how it turns out for you!
I am a member of the Collective Bias™ Social Fabric® Community.  This shop has been compensated as part of a social shopper insights study for Collective Bias™ #CBias #SocialFabric All opinions are my own.