My kids got the chance to try out four different Wonder Forge games and they love them all! These are great games, because they have character recognition, they're pretty easy to play and they are fun. I'll run down each game for you and then I will have a giveaway at the end for Who Shook the Hook.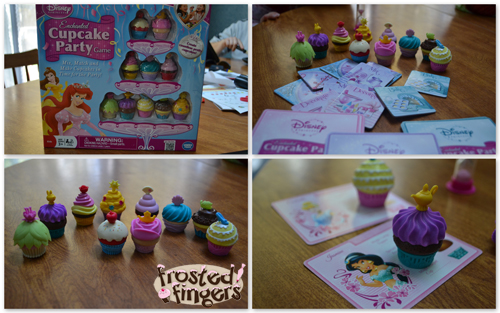 Disney Enchanted Cupcake Party Game
You're invited to a cupcake party with all your favorite princesses! Work together to make as many cupcakes as you can before it's time for the party. Follow the recipe cards to pick the perfect fancy liner, frosting, and topper. Each cupcake creation is fit for a princess in this sweet game of matching and sharing.
My daughter loves just taking apart all of the cupcakes and making her own creations. It's a fun game to play as a family. Monkey still needs help creating the cupcakes based off the cards. Beware, there are a ton of small pieces in this game! My kids decided to play it one afternoon. Well, when they get tired of playing something, suddenly all the little pieces become missiles. We finally found all the pieces again, but it took hours!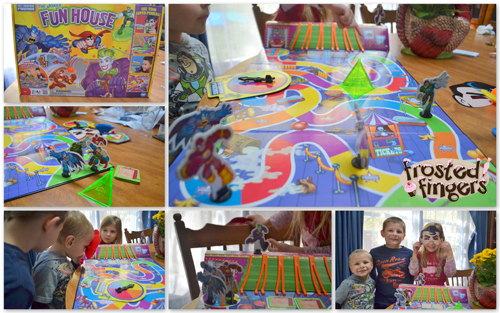 Joker Fun House Game
Calling all Super Friends: The Joker is up to his usual tricks, and he must be stopped! Superman, The Flash,Green Lantern, and Batman team up, calling on their special powers — X-ray vision, lightning speed, force fields, and the Batarang — to dodge The Joker's gags and stop him in his tracks before he reaches the getaway car. The Fun House game board is supercharged with preschool play power: a wacky rolling ball, secret messages, and a launchingBatarang will draw young super heroes into the action!
This game turned out to be the kids' favorite game. I think they liked that one person could play the bad guy. This is an easier game for Little Man to play because it's just matching colors to move the pieces. They all loved that each super hero has a special power to help beat Joker. It's really a great, quick, family game.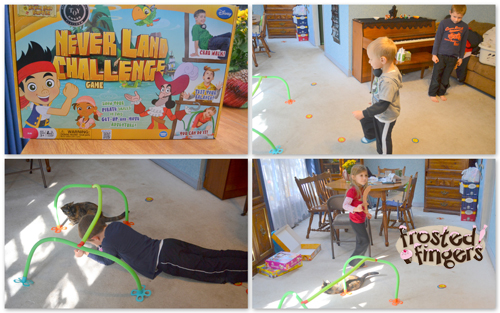 Jake and the Never Land Pirates Never Land Challenge Game
Join Jake and the Never Land Pirates for a high-spirited adventure! Grab your pirate gear and crawl, tiptoe, and jump through the vine archways to earn gold doubloons. Each turn offers a chance to prove your playful pirate skills, whether it's tucking the cannonball under your chin or balancing Jake's sword on your head. Collect more coins than Captain Hook to win!
The kids had a blast with all of the physical challenges in this game and liked to laugh at Mommy as I tried them as well. It's so important to have kids do physical displays of goofiness in front of their family to help get their confidence levels up. This game moved rather quickly, too. The kids love the sword and I keep finding it outside of the game box because they were playing pirates with it, without the game.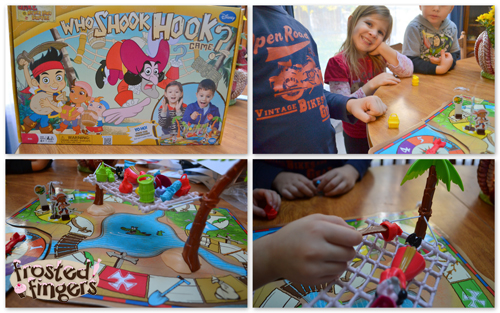 Jake and the Never Land Pirates Who Shook Hook Game
Captain Hook is snoozing in his hammock, surrounded by all the treasure he's nabbed from Jake and his pirate crew. Spin the spinner to choose your challenge, then use the sword, the fishing pole, or the shovel to pluck a piece of treasure! But steady as she goes–you need to grab the loot without sending Hook tumbling into the water where Tick Tock Croc awaits. This imaginative, play-packed game is sure to be a hit with clever little pirates.
The kids had a really good time trying to get all the treasure off of the hammock without flipping over Hook. Monkey got the last piece to get off and it took her 5 minutes before she'd even attempt it. She ended up getting it all by herself. She was so proud of herself at that moment!
All of these games retail from $16.99-$19.99. They'd make a great Christmas present for a young boy or girl! You can find these games at major retailers such as Target, Toys R Us, Walmart, and Amazon. For other retailers, please check here. How would you like to win a Jake and the Never Land Pirates Who Shook Hook Game just in time for Christmas?
a Rafflecopter giveaway

Note: I was given the above board games in exchange for my post. All opinions are my own. 

Giveaway is open to the continental USA and ends on December 4, 2012 at 12:01 am EST. Winner will be selected at random from all eligible entries and will be contacted by email. Winner will have 24 hrs to respond. Winner may only win one prize pack, if you win on another site, a new winner will be drawn. Please add paula@frostedfingers.com to your trusted email filter. If original winner does not claim their prize within 24 hrs, it is forfeit and a new winner will be selected promptly.
No purchase necessary to enter or win. Odds of winning are not increased by a purchase.