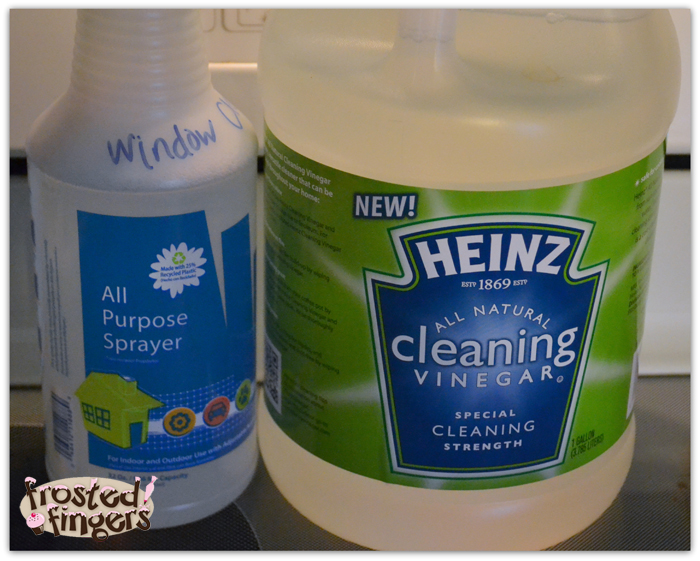 For the past 5 years or so I have been using vinegar to do the majority of my cleaning in my house. It's amazing what it can do! I love that it's safe to use around my children and pets. I started off using it when I was cloth diapering my oldest. You can use it to strip diapers of build-up.  Here's some "pros" for using white vinegar on your diapers:
Vinegar will help neutralize the urine in cloth diapers.
Vinegar equalizes pH balance.
Vinegar helps eliminate soap residue/film build-up.
Vinegar deters the setting-in of stains.
Vinegar can help keep colors from bleeding.
Vinegar can cut down on lint.
Vinegar is a natural fabric softener and static cling reducer.
Use no more than 1/2 cup of distilled white vinegar in any wash cycle. A good way to watch out for this is to get a Downey Fabric Softener ball – sold on most laundry aisles in grocery stores. Fill it 1/2 to 3/4 full of vinegar and pull the top. Throw this into your Hot Wash/Cold Rinse cycle and it will open up in the rinse cycle. This ensures that you use it in the right cycle and also ensures that you don't use too much.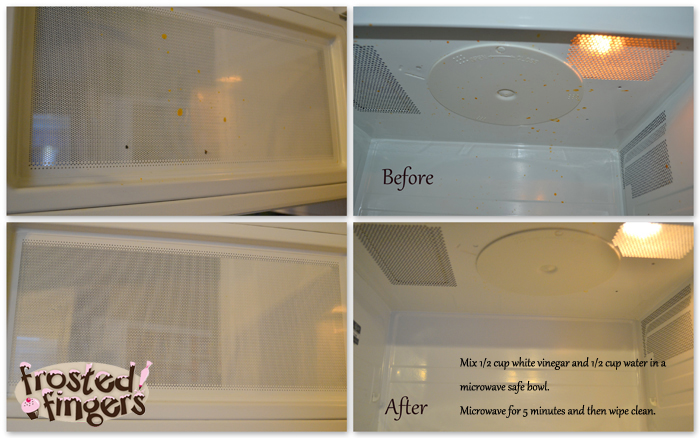 Let's start with what I actually use vinegar for now that I no longer have to worry about diapers. You know that nasty splatter all over the inside of your microwave and how hard it is to scrub off? Vinegar is awesome for this! Mix 1/2 cup of vinegar with 1/2 cup of water and microwave on high for 5 minutes. Let microwave stay closed for a few more minutes and then just take a cloth and wipe. I use a microfiber cloth, because it grabs everything easier.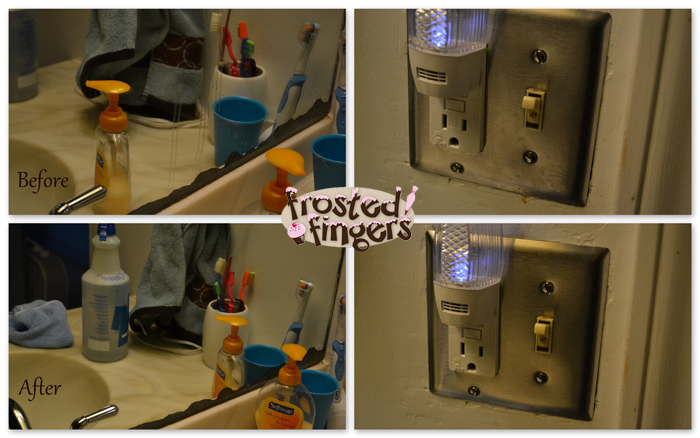 I've also made a spray bottle with about 1/4-1/2 vinegar and the rest water. I use that to clean mirrors and windows and just about anything. It works great! What I found, though, is that the new Heinz Cleaning Vinegar seems to work better than regular White Vinegar. I found it at Walmart in the Vinegar aisle.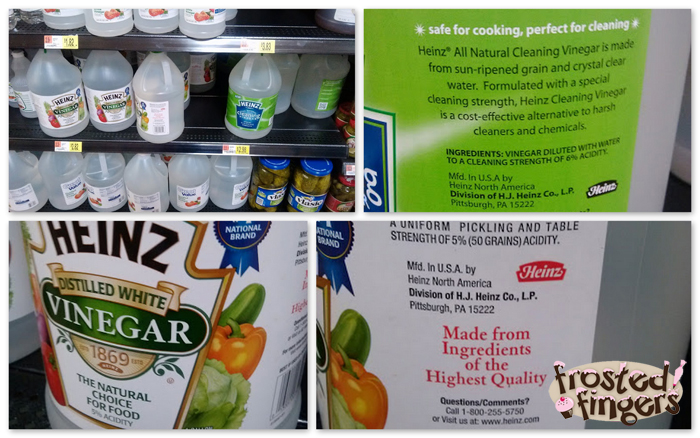 Possibly the reason it works better is because it has a higher acidity percentage. Either way, I love it and won't go back to using regular vinegar. Ok, I'm about to share something with you that's completely disgusting and I'm embarrassed  but now that I found this vinegar trick it'll never get back to this again!
See, I let it get this bad, because using soft scrub/bleach kills my hands so I kept waiting and waiting for hopefully someone else in my house to help me out. Well, no one did. While researching what I could use vinegar for while writing this post, I found you could make a paste to clean bathrooms. You can see above that it didn't get rid of all the mildew and I'll probably have to bleach it a few more times to get it gone, but once it's taken care of I will be using this paste all the time! I used 1/4 cup of baking soda, 1 tablespoon of Dawn dish soap (the tropical hand care kind) and enough vinegar to make a paste. (Be careful when pouring in your vinegar since it reacts with baking soda by bubbling everywhere!) This paste was amazing, though. It cleaned great, didn't smell bad, didn't give me a headache and didn't wreck my hands. I love that if some of it is accidentally left in the tub, where my children sit, I don't have to worry about harming their little bodies.
For more vinegar tips, I found this site helpful. Remember to pick up some Heinz Cleaning Vinegar at Walmart and you can follow #HeinzVinegar for some more helpful cleaning blog posts. You can also see more about my shop at Walmart in my Google + Album.
I am a member of the Collective Bias™ Social Fabric® Community. This shop has been compensated as part of a social shopper insights study for Collective Bias™ and HEINZ #CBias #SocialFabric. All opinions are my own.