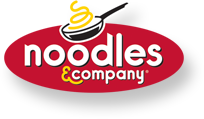 Last week I picked up some Noodles and Company to bring over to my Mother-in-Law for lunch. She got the Pasta Fresca with shrimp (which I'll share the recipe below), I got the Buttered Noodles with Parmesan Crusted Chicken and Little Man got Wisconsin Macaroni and Cheese. They both really enjoyed their noodles. I remember mine tasting better the last time I went in. They just seemed like they didn't have any flavor and they were all stuck together. I tasted Little Man's mac and cheese and I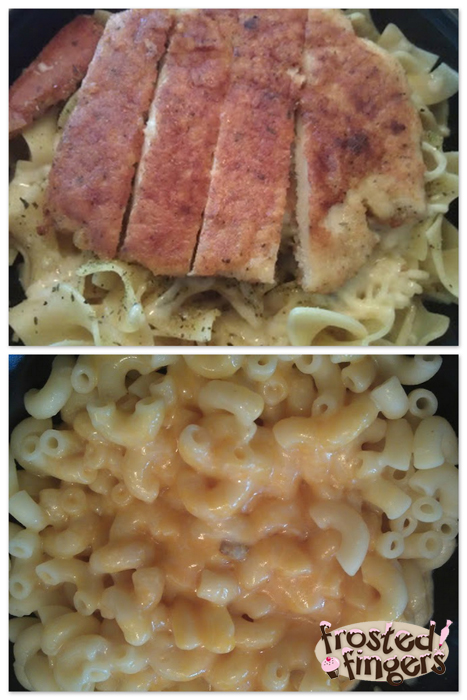 thought it was very good. My Sister-in-law took a bite of my Mother's-in-Law noodles and liked it so much that she went home and made the recipe that weekend. Maybe I was just having an off day. I've never had problems with my food before.
Did you know that Noodles & Company has 300 locations nationwide, including 40-plus in the Chicagoland area? I love having one close by. I'm going to give it a try again soon. They even have dozens of options that are 500 calories or less. You can look at their cheat sheet and even download it to bring with you. A small portion of the Pasta Fresco, that I'm about to give you the recipe for, is 410 calories. If you add shrimp, it's only 490 calories. A great option for those trying to keep it light! If you want comfort food, the Wisconsin Mac and Cheese is only 510 calories for a small portion. That's still not bad, and it tastes good. 🙂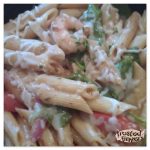 Pasta Fresco from Noodles and Company
Ingredients
1

lb

penne pasta cooked al dente

or 1 lb of your favorite pasta

3

roma tomatoes sliced into ½ moons

1

red onion cut into julienne strips

2

cloves

garlic

chopped

1

bunch fresh baby spinach leaves

2

TB

olive oil

1

cup

white wine

white balsamic vinegar optional

Salt to taste

1

TB

each fresh chopped basil

oregano, and Italian parsley

Cracked black pepper

Shaved Asiago cheese

4

chicken breasts

marinated and grilled (or shrimp)

1

TB

olive oil

1

TB

rosemary leaves

1

TB

fresh lemon juice
Instructions
Cook the pasta to al dente chill in ice cold water. Drain then toss with 1 TB olive oil and set aside.

Chop the garlic, cut the tomatoes, slice the onions, de-stem the herbs, chop and set aside.

Marinate chicken breast with 1 TB lemon juice, salt, pepper, rosemary leaves and garlic, place in fridge for 30 minutes. Grill just before you prepare the pasta. Let rest, slice and toss into pasta.

Pour olive oil in a large sauté pan.

Heat pan to hot, but not smoking. Add garlic and onions. (You should hear a sizzle)

Stir and deglaze with white wine or white balsamic vinegar.

Add pasta (and chicken, if using), toss to coat with aromatics.

Add tomatoes, toss then add fresh spinach.

Add herbs, a squeeze lemon juice, if desired, and salt and pepper to taste.

Place on platter and garnish with shaved Asiago cheese.
Note: I received coupons to try Noodles and Company in exchange for this review. All opinions are my own. I did not try the above recipe, it was given to me by PR.