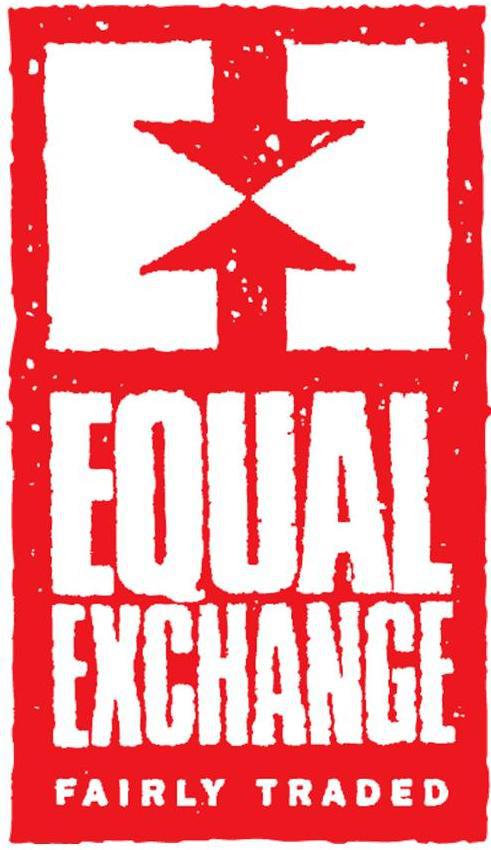 Last week I got a yummy treat in the mail to try out. Equal Exchange candy bars! I got three different full size bars to try our and a box of minis to pass out for Halloween. The flavors were Milk Chocolate Peanut Butter, Milk Chocolate Crisp and Dark Chocolate Fruit and Nut. I have to admit that my first bite of the Crisp bar and I wasn't impressed. I then went on to the Peanut Butter bar and WOW! I really liked it! I went back to the crisp bar and liked it as well. I'm not sure if it was just because I was starting to get sick, had a different taste in my mouth when I tried it, or what. I still have yet to try the Dark Chocolate bar. 1) I'm not a dark chocolate fan at all and 2) I ended up with the stomach flu this week which has put a damper on everything. I did sneak one of the minis as I took pictures yesterday. I think it has now become my new favorite milk chocolate bar. It was Dove, but not anymore!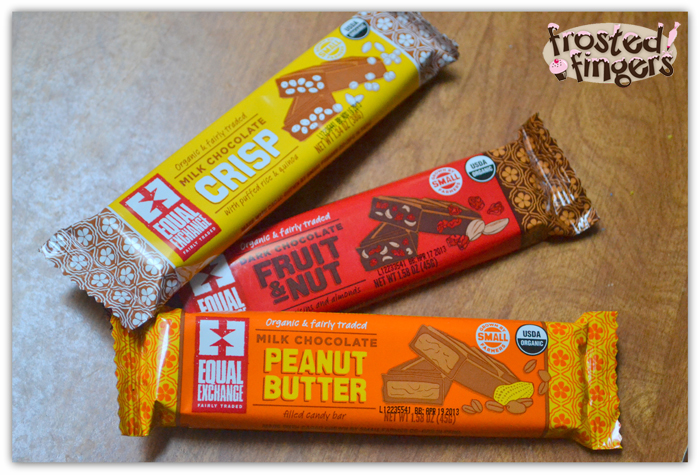 Equal Exchange, the nation's leading Fair Trade brand, is proud to launch a new line of organic, fairly traded bars that is sure to please both parents and kids. The three new bars include a Dark Chocolate Fruit and Nut bar, a Milk Chocolate Crisp bar with puffed rice and quinoa, and a Milk Chocolate Peanut Butter bar. For people who are tired of waxy, tasteless mainstream chocolates, and who care about both quality and small-scale cocoa farmers, these bars are a welcome offering.

The organically-grown cacao in the chocolate bars is sourced from three Fair Trade co-ops in Peru: CACVRA, Oro Verde, and ACOPAGRO. The organic sugar is fairly traded and sourced from the small-farmer co-operative Manduvira in Paraguay. The Milk Chocolate Crisp bar weighs in at 1.34 ounces (38 g) while the Milk Chocolate Peanut Butter bar and Dark Chocolate Fruit and Nut bar each weigh 1.58 ounces (45 g). The suggested retail price of all three is $1.59.

The bars are available in natural food stores, independent grocery stores, food co-ops, and on the Equal Exchange website for both retail and wholesale customers. For more crowd-pleasing treats, including dark and new milk chocolate minis, perfect for Halloween, check the Equal Exchange online chocolate store.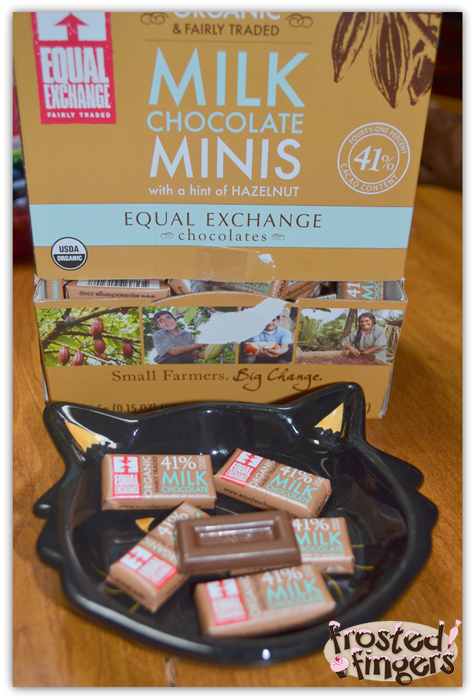 I love that these candies are organic and fair traded. They are made by small farmers, yet they are not over priced! $1.59 for an organic candy bar seems fair to me. I'm tired of putting a lot of junk in our bodies. I'll never go 100% organic, but if I have a choice, I'm leaning towards buying organic lately. I just want to do the best I can for my family. At least I know if I'm giving the kids a treat, it's not fake ingredients going into them. Plus, I really do like these candy bars!
Equal Exchange has a fun game on Facebook right now where you can win free candy bars or coupon codes for discounts on buying them. It's a cute game and it helps you learn more about how the bars are made. You can learn more about Equal Exchange on their website, Facebook, and Twitter. How would you like to try these out for yourself? I'm giving one lucky reader of a 24 pack of Equal Exchange candy bars. They will be the full size bars and there are 8 of each flavor in the box. (Milk Chocolate Peanut Butter, Milk Chocolate Crisp and Dark Chocolate Fruit and Nut)
a Rafflecopter giveaway

Note: I wrote this review while participating in a campaign for Equal Exchange and received the candy bars to facilitate my post.
Giveaway is open to the continental USA and ends on October 26, 2012 at 12:01 am EST. Winner will be selected at random from all eligible entries and will be contacted by email. Winner will have 24 hrs to respond. Winner may only win one prize pack, if you win on another site, a new winner will be drawn. Please add paula@frostedfingers.com to your trusted email filter. If original winner does not claim their prize within 24 hrs, it is forfeit and a new winner will be selected promptly.
No purchase necessary to enter or win. Odds of winning are not increased by a purchase.
Contest may be removed at any time.