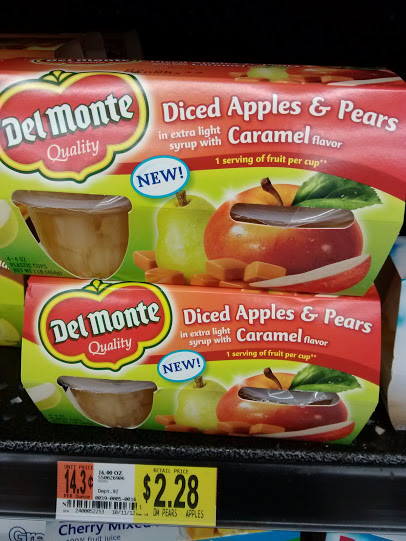 I was asked to check out the new Del Monte Diced Apples & Pears with caramel flavor and Diced Pears with Vanilla and Spice from Walmart and add them to my kids' lunches or serve them as snacks. I like to give my kids "bento" style lunches. I don't like to just give them a whole sandwich, bag of chips, and a cookie. First of all, what's the first thing they're going to go for? The cookie and then the chips. If they do get chips in their lunch, it'll be just enough to fit in a small compartment of their little sandwich box that I use for their lunch. The kids don't eat a full sandwich at lunch at school, anyway. I don't know about your kids, but I think mine only get about 20 minutes to eat lunch. My daughter could take 20 minutes to eat one granola bar!
Normally you would see another cupcake liner in the lunches with fresh fruit, but I figured I'd let them try out the Del Monte fruit instead. The problem with these fruit cups, though, is that they're hard for little fingers to open without splashing liquid everywhere. I would have drained the liquid and just put the fruit in a cupcake liner, but the liquid is part of the experience with these. You know what is cool about them, though?
60 calories per serving
gluten free
does not include high fructose corn syrup.
We are not a gluten free household, yet, but I'm debating it. Plus I know how important gluten free is to others, so this is great news. I do try to avoid foods with high fructose corn syrup in them. I make my own bread at home now, so that's one less item with it in it at our house!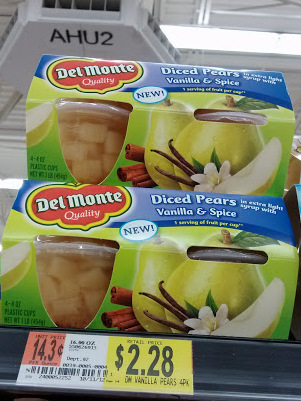 Since my kids have a hard time getting them open at school, I let them have the Del Monte fruits as a healthy snack at home. All the kids love the flavors. Little Man and I just sat here and shared the apples and pears in caramel. He really liked it. I have a texture issue with pears so I couldn't eat them. The caramel isn't a heavy flavor. I have yet to try the vanilla and spice pears since I don't like pears. Like I said, though, the kids really do like them.
The Del Monte #SmartSnack flavors are sold at Walmart and at mine they run $2.28 for the pack. It's nice to have on hand when your fresh fruit is all gone or went bad. You can learn more about the fruit packs on the Del Monte: website, Facebook and Twitter. You can also see all the pictures from my shopping trip on Google +.
I am a member of the Collective Bias®  Social Fabric® Community.  This shop has been compensated as part of a social shopper insights study for Collective Bias™ and Del Monte #CBias #SocialFabric. All opinions are my own.