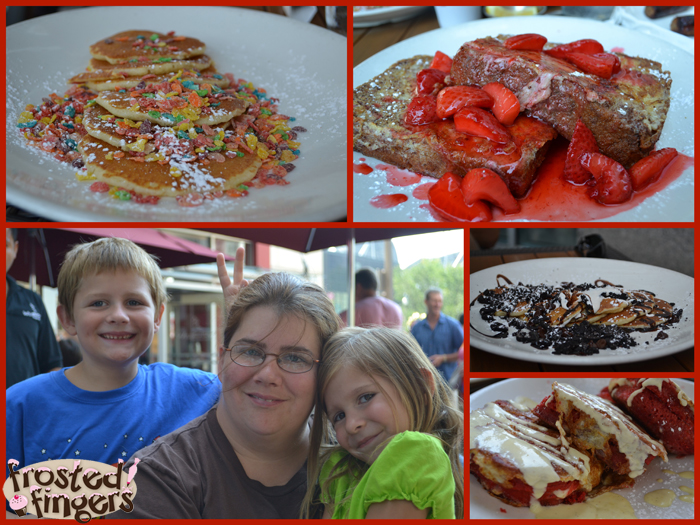 Yesterday I told you about our first day of our #SummeroftheUniverse trip downtown to visit the Adler Planetarium. I left off with getting up on day 2. So we woke up, showered and packed up to, sadly, leave our hotel room. We all had a wonderful stay at Swissôtel. We decided to take our luggage to the car and then walk around Millennium Park for a while since I'd never been. We had breakfast at a wonderful little restaurant called Wildberry. I had strawberry cheesecake french toast, Charlie had red velvet cake french toast, Monkey had Fruity Pebble pancakes and Buddy had Oreo S'mores pancakes. (Little Man had a little of everyone's.) I totally want to recreate the Red Velvet Cake French Toast. It was SO good!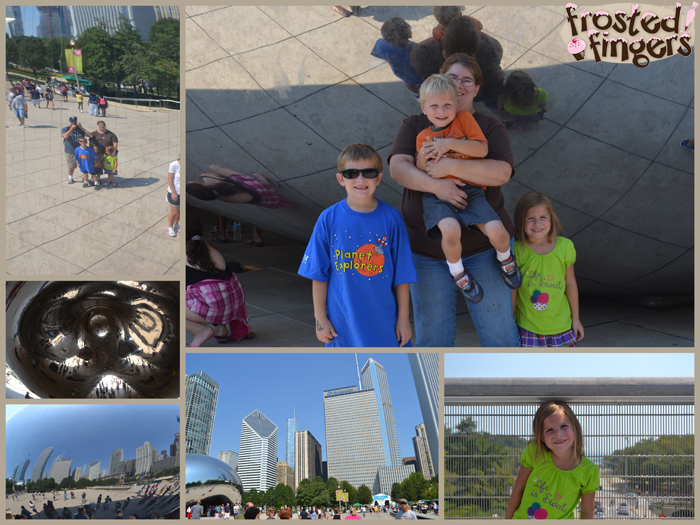 After breakfast we went over to Millennium Park so I could finally say that I saw the bean. Holy cow, it's big! I've never noticed in other's pictures how big it is. The kids enjoyed running around it. We didn't stick around the park too long, though, because it was so hot that weekend. We packed up and drove over to finally go see Adler Planetarium!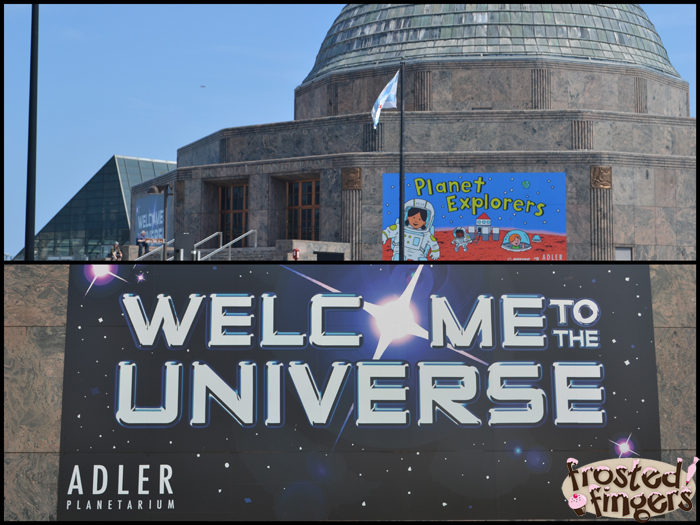 We got to experience the Adler as members for a day so we were able to see any show we wanted while we were there. They were included in our tickets. We saw two shows while we were there and then just explored what the Adler had to offer. We saw:
Night Sky Live– "Take an in-depth journey through the cosmos with Night Sky Live!" You go into a domed theater and they turn off the lights and show you what the sky looks like in Chicago at night. They tell you what constellations you can look for during the current time of year. There is actually a man walking around with a tablet of some kind (maybe an iPad) manipulating the stars above you. It's very informative. Monkey was terrified at first because she knew they were going to turn out the lights. She thought there would be scary aliens or something. Believe me, not a bit scary.You can have issues if you easily get motion sickness, though!
Welcome to the Universe- "Travel a billion light-years and back in the Adler's newest space adventure!" Unfortunately I can't really give a review of this show. I'm bummed because I know this is the show that I was supposed to pay most attention to! You see, Little Man was tired still from the night before and he curled up on my lap and fell asleep. With him acting as a blanket and the lights turned off, I may have accidentally snoozed a bit myself. My husband told me that this was a very good show, though and one to definitely see while you're there.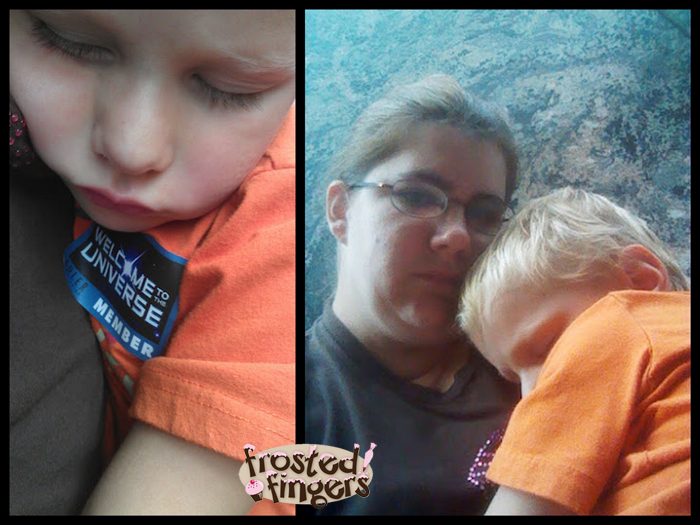 After the shows since Little Man was still asleep, I sat on a bench with him while Daddy took the other two to experience the oldest planetarium downstairs. It's a little cart that takes you into a Sphere that has holes punched in it. They shine light from the outside so you can see the stars. Sounds pretty neat. Little Man was actually bummed that he missed the ride. He woke up when they came back by us and we went off to explore the kids' area.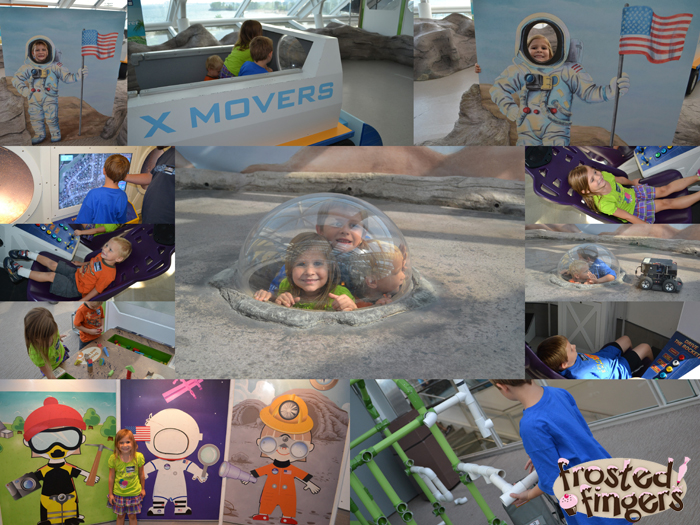 I could not believe how interactive the Kids' area was and how much there was to do there. We spent 1-2 hours in the kids' area and I don't feel like we got it all in. The kids had a blast running from one thing to another. They got to drive remote control space rovers, virtually dock a ship on to the space center, dress astronauts, and so much more! The kids' section is so worth going to the Adler Planetarium. The kids keep asking when they could go back. I was nervous about going because I thought it would be boring for them, but they've done an excellent job of making the kids enjoy themselves.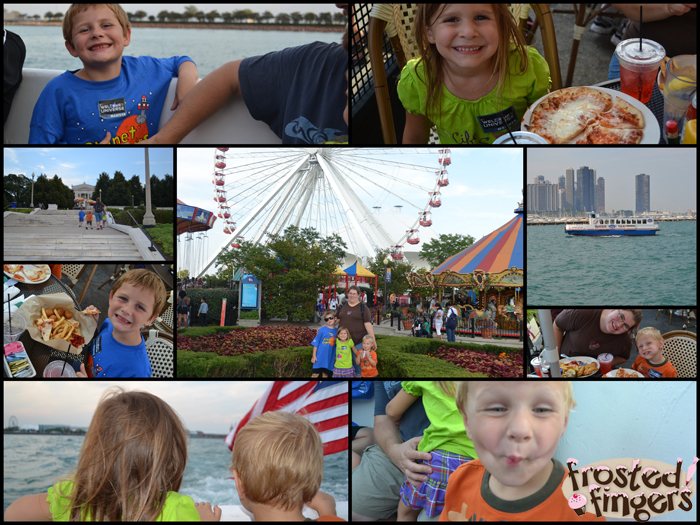 After the Adler Planetarium, we jumped on a water taxi from Shoreline Sightseeing to take us over to Navy Pier. I had a hard time on the first boat that we took, because it was enclosed and I get seasick. (I know, I'm a mess.) As soon as we got off the boat at Navy Pier I needed to eat and sit to just settle myself down. While eating a yummy dinner at Holy Mackerel, Harry Caray's restaurant, the kids were watching everyone rent bikes. They had a family size cart type bike that the kids wanted to take out but #1 it was too expensive and #2 it was getting too late to embark on yet another big adventure. After dinner we took the kids upstairs to ride the giant ferris wheel. I decided not to go up with the family because I didn't want to risk getting sick knowing that I had to get back on a boat to go back to the car. The second boat ride was much easier on me because it was open topped. As long as there is air blowing on my face I can handle a boat. We had such a great two days in the city. I would love to go back downtown with the kids again next year and experience even more. We didn't end up getting Lou Malnati's until Sunday evening that weekend. It was nice because I needed to relax after two very long days to not have to cook dinner or clean up!
Please visit the awesome sponsors of our weekend:
Adler Planetarium:
Website, Facebook, Twitter, Pinterest, YouTube, Tumblr, Flickr
Swissôtel:
Shoreline Siteseeing:
Lou Malnati's Pizzeria:
Website, Facebook, Twitter, Pinterest, Flickr, YouTube
Note: My family was given hotel accommodations, a gift card for dinner, and passes in exchange for this review. All opinions are my own.