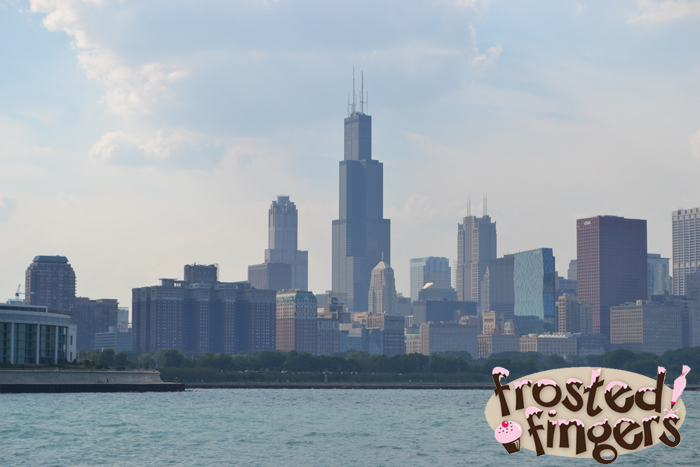 This summer has definitely been a #SummeroftheUniverse for my kids. We have taken trips, seen awesome shows, played in the rain, etc. Our grand finale was two weekends ago when we went to downtown Chicago for the night. We stayed at the Swissôtel, had Lou Malnati's Pizza for dinner, went to Navy Pier via Shoreline Sightseeing and visited the Adler Planetarium.
That Friday I was hanging on Facebook when I should have been working and saw my friend Cat post that her whole family was ill and couldn't make her trip to cover Adler's family fun weekend. I offered to go in her place so she asked her rep. From there it was a whirlwind to get my husband to come home early, pack and get downtown to enjoy our last fling of summer.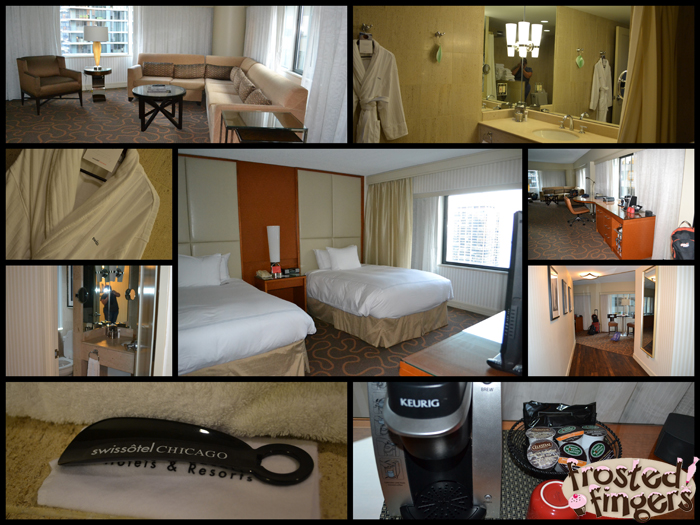 I think after we finally got on the road we made it to Swissôtel around 6pm. They were extremely friendly at check in. They gave each kid a little bag of chocolates and we were on our way to our room. They had these fancy elevators that you entered what floor you were on and it told you which elevator to get on. Pretty cool idea! When we got up to our floor I had a little issue with getting used to the altitude but was fine after a while. We were amazed at the size of the room. We were a little nervous because we weren't sure how we were going to fit everyone in a two double bed room but we figured we'd make it work. Holy cow, it was huge! The bedroom was separate from the living area and there was a pull-out couch. There were closets everywhere so you could really make this place feel like a home if you were staying for an extended period of time. There was two full baths as well! Keep an eye on the kids that they don't get into the mini bar. They had forgotten to give me my bag with all my press materials so I called down and the concierge brought it up to me with another bag of chocolates. A few minutes later the doorbell rang again with another concierge bringing us another bag of chocolates (this one had the press kit from the hotel.) We had no shortage of chocolate in our room!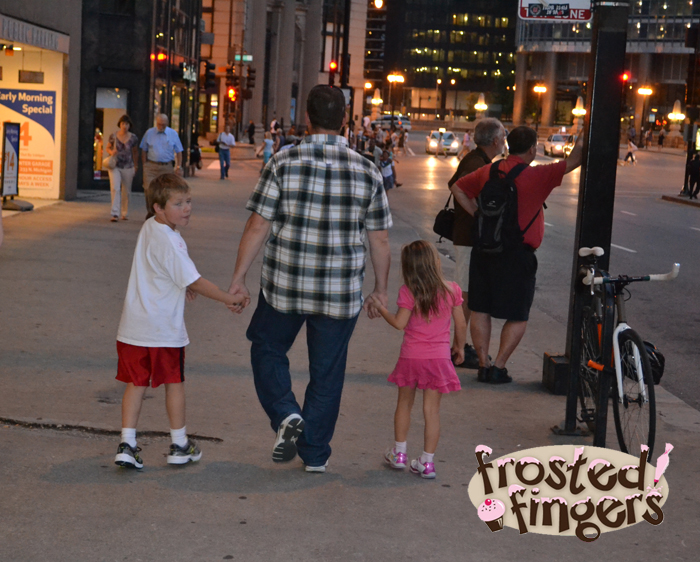 After we settled into the hotel we got ready to walk to dinner at Lou Malnati's Pizzeria.  Lou Malnati's is one of my husband's favorite restaurants, so he was pretty excited to be walking there. The kids were having a blast watching all the street performers. I don't ever really remember walking around downtown after dark, because I didn't realize Chicago had so much street life after dark like New York! Their favorite was watching the drummers perform, after all, it's in their blood; my husband and I are both percussionists. They wanted to get some balloon art from one of the people but we said we'd have to get it after dinner. Now here comes the problem. It was only supposed to be .6 miles to dinner. Somehow we missed the street we were supposed to turn on and ended up by Water Tower Place. We then had to turn back and walk to Lou Malnati's for dinner. By the time we got there the kids were over it. We'd walked for nearly 2 miles, it was late and hot, and they were done. We got to Lou's at about 8:30pm and there was an hour and 15 minute wait just to get a table. There's no where to sit except on a dirty city sidewalk and I didn't think the kids would make it much longer. We decided to wait for Lou's until dinner the next night and went over to Ed Debevic's for dinner as it was only 3 blocks back and didn't look very crowded. They close doors at 9 pm, so it was nice and empty, cool and calm. The older kids had a blast. They were bummed that the staff didn't dance for them, but they got to have shakes and hot dogs so they were happy. Little Man completely passed out on my lap before dinner even came. We ended up having to take a cab back to Swissôtel because there was no way we could carry a sleeping 3 yr old and two tired older kids.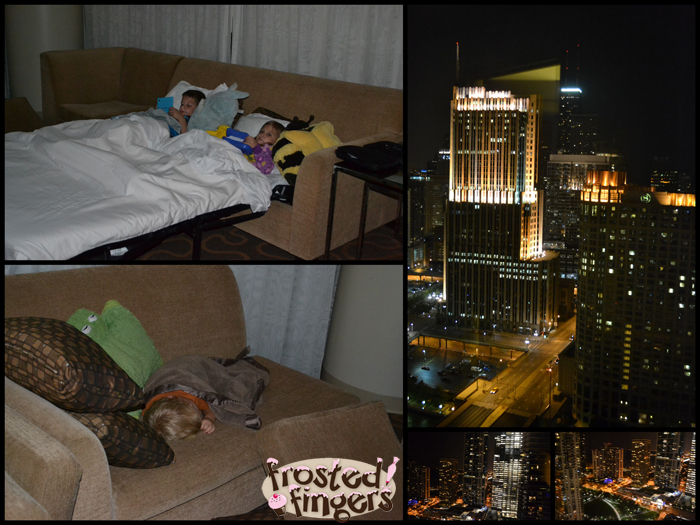 As you can see, we pulled the couches apart for the pullout couch. Little Man just spent the whole night sleeping on the one section of couch while the other two slept on the pullout couch. We let the older two just play games until they were too tired to go on. Monkey lasted until 1am, I believe. I was out long before that! My husband and I each took a double bed to ourselves, because their too small for us to sleep comfortably on together. We had a good night sleep and continued on our fun weekend. See Day 2 to learn about our day with Adler Planetarium and Shoreline Sightseeing!
Note: My family was given hotel accommodations, a gift card for dinner, and passes in exchange for this review. All opinions are my own.