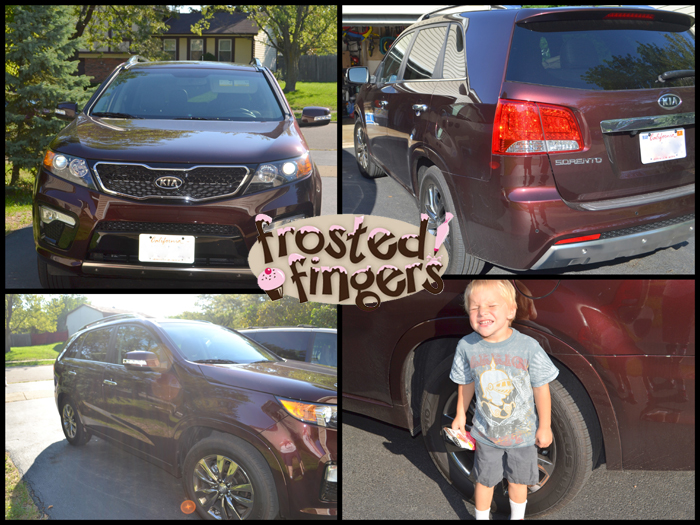 About two weeks ago I got the chance to drive a new 2013 Kia Sorento SX FWD for a week. Let me tell you, it was so nice to drive around a brand new car for a week; a car that cools off immediately is awesome! It was so needed that week, too! My husband is in the market for a new car so we were excited to be trying something that may work for him, but has the option of fitting the family if need be. The Kia Sorento has optional third row seating, so I figured this would be great for our family. While I loved driving it, it's not really the best fit for our family. I'm going to share with you my top 5 likes and dislikes of the Kia Sorento. If you have any questions about the car, I will do my best to answer them.
Top 5 Likes of the 2013 Kia Sorento
5. This will seem silly, but I really liked that the turn signal and windshield wiper switches were formed to fit your finger. It was a comfort thing, small, but I like that they thought about something so small.
4. The seats have 2 presets to auto position your seat settings based on who is driving. (Now I'm not sure if the mirrors are supposed to be included in the preset, but they were not working.) It was so awesome to get in after my husband and hit a single button to have everything go to where I wanted it.
3. Dual AC and heat! It is so nice to be able to set it cooler or warmer based on what side of the car you are. I'm always colder than my husband. While I'm talking about that, I also loved that the driver's side had both heated and COOLED seat! There's nothing worse than getting into a leather interior of a car and sweating where you touch the seats. Yay for a cool back!
2. Lumbar support! When sitting for a long time, my back hurts, a lot. Having the lumbar support was so awesome! I suggest first getting into the seat with no support on and then positioning it into your back. It works much better!
1. Bluetooth connectivity! The thing I loved the most about the car was the Bluetooth integration. Not only did it hook up your phone seamlessly, but you could also play your music from your phone over the sound system. The controls on the wheel for the audio system were awesome. You could control if you wanted FM or AM radio, Satellite, CD, or Bluetooth. You could even move forward and back through the songs on your phone from the steering wheel controls. So awesome! It's great to not have to deal with that long plug coming out of my tape deck in order to play my music.
Top 5 Dislikes of the 2013 Kia Sorento
5. The height of the door or car seems weird to me. I tried to pull up to an ATM to get money out and I couldn't reach the number pad because I was too tall. I don't have this problem with my van, so I'm thinking it's just that the door height is too high or something.
4. I didn't like the GPS system. I didn't find it very user friendly. I'm not sure if it was just lack of time to figure it all out? When it would speak over the sound system it seemed very loud. I could only figure out how to mute it, but not turn it down. Having it muted almost got me lost, though. Probably if I had more time to figure it out it would have been fine.
3. The optional third row was kind of a pain. We had a hard time figuring out how to get my son in the car. I liked having the two younger kids in the second row, but with two car seats installed you could not put down a seat for someone to get in the third row. We had to keep one seat down in the third row so that he could get in and out through the hatchback, which someone had to open up for him from outside. I couldn't find an auto open button from inside the car for it.
2. This goes along with the third row, but the "trunk" space was a joke! Sure, if you leave the third row down there is more than enough space, but if you need the third row, chances are you need space for stuff as well. Well, as you can see from my picture below, I could fit the width of a folding lawn chair or 3-4 reusable grocery bags across the back.
1. The mileage. According to the fact sheet I got, it says you should be able to get 20 MPG city, 26 MPG highway or 22 MPG combined. The best I got was 21 MPG at one point, but I averaged 16.5 MPG while driving it. Maybe I'm not the most fuel efficient when I drive and I was also pointed out that I had the AC on the whole time, but I know of older cars/SUVs that get better than a 16 MPG average.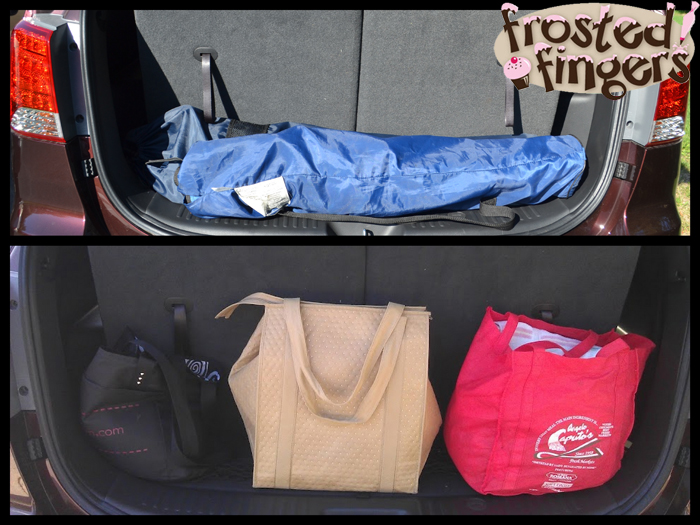 Overall the car is very nice and if you don't need the third row, it is spacious enough. I think that as we don't need car seats, this could be a more comfortable car for my family. Car seats always take up so much more space than a little person! If we could fit the kids 3 across comfortably in the second row, this would be a great car for the occasional family trip. If the mileage were better, I'd actually consider this for my husband's car, but he has to drive 30 miles one way to work and we'd really like to see some better mileage. It was a beautiful car and we really enjoyed driving around in it. My kids LOVED the dual sunroofs. Little Man tells me every time we get into our old van that he misses his new car and wants it back!
Note: I received a Kia Sorento for a loan for a week to drive in exchange for this review. All opinions are my own. Thank you Drive STI.