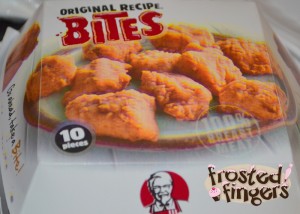 Recently KFCcame out with Original Recipe Bites on their menu. They are bite sized pieces of chicken breast that are breaded in their original recipe seasonings. These are perfect for me, forget the kids! I wanted the whole box of 10 for myself, but everyone wanted to try them. (The dog even sneaked one off of Little Man's plate when he wasn't looking.) I'm not sure if I've mentioned it on my blog before, but I'm not a fan of food on the bone or anything that resembles the way it looked when alive. I love these bites, though, because it tastes like eating the original recipe chicken on the bone; without the bones! The kids are all into eating drumsticks, so I'll be ordering these for myself from now on when we eat at KFC. (Oh and it wasn't that the kids didn't like these, because they did. I just want them all for me!)
Original Recipe® Bites are:

Big, bite-sized pieces of 100% breast meat chicken
Available in the Colonel's signature Original Recipe blend of 11 herbs and spices
Freshly prepared and hand breaded, just like KFC's world-famous Original Recipe chicken on the bone.

Original Recipe Bites are available in both six- and 10-piece portions, and can be ordered either a la carte or in a Combo. Combos include a side item and a medium drink.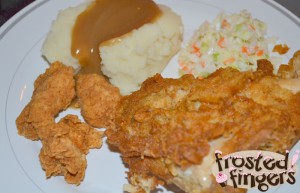 If you remember, I visited KFC earlier this year and got to learn more about how they make everything. While it may not be the healthiest choice for you, you can be sure they are doing their best to make sure the food is made fresh. Their chicken is never frozen and they only let the chicken be under the lamps for a certain amount of time. (Sorry, I'm getting old and can't remember the timing.) You can sign up on the KFC Website to get coupons.
I apologize, but the contest was removed due to legal terms.
Note: I was given a gift certificates in exchange for this post. All opinions are my own. You will have 48 hours to respond to my email or another person will be chosen. Please add paula@frostedfingers.com to your contacts so that my email does not go to spam. No purchase is necessary to win. Purchase will not increase your chances of winning.Contest may be removed at any time.