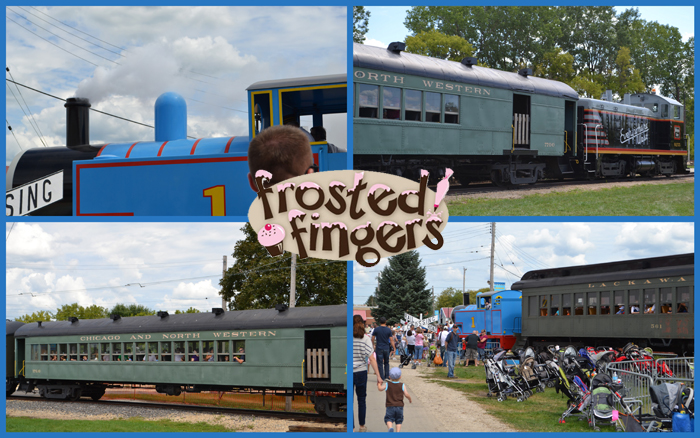 Last weekend we went to Day Out with Thomas in Union, IL. My goal was to get up early and get a good start so we could do most of the fun activities before getting on our ride. Unfortunately that didn't happen. We arrived at the Illinois Railway Museum at 11:13 for an 11:30 ride! You don't want to miss your ride. We did that last year and were lucky enough that they could squeeze us on a different train. I don't think that would have happened this year. This is our third trip to see Thomas and I have never seen it as crowded as I did this year. Maybe it was more crowded to us because we normally go in the late afternoon, but I don't think so as I've heard from other friends that it was pretty crowded for them as well.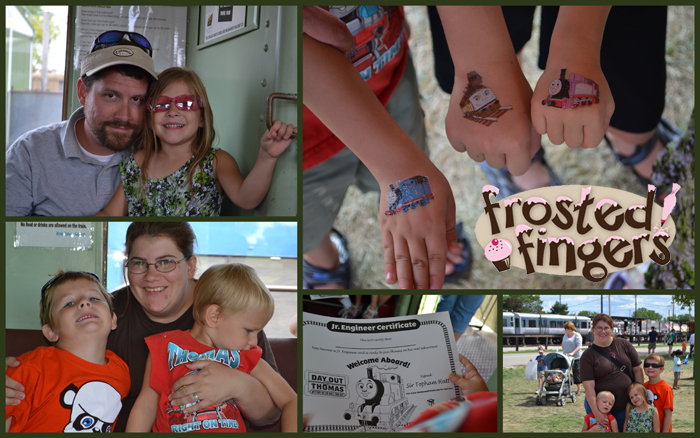 We practically ran from our car to the train. It was hard because of the crowd, but we did make it! The biggest problem was the way that people sat on the train. I don't think the train was overbooked, but you could not find a seat on it! People were taking up two whole seats for their family of 3 and not making room for people. A few people made room for us on some sideways seats. I tried to stand while the kids sat, while holding on to the standing handles, but they made me sit. So I had to sit on the ride with squirmy Little Man on my lap. I'm not sure if it's the same situation at every Thomas event, but on ours if you'd like to see Thomas pulling the train, you want to sit in the last car so that when the train makes a bend in the track you can see him. I'm a little bummed that we didn't do the picture in front of the train, but there were so many people in line and around me that I just couldn't handle it, so we went off to do the other activities.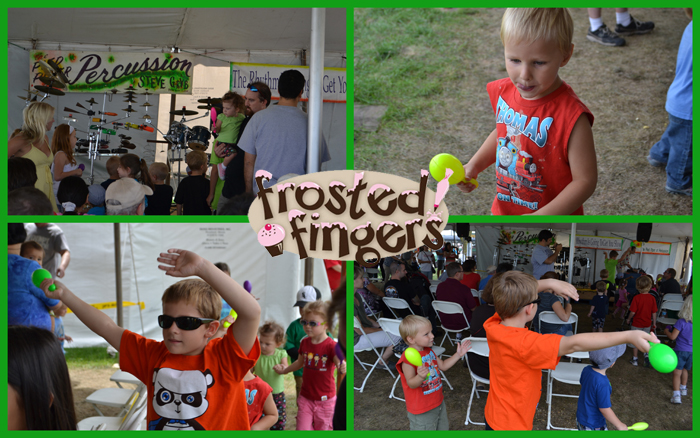 Our first stop was to the entertainment tent. We were able to see Steve Gryb's "Pied Piper of Percussion" Show. He's a percussionist that has an assistant (his wife?) who give the kids musical instruments to play while he plays along to recorded tracks. The boys had a great time participating. Monkey was being a crab and didn't want to join in. She was even crabbier when she found out the boys got train whistles for participating. We didn't see any of the other live acts, but if you're going this coming weekend, our schedule looked like this:
Pied Piper of Percussion
9:30
11:00
12:30
2:00
3:30
5:00
Clown Magic with the zany Tebala Clowns continuously throughout the day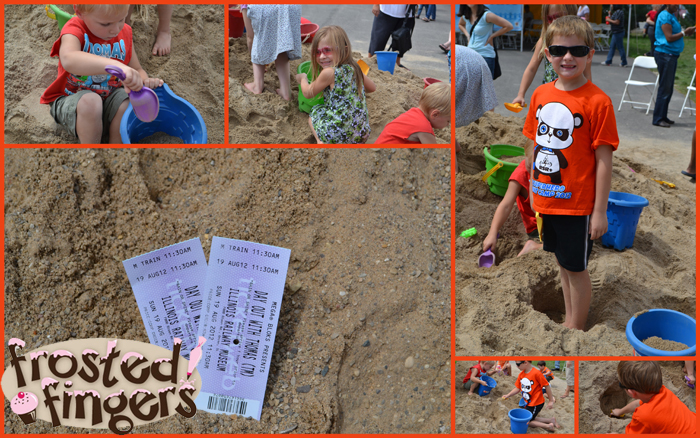 Next stop? The sand hill. This was almost our last stop. We could not pull the kids away from this area. I think they played here for at least an hour. We ran into Theresa and her family at the sand hill. It was so great to meet her kids! At this point in the day I was starving and tired. I had made a lunch because I asked Cher how her day was before and she said that she had a good time but spent too much money on the food. My husband went out to the car and brought our picnic lunch in. We got the kids to finally leave the hill and come eat with us. It was refreshing to save our money!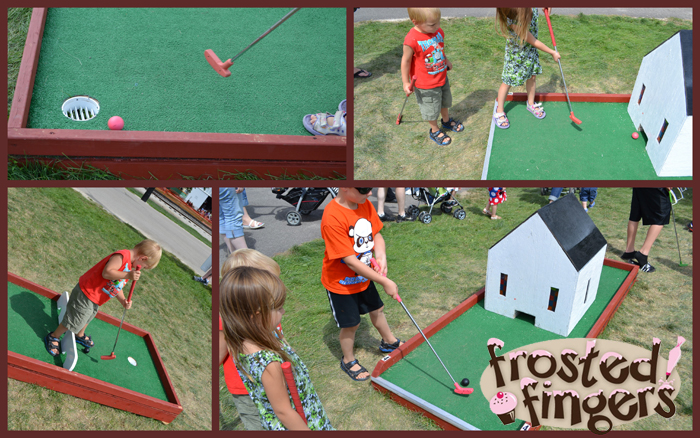 The last stop of the day for us was mini golf and then getting tattoos. The kids just wanted to keep doing the circle of mini golf over and over, but there was a big group of kids right behind them. Overall the day was great. The weather couldn't have been more perfect. It's nice to have good, wholesome fun as a family. If you're in the Chicagoland area, Thomas will still be visiting the Illinois Railway Museum this weekend, August 25 & 26. If you live somewhere else, check out the schedule to see if Thomas is visiting a town near you.
Note: I was given tickets in order to facilitate my review of Day Out with Thomas. All opinions are my own.