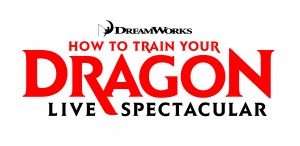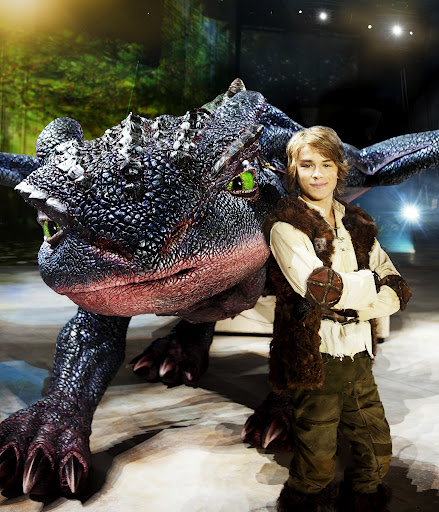 I can not wait for July 26! I'm getting the chance to take my kids to see How to Train Your Dragon Live Spectacular at the United Center in Chicago. Everyone in my family loved the movie and I think it's going to be so awesome to see the dragons live. I can already imagine Little Man running around telling everyone how he saw real live dragons! I think it will be so cool to see Toothless live!
Don't forget to enter the promo code: MOM to get 25% off of select seats to weekday shows (includes Friday nights.) This is a nationwide offer! 
This summer, Chicago audiences will experience the magic of Viking warriors and fire-breathing dragons that soar through arena skies in DREAMWORKS HOW TO TRAIN YOUR DRAGON LIVE SPECTACULAR. The smash hit show from Australia and New Zealand will delight audiences at the United Center, 1901 W. Madison Street, for five days only, July 26-29, 2012. Tickets are on sale now and start at $26.50 plus applicable facility fees and service charges.  They may be purchased through Ticketmaster or by going to www.unitedcenter.com.  A limited number of special premium Dragon Hot Seats, VIP and family packages are available.
The VIP package looks amazing and I wish I could let my family experience that! You get to meet the dragons and get pictures taken, great seats, etc.
If you don't live in Chicago, that's ok! The How to Train Your Dragon Live Spectacular is touring all over the US and Canada. Here's a few fun facts about the show:
• The production is four years in the making.
• The production has the largest number of animatronics ever to tour the globe.
• The Red Death Dragon is the largest animatronic ever built by Creature Technology Company at over 40 feet high and 60 feet wide.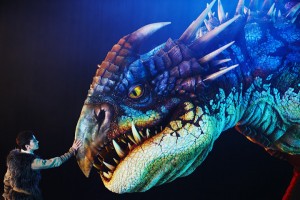 HOW TO TRAIN YOUR DRAGON LIVE SPECTACULAR IS THE LARGEST FAMILY TOUR EVER PRODUCED!
• Travels in over 30 18-Wheeler Trucks (52' each) with a touring cast & crew of 85.
• Together the show weighs over 200,000 pounds.
• It would take one person over a year to load in the production.
• Takes over 160 people to set up the production in each city (the equivalent of one person working 24 hours over 70 days).
• If all the cables in the production were laid out end to end, they would stretch from Los Angeles to New York City.
DRAGONS TAKE TO THE SKY WITH GROUND-BREAKING TECHNOLOGY!
• The production created the first-ever touring flight track system that weighs over 28   tons.
• The flight track uses a proprietary barcode system. The creatures scan a barcode strip as they fly around the track which tells them (and us) where they are at all times.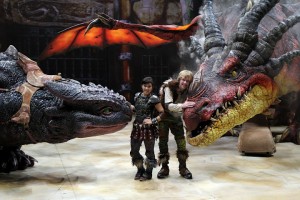 • Toothless weighs over 7,500 pounds and flies over 1.2 miles throughout the performance which is equivalent to a Range Rover soaring through the arena.
• There are more automation cues in the opening sequence alone than a Broadway musical has in a night.
• The first-ever fully immersive live experience with projection spanning more than 20,000 square feet throughout the entire arena. The back projection wall is equivalent to 9 movie screens combined.
THE DRAGON FACTS & FIGURES.
• Produced over a two-year period in Melbourne, Australia
• 23 Dragons
• 12 Different Dragon Species Represented
• Dragon wings span up to 46ft
• Each large dragon weighs over 2.6 tons (the size of a family car)
• Over 2 miles of "Dragon Skin" was created
Be sure to check out their website and TicketMaster and to follow the show on Facebook and Twitter.
Note: My family was given tickets to see the show in exchange for this post and a review afterwards. All opinions are my own. Photo credit: Todd Kaplan and Lisa Tomasetti.