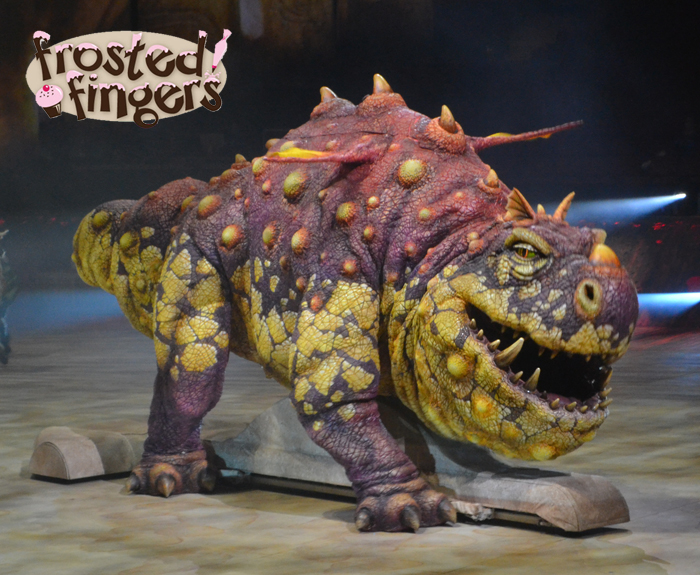 Last night I took my family to see How to Train Your Dragon Live Spectacular at the United Center in Chicago. It was amazing. I am pretty sure it's the best live show I've ever seen. It was so creative. The dragons looked so realistic and the cast was so acrobatic and spot on. There a giant screen that stretched across the arena that all of the action went on in front of it. The projectors would project on to the floor and move up to the screens. They just used all the space they could. There was a scene where they projected a path on the screen and Hiccup was running down the path, except the path was on a wall and Hiccup had his feet on the screen, running and jumping along while the path moved. It was amazing to watch and very hard to describe. Basically, he was walking on the wall! (He did have a harness on, but could you imagine how hard that would be to manage?!)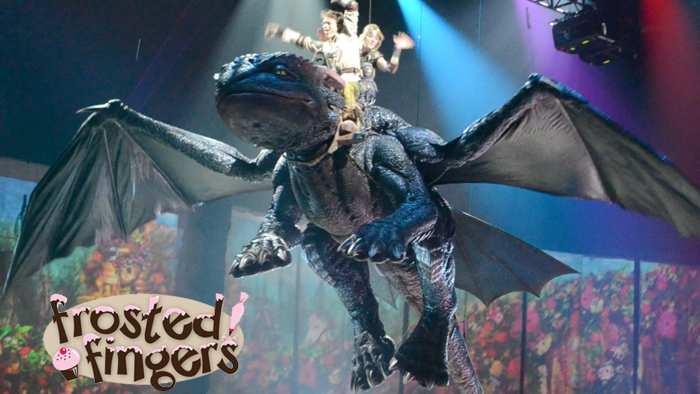 My kids got a kick out of the Gronkle and his, um gas problem. I love how each dragon had their own personality. There was a girl dragon that flirted with the audience. That was Monkey's favorite dragon. Of course the whole time we all wanted to hop on Toothless and fly around the arena. I loved watching the cast dance and fight the dragons. Everything was choreographed very well! It was altogether an awesome show. Be warned, though, if your child scares easily, you may want to take a second guess about going. My daughter was terrified at first, but my husband had her sit through the first few minutes and she was then fine and fell in love with it.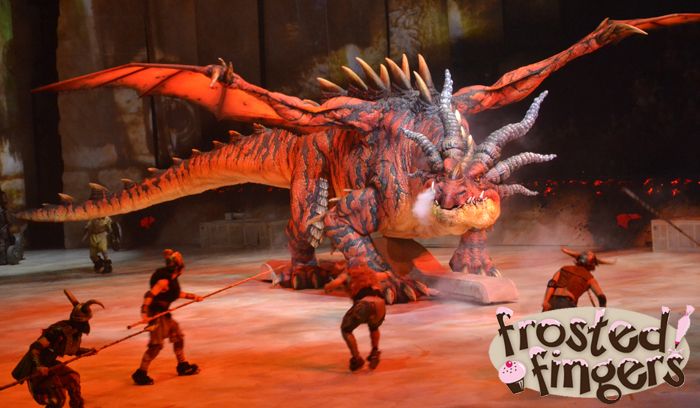 The tickets can be a little pricey if taking the whole family, but there are deals out there. Don't forget to enter the promo code: MOM to get 25% off of select seats to weekday shows (includes Friday nights.) This is a nationwide offer! Purchase through Ticketmaster. There is also currently a Living Social deal for the remainder of the Chicago shows starting at $51 per ticket and it includes a gift bag for each ticket bought. DREAMWORKS HOW TO TRAIN YOUR DRAGON LIVE SPECTACULAR will appear at the United Center on  Friday, July 27 at 7:00 PM; Saturday, July 28 at 11:00 AM, 3:00 PM and 7:00 PM; and Sunday, July 29 at 1:00 PM and 5:00 PM with free parking at official United Center parking lots for all performances.
Since I can't give you a great deal of pictures in this short post, I created a YouTube slide show of my pictures. If you can make it work, don't miss this show! I really do believe it's a once in a lifetime experience! Also be sure to check out their website and TicketMaster and to follow the show on Facebook and Twitter. For other fun facts, check out my first post about How to Train Your Dragon Live Spectacular!
Note: My family received passes to this show in exchange for this blog post. All opinions are my own.