We were supposed to get a chance to garnish these drinks when we were sitting with Sandra Lee, but we ran out of time. We got to drink them instead. I really liked the flavor of this daiquiri.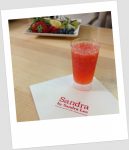 Strawberry Licious Daiquri #bySandraLee
Ingredients
1

orange

1/4

cup

sugar

1/4

cup

water

1

pint

fresh strawberries

4

ounces

rum

optional
Instructions
Using a vegetable peeler or zester, remove the zest of the orange, taking care to leave the pith behind.

In a small saucepan over medium heat whisk together the sugar with 1/4 cup water and the orange zest. Bring to a simmer and remove from heat. Cool to room temperature.

Reserve 4 strawberries for garnish and remove the hulls and roughly chop the remainder. Add the strawberries with the juice of the orange to a blender and fill with ice. Add the cooled orange simple syrup and blend until smooth. Add the rum, if desired, and blend. Pour into glasses and garnish with reserved strawberries.
This recipe is by Sandra Lee and I didn't actually make it. I just tasted it at the Sandra Lee event in NYC.