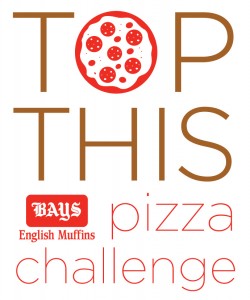 Bays English Muffins is having a Top This Pizza Challenge where they're asking people to create pizzas out of their English Muffins and submit the recipe for a VIP trip to Italy for two. Wouldn't that be awesome! They are taking entries here until May 31, 2012. Five runners up will get a case of Bays English Muffins. Imagine the possibilities for recipes when you have a whole CASE of English Muffins!
One of the things I really loved about Bays English Muffins is that they're already split! I hate having to cut my English Muffins before I use them. They never split evenly and I get crumbs everywhere. (Did I ever tell you that I'm a very messy cook?) One of the things I don't like about Bays, though, is that their bags are not resealable. If you're not going to use all 6 English muffins at once, you need to pull out a close able bag to keep them fresh.
I made Chicken Alfredo Pizzas for my recipe. I absolutely loved these little pizzas! Little Man asked for seconds and he didn't even want to touch them at first. I love how easy these were to make and they came out perfect, in my humble opinion. 😉
Feel free to enter the contest and to "Like" Bays on Facebook. Periodically they will be giving out packages of free English muffins to follows! If you want to buy Bays English Muffins, you can find them in the refrigerated section at the grocery store.
If you follow Bays English Muffins on Facebook, maybe you'll see my recipe pop up as the winner! 🙂 If you enter, good luck! I'd love to see your recipe as well! What is your favorite way to enjoy English Muffins?
Chicken Alfredo English Muffin Pizza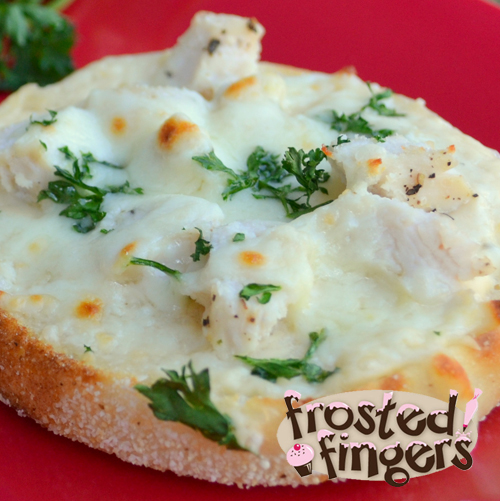 Ingredients
6 Bays English Muffins
2 thin or 1 large chicken breast
Garlic Salt
Pepper
¾ cup Alfredo Sauce
1½ cup Kraft Italian Five Cheese With A Touch of Philadelphia
Shredded Parmesan Cheese
Fresh Parsley
Instructions
Season chicken breasts with garlic salt and pepper.

Broil chicken (or grill) until no longer pink.
While chicken is broiling, add 1 tablespoon of Alfredo sauce to each half of your English muffins.

Remove chicken and preheat oven to 350.
When chicken is cooked, cut into small pieces and top your English muffins.

Sprinkle about ⅛ cup of cheese on each English muffin half.
Sprinkle with a little shredded Parmesan cheese.
Add a little bit of finely chopped parsley.

Bake at 350 for about 9 minutes.
Move to broiler for 2 minutes, until a nice golden brown starts to appear on the cheese.

Enjoy!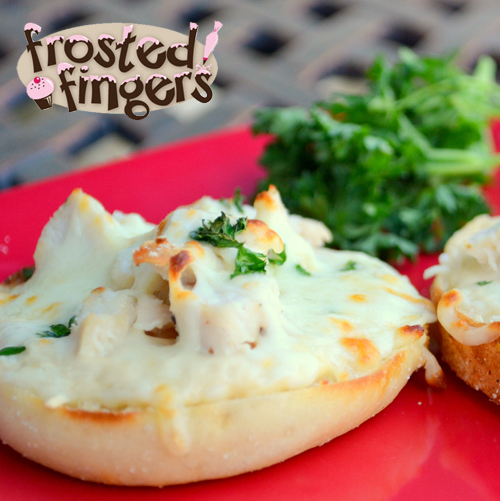 Note: I was given a case of Bays English Muffins to facilitate my recipe and review and to pass out to friends. All opinions are my own.