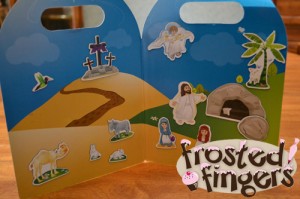 I was asked to choose one of Wee Believers Easter products to review for you. Wee Believers is a Christian based company that creates Faith based toys for children to play with and learn from.
FAITH CAN BE FUN. Toys from Wee Believers® speak to the most important aspect of children's lives…their faith. From puzzles to plush, from placemats to role play, each item is carefully designed and crafted, and is filled with heart & soul.
Wee Believers has a few Easter toys to choose from. I chose the 15-piece magnet set, because I wanted something that could be used on the go as well as in the house. I wanted something that would keep all the pieces together. My kids love puzzles, but once they get bored the pieces end up flying through my living room. Did you know that sometimes puzzle pieces can act as boomerangs?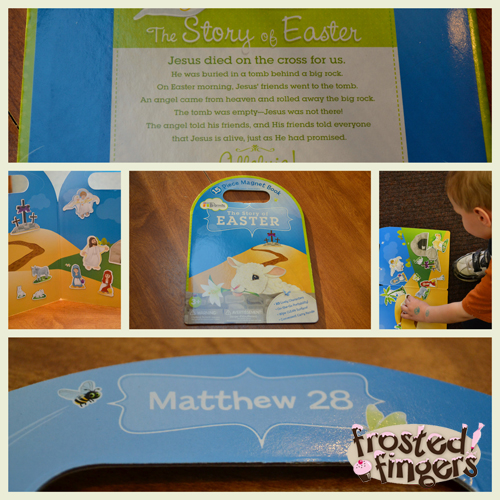 I like the thought and detail that went into this magnet set. There are happy people, friendly animals and the basis of the Easter story: Jesus, the tomb and the crosses. I like that the Easter story is told on the back of the magnet book. Little Man loves to pull this out and play with it at church. It doesn't hold his attention VERY long, but he's three and nothing really does. The other two don't get to play with it as much because it's always either in my purse or in my Sunday bag for Little Man to play with. They all sat down with me the first day I got it and played for about 30 minutes together with no fighting. It was nice!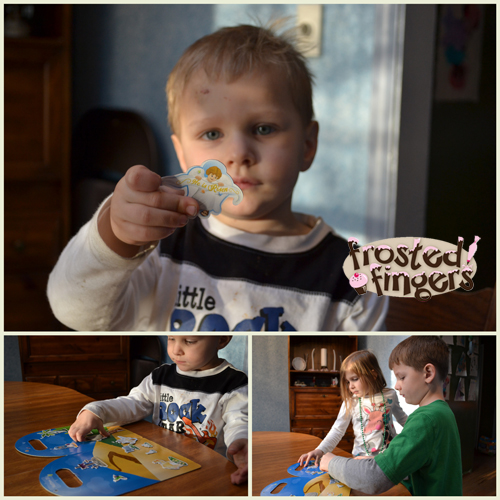 They all look so serious while they place the pieces. Ignore Little Man's forehead. Apparently he decided to surf down the driveway on the wagon and fell off. It looks fine now!
Buy It:
You can purchase this Wee Believers 15-Piece magnet set or any of their other Easter or Christian products at their website. The magnet set is priced at $13.99. Here's a little bit more about it:
Tell the Easter Resurrection story in your own way! Position these 15 durable, detailed magnets on the colorful magnetic board, or create your own display on the refrigerator. Great for on-the-go play!

15 colorful magnets with magnetic scene
Stores in reusable snap-top vinyl bag
Scene measures 15″ x 8″ when open
Made in China
Recommended ages 3+
Surface wipe only
I recommend checking them out if you're looking for a good Christian Faith based present for a child this Easter season.
Note: I received a 15-piece magnet set from Wee Believers in order to facilitate this review. All opinions are 100% my own.