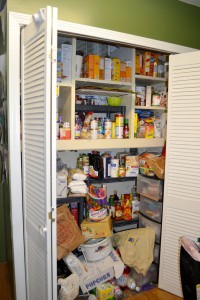 You may remember last month I posted for the whole world to see how horrible my pantry looked. I'm going to remind you with a before picture to the left here. It actually got worse before it got better! I was getting ready to leave for my trip to Kentucky and was actually tripping on items that had fallen out of there as I walked by. I had enough and I didn't want to leave it like that for my husband while I was gone. (Not that he was going to cook anything out of that pantry!) I had already ordered a bunch of organizing stuff for it but hadn't gotten around to the actual organizing aspect. SO I took everything out and started all over again. I dumped everything that was expired and got a bag ready for donating to a food pantry. It took me about 3 hours to get through it all. I had it all organized and then made it a little more pretty yesterday by dressing up the boxes I used with fabric and Mod Podge.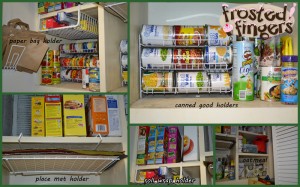 I'm going to start  by showing you around the top half of the pantry. (For a bigger view of any of the pictures you can click on them and they'll open in a new window.) On the top left I have a paper bag holder because my husband likes to use them as liners in our garbage cans. (It's still not installed correctly. It needs sinkers or it's going to fall out of the wall.) Next to that I have my roll wrap holder and a canned food holder. I have two of those and could almost use a third. A lot of those extra cans hanging out, though, will be used this week. You can see my place mat holder that hangs out in the middle. It's nice to have a place to put them where they can be flat but out of the way. I still would like a better way to organize my baking items on the right side of the closet, but I'm just taking it one step at a time. You can see my box over on the right that has all our oatmeals in it. I used USPS priority boxes and covered them with fabric and Mod Podge. Stinky but simple. 🙂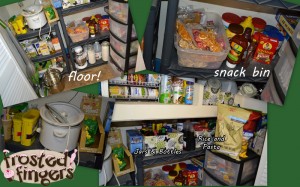 Now for the bottom half of the pantry. You can actually see my floor! My top left shelf holds tea, chocolate milk mixes, small slow cooker and applesauce. Blow that is my extra baking items like flour, sugar, oils, bread crumbs, etc. The top shelf of the other shelf system holds boxes with pasta and bottled items. Second shelf has the snack bin which the kids are allowed to take an item out of there two times a day. Bottom shelf has my Kitchenaid mixer, jars of flour, sugar, powdered sugar and popcorn and also my bagged beans. The drawer system has bread, my snacks, baking chips and candy melts and potatoes and onions.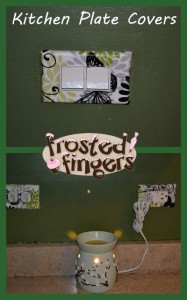 I even carried the theme over to my kitchen to tie it all together by putting the fabric on my kitchen switch plates. It's fun to pull everything together finally! I even made a few pop up plastic bag dispensers. I have one in my kitchen and one for downstairs by the litter box. It's so nice to not have a bag of bags just hanging around somewhere. It only takes a few minutes to turn your bags from the grocery store into a "refill" for your bottle. I used this tutorial for the bags that I found on Pinterest.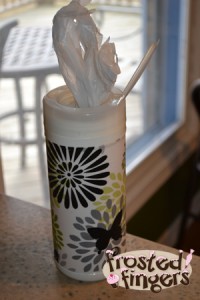 Overall I'm really proud of how it's all coming together. It probably wouldn't have happened without all the inspiration I've found on Pinterest. I know there's a ton of controversy over that site, but I really hope it doesn't go away. I love getting recipes, cleaning, crafts and organizational ideas from it! If you have any questions about what I did in my pantry, please ask! I'll leave you with the overall after picture: