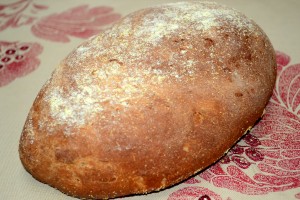 I'm so proud of myself on this one! It was my first time using yeast to make bread! The recipe yields two loaves. I used one to make croutons and we ate the other with some honey butter. (I'll post the recipe for that in the next few days.) The bread was very easy to make. It wasn't exactly like Outback's, but it was very delicious and I plan to make it again!
Outback at Home: Bushman Bread Recipe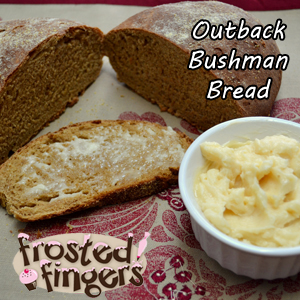 Ingredients
2 packages dry yeast (or 4½ t jarred yeast)
½ cup warm water
1 T sugar
1 cup warm water
½ cup molasses
1 T salt
2 T vegetable oil
2 cups rye flour
3 cups bread flour
Shortening for greasing the pan
½ cup cornmeal
Instructions
Preheat your oven to 375 degrees.
Soften yeast in ½ cup warm water.
Stir in the sugar and let stand 6 minutes or until it's bubbly.
In large mixing bowl combine the yeast/water combo above along with 1 cup warm water with molasses, salt, oil and rye flour.Mix this until it makes a nice smooth batter.
Work in the bread flour until the dough is smooth and no longer sticky. It should be very pliable and elastic.
Knead the dough for a few minutes and then let it rise in a greased bowl until it's doubled.
Punch the dough down and shape into 2 large oblong loaves
Placed the loaves a few inches apart on a greased and cornmeal dusted cookie sheet. Sprinkle a bit of the cornmeal over the top of the loaves as well.
Let loaves rise in a warm place until doubled.
Bake loaves at 375 for about 30 minutes or until the crust makes hollow sound when tapped.