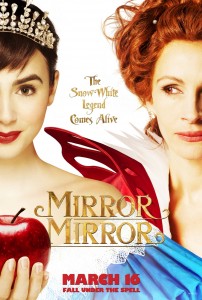 I have to admit I didn't hear a lot about Mirror Mirror besides from my blogging buddies. (You can click the link for more information, but beware that it has music that auto-starts!) I was intrigued, though, and when asked if I'd like to go review it I said yes! I was hesitant about bringing my whole family even though it was rated PG. It turns out it was done very well for the whole family. There was a scene with a monster in the woods that is kind of scary. Little Man and Monkey pretended to cover up, but they watched it and were fine.
One of the most beloved stories of all time is coming to life in the motion picture Snow White legend, Mirror Mirror. A fresh and funny retelling of the Snow White legend, Mirror Mirror features breakout star Lily Collins (The Blind Side) as Snow White, a princess in exile, and Oscar®-winner Julia Roberts as the evil Queen who ruthlessly rules her captured kingdom. Seven courageous rebel dwarfs join forces with Snow White as she fights to reclaim her birthright and win her Prince in this magical adventure comedy filled with jealousy, romance, and betrayal that will capture the hearts and imaginations of audiences the world over. The film also stars Armie Hammer (The Social Network) as the Prince, and Nathan Lane (The Birdcage) as the hapless and bungling servant to the Queen.
I found myself laughing out loud throughout the whole movie. It's meant to be playful and funny. If you are easily insulted by "Little People" jokes, you may not want to see this movie. The kids enjoyed all of the action and slap-stick humor throughout the movie. I turned on the preview (shown below) and Little Man just wants to watch it over and over again. He heard the words "Snow White" and he yelled "Did they just said Snow White? We saw that last night at the movie theater!" He was so excited.
Buddy's favorite part of the movie is where the dwarves were fighting. I don't want to give away too much of the movie with what he said.
Little Man said he liked it because they were fighting the bad guys.
Monkey is taking a nap, so I can't ask her what her favorite part is at the moment.
Mirror Mirror releases March 30, 2012. I think it's a fun movie to see as a whole family.

Note: I was given tickets for my family to preview Mirror Mirror. All opinions are my own.