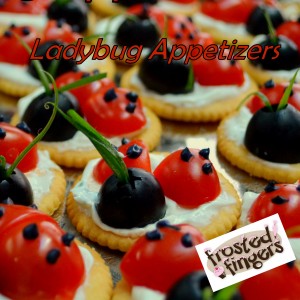 Last weekend we had our son's Blue and Gold ceremony for Cub Scouts. We were asked to bring an appetizer to share. I saw these on Pinterest and knew I wanted to give them a try. They're pretty time consuming, but I thought they turned out pretty cute. They went over really well at the ceremony. I had none left. My suggestion is to not make them too early, though, because your crackers will get soggy. They originally come from Taste of Home.

Ladybug Appetizers Recipe
Serves: 3 dozen
Serving size: 3
Calories: 86
Fat: 6
Ingredients
2 ounces cream cheese, softened
2 tablespoons sour cream
Black paste food coloring
½ teaspoon minced green onion
⅛ teaspoon garlic salt
⅛ teaspoon minced fresh parsley
36 butter-flavored crackers
18 cherry tomatoes, quartered
18 large pitted ripe olives
72 fresh green onion pieces (about 1-1/2 inches long)
Instructions
In a small bowl, beat cream cheese and sour cream until smooth. Remove 1 tablespoon to a small bowl and tint black. Place tinted cream cheese mixture in a small plastic bag; set aside.
Add the green onion, garlic salt and parsley to the remaining cream cheese mixture. Spread over crackers. Arrange two tomato quarters on each for the ladybug wings.
For heads, halve the olives widthwise; place one half on each cracker. Insert two pieces of green onion into olives for antennae. Use tinted cream cheese mixture to pipe spots onto wings.