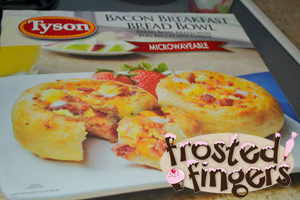 Last Saturday I was mailed the new Tyson Breakfast Bowls to try with my family. They were mailed because they're not yet in my Sam's Club stores. Thank goodness they packed it on plenty of dry ice because I was gone all day at the International Home and Housewares show. My roommate didn't call to ask what he should do with them as he sometimes does when I get packages. So my cooler with my breakfast bowls sat in my kitchen all day. When I got home they were still frozen and cold. Whew!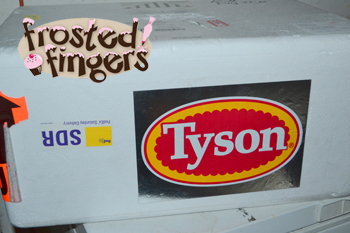 We didn't get a chance to try them until Monday morning when I was in a huge rush to get the kids out the door so I could get to the IHHS show again. I was so glad I had these bowls on hand! It took only 3 minutes and 15 seconds to get breakfast ready for the kids. (Too bad it still took Monkey 50 minutes to eat! She is a super slow eater!) All of the kids loved the bowls. Buddy even ate an extra!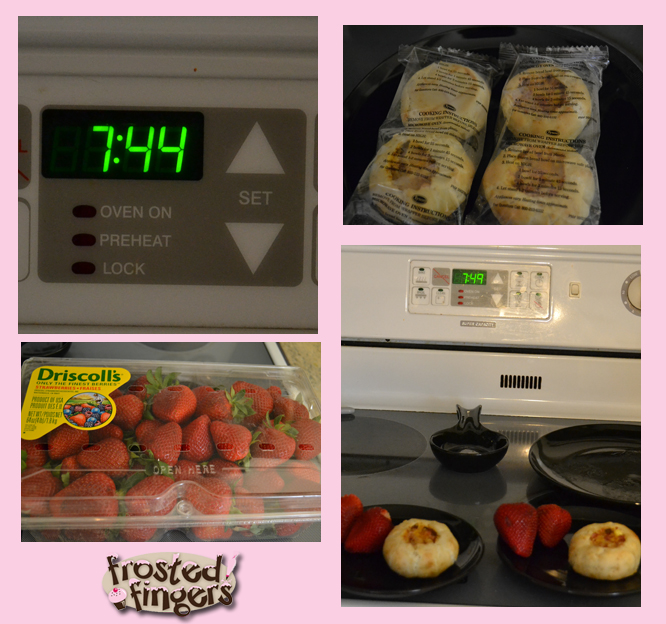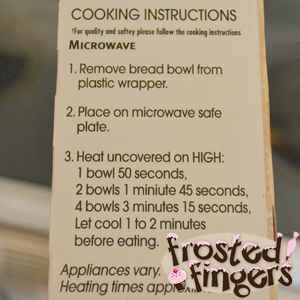 I was able to start the microwave the breakfast bowls, cut the strawberries and make their flavored milks all within the 3:15 it takes to make these bowls. I love how quick and easy it was to make these bowls. I really liked the taste of them. The bacon was strong, but not overpowering. I wouldn't eat these for breakfast every morning because of the calories, but they were great for a once in a while. It will definitely be great for Sunday mornings when we're always running late on the way to church. They'll be simple enough, and not quite too messy, to heat up and take with in the car. I definitely recommend these Tyson Breakfast Bowls for a quick, easy, on the go breakfast! (Or ANY daily breakfast.)
You can purchase your own Tyson Breakfast Bowls at your local Sam's Club.
Connect with Tyson Breakfast Bowls:  
Website

Facebook
This shop has been compensated as part of a social shopper insights study for Collective Bias. #CBias. All opinions are my own.