I got this recipe from my friend Erika on Facebook. My husband thinks this would taste better if I made my pork chops in the pan and just made the sauce on the side. My pork chops dried out and had no flavor. I was really looking forward to this being a flavorful dish. You can't win them all! (I also used really thin chops which may have been part of the problem, that and hubby said to stop cooking meat in the slow cooker.)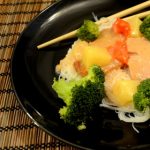 Slow Cooker Hawaiian Pork Chops Recipe
Ingredients
6

lean pork chops

1

tablespoon

Dijon mustard

2

tablespoons

red wine vinegar

1

tablespoon

stir fry sauce

1/2

teaspoon

salt

1/8

tsp

pepper

20

ounce

can pineapple chunks in juice

2

tablespoons

cornstarch

1

can sliced water chestnuts

1

red bell pepper cut into chunks

Broccoli

Rice Noodles
Instructions
Place chops in slow cooker.

In small bowl, combine pineapple juice, mustard, vinegar, stir fry sauce, cornstarch, salt and pepper.

Pour sauce over chops in crockpot. Add red bell pepper and water chestnuts.

Cover and cook on low 5 to 6 hours or until meat is tender. Remove chops and keep warm.

Stir in pineapple chunks. Cover and cook on high 10 to 15 minutes.

While sauce is incorporating pineapple chunks, boil your rice noodles and steam your broccoli.

Serve over rice noodles.