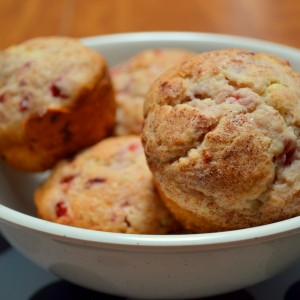 This morning I woke up and wanted to start the new year with fresh, from scratch muffins. I had a bunch of fruit leftover from my New Year's Eve "Party" so I looked to see what I had the most of. It turns out I had strawberries. I've never made from scratch muffins before, besides apple, so I had no idea where to start. I did a quick Google search on my phone for strawberry muffins and came across this recipe from A Recipe A Day. It looked simple, yummy, and best of all I had all the ingredients without running to the store! To make it even more amazing that I made these muffins from scratch, I didn't pull out my mixer, so I even mixed everything by hand! Her recipe calls for mixing together cinnamon and sugar to top the muffins. I already had the store bought mixture, so I just sprinkled some of that on top. I don't think I used enough, and next time I'll definitely add more. Here's her recipe: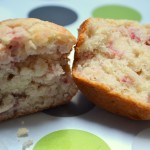 Strawberry Muffin Recipe
Ingredients
1/2

c

butter

softened

3/4

c

sugar

1

egg

2

c

flour

2

t

baking powder

1/2

t

salt

1/2

c

milk

1/2

t

vanilla

2

c

chopped strawberries

3

t

sugar

1/2

t

cinnamon
Instructions
Preheat oven to 400º.

Cream butter and sugar. Add egg and mix well.

Sift flour, baking powder, and salt in a small bowl. Add flour mixture and milk alternately to butter mixture. Add vanilla. Gently stir in strawberries.

Spoon batter into muffin pans.

Combine sugar and cinnamon and sprinkle over muffins. (If you cheat like I did and use the shaker cinnamon sugar combination, make sure you sprinkle enough!)

Bake at 400º for 20-25 minutes.

Makes one dozen muffins.