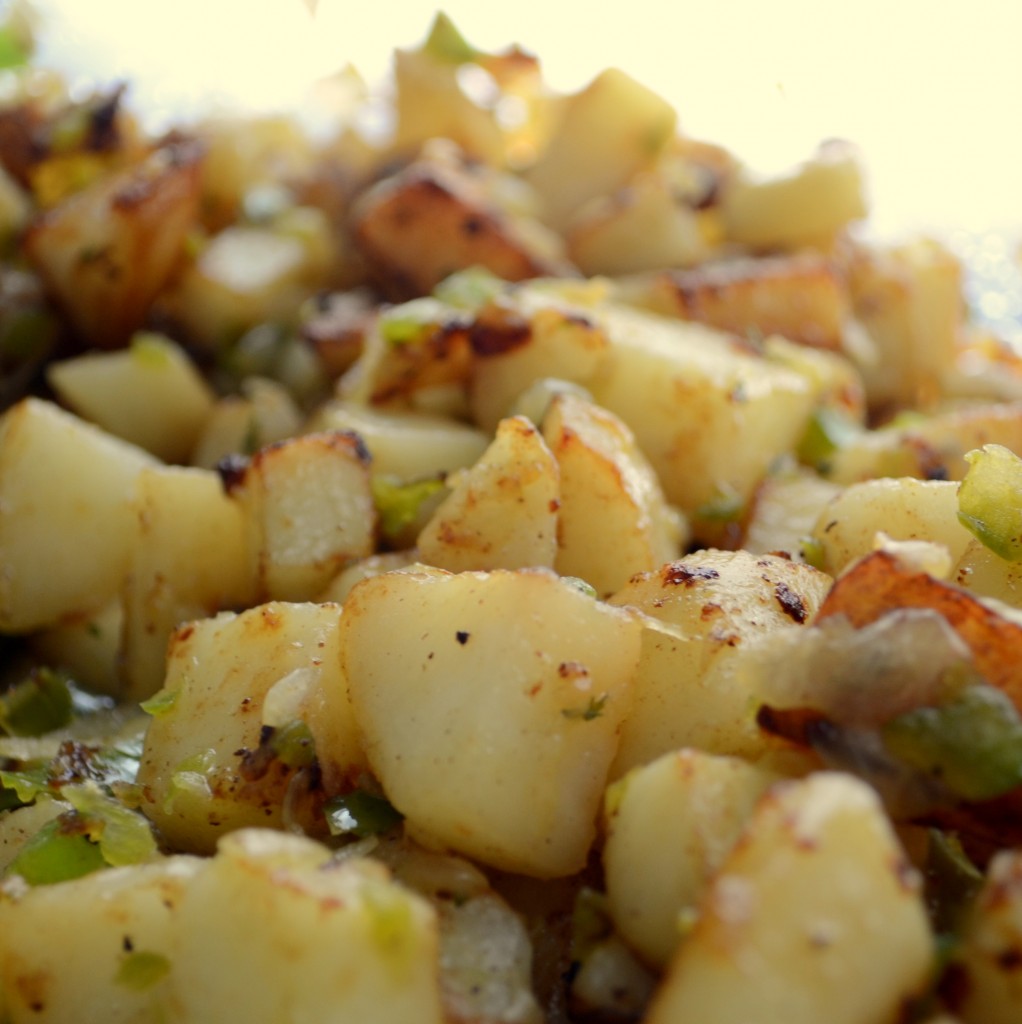 I got this recipe from cooking.com. I need Potatoes O'Brien for a dish I'm making tonight and I couldn't find them in the freezer section at Walmart when I went shopping. I decided to make my own. I forgot to buy red peppers so mine only has green peppers in it. It tastes and smells awesome! I'll give you the recipe that I mix this in with in a few days.
Potatoes O'Brien Recipe
Ingredients
1 1/2

tablespoons

unsalted butter

1 1/2

tablespoons

olive oil

1

large yellow onion

finely chopped

1/2

small red bell pepper

seeded, deribbed and finely diced (I didn't have any red pepper so I just used green.)

1/2

small green bell pepper

seeded, deribbed and finely diced

2

lb

small white or red potatoes

peeled and cut into 1/2-inch cubes

2

tablespoons

chopped parsley
Instructions
In a large frying pan over medium-high heat, melt 1/2 tablespoon of the butter with 1/2 tablespoon of the olive oil. Add the onion and saute, stirring occasionally, until golden brown and just beginning to caramelize, 5-7 minutes. Do not allow the onion to scorch. Add the red and green peppers and saute until beginning to soften, 3-5 minutes longer. Transfer to a serving bowl and set aside.

Add 1/2 tablespoon each of the remaining butter and olive oil to the same pan. Add half of the cubed potatoes and cook, turning to brown all sides, 5-7 minutes. If the potatoes are too dry, add a little more butter or oil. Transfer the browned potatoes to the bowl holding the pepper mixture. Repeat with the remaining butter, olive oil and potatoes.

Return the mixture to the pan. Raise the heat to high so that it quickly warms through. Remove from the heat and season to taste with salt and pepper. Add the parsley and stir to combine. Return to the serving bowl and serve immediately.