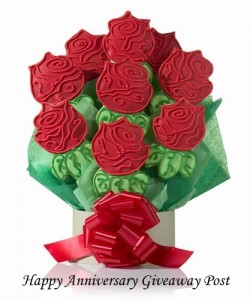 Day 3 of my Anniversary week giveaway party! Today I am giving away 5 Nintendo DS video games for girls! Back in October, I believe, I went to a girls' video game summit put on by Activision where we learned a little bit about the gaming industry and young girls. We learned about how screen time affects children and what the age limits should be for them:
The American Academy of Pediatrics recommends no more than one to two hours for kids older than 2 (and zero for children under 2), which includes all screen time from video games to computers to television and the like. Setting those limits is critical to ensure that the other parts of their brains and bodies also develop. Fortunately, the Department of Family and Preventive Medicine at the University of California found that children who strongly agreed their parents had rules about television viewing time were less likely to exceed recommended screen time limits.
If you'd like to hear more about the studies, head over to Michelle at Honest and Truly. She did a great write up about everything! This Christmas my 6 and 4 year old will both be getting DS's. I plan to put a new system in place for screen time in my house because I don't want the kids playing video games or watching TV ALL DAY LONG. I think I'm going to make extra chores, extra homework sheets, and extra reading time all equal a certain number of minutes that each kid can have screen time each day. I haven't worked out the specifics yet, but when I do, I'll come let you know and then do a follow up post of how it's working for us.
On to the games! I haven't reviewed any of these because we don't officially have a DS in our house yet.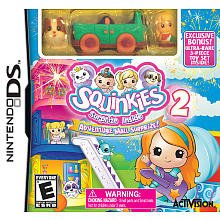 Squinkies 2 Throw the biggest party you can imagine in this game that sends you back to the squishy, squashy world of Squinkies! There's a new mall in town just waiting to explored. Who knows what new Squinkies you'll meet once you're there? Bounce around the mall and invite the other Squinkies you meet to a Squinkies party. There are four areas to visit – the Amusement Park, Aquarium, Wedding Castle, and Food Court – plus over 600 Squinkies to discover and collect. Making new friends will unlock new playable characters, and collecting magical coins will unlock some playable hard-to-find Squinkies.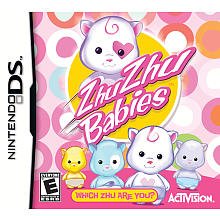 Zhu Zhu Babies Pick your favorite Zhu Zhu Pet and explore your very own HUMONGOUS Hamster city!
Nurture them, feed them, hear them chatter and love them as you scoot and scamper through an awesome maze filled with chutes, tunnels, twist, turns, ramps and jumps for endless fun for everyone! Each Zhu Zhu Hamster has its own unique personality and whimsical sounds! Help them scoot, scamper, bump n boogie through the crazy maze as you unlock more cool stuff the further you go in the Hamster Habitat! Collect all your favorite Hamsters as you rule the Zhu Universe!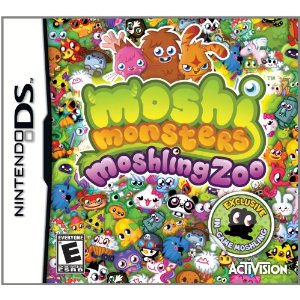 Moshi Monsters Moshling Zoo 
FIND 'EM, KEEP 'EM
Moshi on the Move: Based on the monster global phenomena Moshi mosters with over 50 million players from more than 150 countries worldwide!
Immerse yourself in the world of Moshi Monsters! The world's fastest growing online game for children presents Moshi Monsters: Moshling Zoo on Nintendo DS. Boasting over 50 million players across 150 countries worldwide Moshi Monsters is one of the largest and most loved online games for children. Moshi Monsters: Moshling Zoo is set to become one of the most sought after presents for children this Christmas! Moshi Monsters: Moshling Zoo features:
FIND 'EM, KEEP 'EM: Explore the Wooly Wilderness in the search for ULTRA RARE Moshlings to add to your Moshling zoo!
PLAY COOL MINI-GAMES: Play exclusive Moshi mini-games to help boost your Moshling's Level, Mood, Health and Happiness.
EXPLORE THE WORLD: Explore all new areas of Monstro City including Buster's Baby Care, the Gloramatorium and Raaghly's Stararcade.
UNLOCK MOSHI REWARDS: Unlock ULTRA RARE Moshi Monsters rewards including achievements, trophies and super secret items to be unlocked within MoshiMonsters.com
The world's fastest growing children's brand now on Nintendo DS!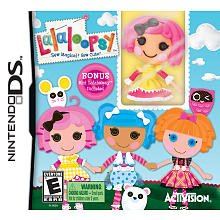 Lalaloopsy 
Lalaloopsy is a single player Simulation game for the Nintendo DS that is based on the Lalaloopsy toy doll product line. Lalaloopsy is designed for young girls, focusing on players' curiosity, love of friends, and passion for crafts to introduce them to a fun and exciting world where friendly rag dolls come to life. The game features 12 playable rag doll characters each with their own personality, easy to master DS touch controls and a variety of crafts and activities.
Sew Cute on your Nintendo DS
With your love and a little bit of imagination, the Lalaloopsy magic can go on forever
Each doll has her own personality that comes from the fabric used to make them
Join Mittens Fluff 'N' Stuff, Tippy Tumblelina, Crumbs Sugar Cookie and more in the magical Lalaloopsy Land
Enjoy friends, silliness and fun as your child makes cookies, grows flowers and more and then shares with their Lalaloopsy friends
12 Lalaloopsy doll friends to choose from
Easy to master DS stylus touch controls and clear on-screen directions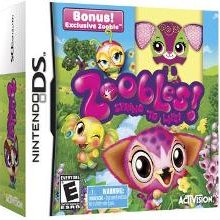 Zoobles Spring to Life Immerse yourself in the wonderful world of Zoobles! Adopt a loveable Zooble companion and watch it Spring to Life before your eyes!
Zoobles! Spring to Life features:
Play as 18 adorable Zoobles. Which one will be your new best friend?
Explore 6 whimsical worlds: Petagonia, Azoozia, Chillville, Petal Point, Jungleoplis and Pinegrove while meeting over 40 new Zooble friends!
Form a bond with your new best friend by nurturing, petting, grooming and putting your Zooble to bed.
Earn Zoints to unlock over 120 décor and accessory items to embellish your Happitat and help your Zooble look fabulous!
How would you like a chance to win all of the games listed above  for yourself?
You can buy all these games wherever video games are sold.
Your Winner

Author: Jen Fredrick
Comment: 
Honestly, I don't have an actual limit for screen time. We turn it off when it's been enough. But I am one that has always had the tv on all the time, even if only for background noise. Many times it will be on but the kids are playing with something else.
One of my lucky readers will win a Games for Girls prize pack featuring: Squinkies 2, Zhu Zhu Babies, Moshi Monsters Moshling Zoo, Lalaloopsy, and Zoobles Spring to Life games for the Nintendo DS. 
Mandatory Entry
Tell me how much screen time your child is allowed to have and how you monitor it. (Or if you have no children, let me know what your favorite video game was growing up.)
Extra Entries
Like Frosted Fingers on Facebook
Follow Frosted Fingers on Twitter
Tweet about this contest once every 24 hrs. Please include @frostedfingers. You can click the tweet button below.
Please leave a separate comment for EACH extra entry indicating that you performed the required entry.  Provide links to Tweet, etc. as required for the entry.

Giveaway is open to the USA and ends on December 23, 2011 at 11:59 pm CST. Winner will be selected at random from all eligible entries and will be contacted by email. Winner will have 48 hrs to respond.  Please add paula@frostedfingers.com to your trusted email filter.  If original winner does not claim their prize within 48 hrs, it is forfeit and a new winner will be selected promptly.

Note: I received a coupon for free product of my own to review in exchange for my honest opinions. All opinions are my own. 

No purchase necessary to enter or win. Odds of winning are not increased by a purchase.

Please note that as much as we would like your prize to arrive before Christmas, we cannot guarantee it.