Today I have to have a guest post for my cookies. I ended up in bed all day with the stomach flu yesterday and didn't get around to baking as I hoped I would. Lynsey from Moscato Mom has told me I could use her recipe today. Lynsey is awesome! We were on both Brandcations together and she was my roommate in Brandcation Kissimmee. Lynsey is definitely one of my best blogging buddies and I can't wait to see her again. We need to re-plan our NOLA getaway!
Please visit Lynsey and give her some love on her Santa Hat Pretzel Candies. Definitely check out her site while you're there. If you have a Babycakes Cake Pop maker, she has a ton of awesome ideas on how to use it. I love checking out her site!
Santa Hat Pretzel Candy Recipe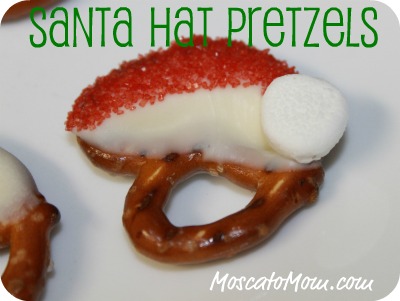 Ingredients
Miniature pretzels
White almond bark or candy melts
Red sugar sprinkles
Miniature marshmallows
Instructions
Melt almond bark or candy melts as instructed on the packaging.
Dip miniature pretzels half way into melted chocolate and then immediately into a bowl of sprinkles, leaving some white showing. (*Note: before you think you can get off easy and just "sprinkle" the sprinkles… it doesnt work. Trust me, I tried.)
Cut mini marshmallow in half and place sticky side down to make the "puff" at the end of Santa's hat.
Place gently on greased cookie sheet or wax paper and let cool.