I was chosen to try the new Marzetti's Simply Dressed salad dressings.  I've heard of Marzetti's before, but I'd never heard of Simply Dressed.
Our Simply Dressed® salad dressings are all natural, made with extra virgin olive oil, sea salt and canola oil, which provides omega-3. And since they're all natural salad dressings, they don't contain preservatives, trans fat, high fructose corn syrup, MSG and artificial flavors.
Looking at the website, I can't believe how many flavors there are! I wish they had that many at my store. I couldn't even find Simply Dressed at Walmart. I had to go to Jewel, which I don't go to as often as I used to. Jewel only had a few to choose from. There are so many flavors I'd love to try! I ended up getting the Strawberry Poppyseed. I've just started venturing into fruit dressings and I'm in love! I would have also liked to try the Balsamic, but they didn't have any at Jewel. The calories on the Balsamic fit more in line with my weight loss attempts at 90 calories per serving.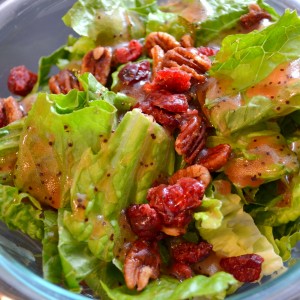 The Strawberry Poppyseed is 140 calories for two tablespoons. It was definitely worth it to have for a treat every once in a while on my salad. I loved the smell of it when I opened the jar. I ended up using romaine lettuce, cherry flavored cranberries and honey toasted pecans in my salad along with the dressing. I really wanted to throw a grilled chicken breast on the salad, but the two I had in my fridge were past their expiration and I was in a rush so I couldn't grill up some more. I think the Strawberry Poppyseed dressing would be an interesting flavor as a marinade on chicken. In fact, I think I'm going to give it a try for tonight.
I was just browsing the Marzetti recipes and found this one to look pretty yummy:
Grilled Garlic Flank Steak Salad
Minced garlic adds extra flavor to grilled flank steak served over a bed of Romaine lettuce, cherry tomatoes, red onion and Parmigiano-Reggiano cheese.
Ingredients
1 cup Marzetti® Simply Dressed® Caesar Salad Dressing
1 Whole flank steak (1½ to 1¾ pounds), scored
2 tsp. Minced garlic
2 tbsp. Vegetable Oil
2 head Romaine lettuce, outer leaves discarded, inner leaves separated and left whole or chopped
2 large Ripe red tomatoes, sliced or 1 pint cherry tomatoes, sliced in half lengthwise
1 small Red onion, cut into ¼-inch slices
2 oz. Parmigiano-Reggiano cheese, shaved or grated
To taste Salt and freshly ground black pepper
Instructions
Place meat in a shallow dish or plastic bag.
Lightly sprinkle both sides of meat with salt and pepper.
Combine garlic and oil and press into the meat.
Marinate 20 minutes or up to 12 hours.
Wipe off excess garlic with paper towel.
Reseason with salt and pepper
Prepare grill to medium hot. While grill is heating, arrange lettuce, tomatoes and onions on platter or individual plates.
Spray grill rack with non-stick cooking spray for the grill. Place meat on rack grill 4 to 6 minutes over direct heat, with tongs, turn the meat and grill an additional 4 to 5 minutes for rare to medium-rare.
Transfer meat to cutting board and allow meat to rest for 5 minutes before carving. Cut meat across grain into ¼-inch bite-size strips.
Arrange on top of composed salad. Drizzle with T. Marzetti Simply Dressed® Caesar Salad Dressing. Sprinkle with pepper and cheese. Serve. Pass additional dressing.
Disclosure: I was one of the bloggers selected by T. Marzetti Company and Clever Girls Collective to host a Marzetti Simply Dressed review. They provided me with product to test myself and compensation for my time. However, my opinions are entirely my own.