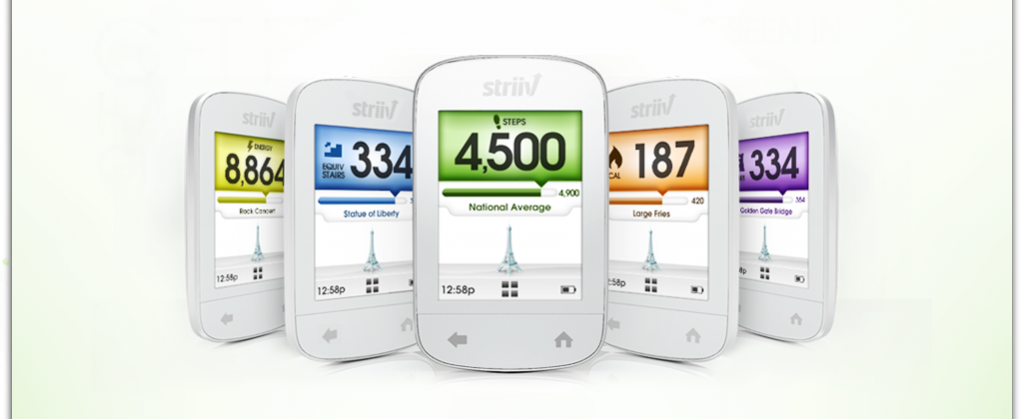 Are you looking for a cool tech gadget to get the fitness person on your list this Christmas? Striiv just may be the answer for you. Striiv is a new fitness device that motivates and rewards movement throughout the day with games, challenges, and donations– all powered by physical activity. The Striiv is a little device that fits in the palm of your hand. You can clip it on your belt, put it on your keychain, slip it in your pocket or hold it in your hand. It measures your steps no matter where it is on your body. I just have mine in my pocket all the time.
I can tell you that since having my Striiv I strive to move more. My personal best for the day so far is 7414 steps. Yesterday I came so close to it with 7158. I was tempted to just go for a walk around the block, but it had been a ridiculously long day and it was COLD outside! I did walk around my house a few extra times just to get more steps in, but I didn't reach my goal. Since today is a computer day for me I'm setting my timer to go off every 20 minutes and when it does I need to get up and do some sort of activity. I work in the basement so I'll run to my stairs from my office, run up my stairs, walk around the house, come back down the stairs and throw other things in as well, including jumping jacks, jumping around, jogging in place, etc. I'm in a challenge to lose 20 pounds by March 1st. So far I am down 1 pound. The Striiv is definitely going to help me keep moving. I just need to work on my eating!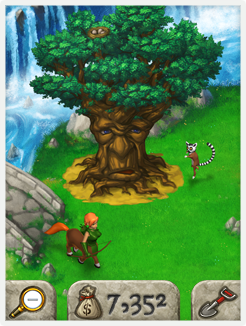 Striiv has this fun game called "My World" where you grow plants and build buildings on your island in hopes of attracting animals. When you grow a plant it earns you money that you can then turn around and buy another plant or building. In order to grow your plants or build your buildings, though, you have to use energy. You earn your energy for the game by walking in real life. The Striiv takes the energy you've burned and transfers it into your game. You can even interact a little with your animals on the island. If you tap the tiger it roars and swipes at you. If you tap a Lemur it dances and if you tap a Centaur it waves to you.
With Striiv you also have a Walkathon in your pocket. "Every step you take counts towards a donation to charity– at no cost to you. When you walk, Striiv and other sponsors make donations on your behalf. The more you walk, the more you give." I chose to give back to the rainforests. With every 18,000 steps I conserve a parking-spot size area of Tanzania's rainforest for a year. So far I have donated 11 and I'm over halfway through to number 12.

Striiv also has challenges and goals for you to meet. It tells you how many calories you've burned, steps you've taken, stairs you've climbed, but it's more than that. It also compares it to something in real life so you can visualize what you've done. So far I have climbed the Eiffel Tower, walked across Rhode Island, burned a sundae, a banquet, and a Sunday brunch. It makes it more realistic when you see that just walking around your house all day you've done more than you think. My next goal is to walk Canyonlands, Utah which is apparently 120,000 steps. I am currently 125 steps away from that goal and may reach it before I finish this post since my alarm should go off any minute for me to get up and exercise.
Striiv's vision is to motivate people, and we started with a simple question: "What if?"

What if walking to lunch, taking the stairs, and walking our dogs could feel like play? What if we could create a fun experience that motivates us to get fit, donate to charities, and spend more time with family and friends?

At Striiv, we believe that getting in shape should fit around your schedule, and more importantly, it should be fun! Remember how exciting it was to play games like kickball during recess?

When most of us think about "fitness" today, we think of taking time out of our busy schedules to go to the gym. The reality is, between work and family, we don't have time any more.

Striiv's first product is designed to help us spend more time together while getting fit, giving back, and having fun. This is our first step – come join us as we create a movement around movement!
How would you like to join the Striiv movement?
Win It:
One of my lucky readers will win a Striiv of their own.
Your Winner

Author:

Anastasia

Website: http://mediamafia.org/enter_now Comment:

Doing a lot of work at the computer, I hardly think about getting up and moving around! I think this will help me by being a visual reminder of how much I've done and act as encouragement to do more to increase my number! 😀
Mandatory Entry
Tell me about your struggles to lose weight or get in shape and tell me how you think the Striiv will help you improve.
Extra Entries
Like Frosted Fingers on Facebook
Follow Frosted Fingers on Twitter
Tweet about this contest once every 24 hrs. Please include @frostedfingers and @striiv. You can click the tweet button above.
Please leave a separate comment for EACH extra entry indicating that you performed the required entry. Provide links to Tweet, etc. as required for the entry.

Giveaway is open to the USA and ends on December 1, 2011 at 11:59 pm CST. Winner will be selected at random from all eligible entries and will be contacted by email. Winner will have 48 hrs to respond. Please add paula@frostedfingers.com to your trusted email filter. If original winner does not claim their prize within 48 hrs, it is forfeit and a new winner will be selected promptly.

Note: I received a Striiv to review in exchange for my honest opinions. All opinions are my own.

No purchase necessary to enter or win. Odds of winning are not increased by a purchase.

Please note that as much as we would like your prize to arrive before Christmas, we cannot guarantee it.