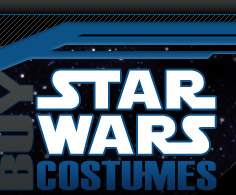 With Halloween coming up, do you know what your kids want to be? I know my friend, Marianna, has four boys that LOVE Star Wars. They would give anything for her to buy them Star Wars Costumes. This site has everything you could ever need for Star Wars including Darth Vader costumes. Oh how I wish I had the body to pull of the Princess Leia costume. I think Little Man would make an adorable Ewok. They even have funny costumes for your dog!
I know one of the things you'd be concerned with is, how fast will you receive your costume if you order.

According to the site "We ship all orders placed before Noon (CST), and all express order placed before 3pm (CST) SAME DAY! We want to provide you with the fastest shipping possible. Specific recieve by dates are listed next to all of the shipping options in our shopping cart." I also know that buying costumes only can be scary since you can't see the quality or if they'll fit right. According to the site "We offer thousands of products, most of which can be returned within 14 days from your Order Date. Refunds are for the cost of the merchandise only and do NOT include shipping and handling charges. NOTE: Orders placed between October 10th and November 1st are not eligible for a return."
The prices for the kids' costumes seem to be around $35 each, which isn't too bad for the amount of costume you get. For example, with the child X-Wing Pilot, you get the orange jumpsuit, chest box and Pilot helmet for $37.99. The costumes look well made from the pictures.
Connect with Buy Star Wars Costumes:
Phone: 507-386-8257
Disclosure: I am being compensated for this post with a free costume. All opinions are my own.