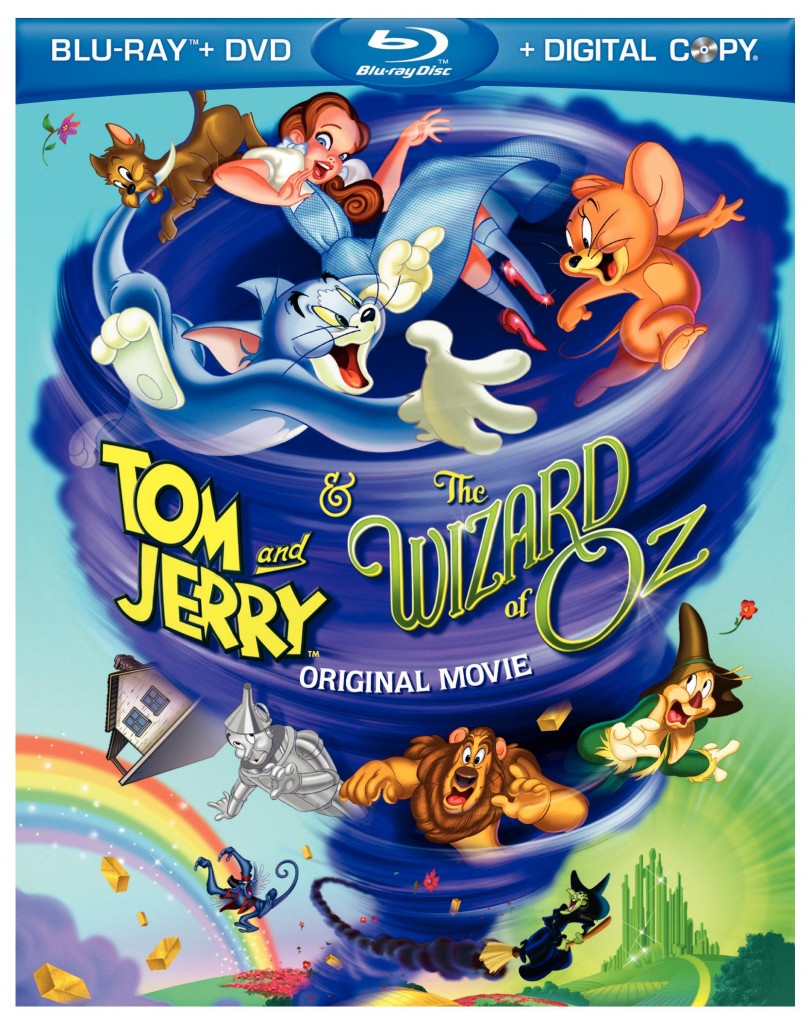 Today, Aug 23, a brand new Tom and Jerry came out. I was able to review it and my kids LOVE it! Every time they turn the tv on I hear Tom and Jerry now. The movie is full length and it is The Wizard of Oz. It's fun to introduce the kids to two of my old time favorite cartoon characters. All of the characters are fun and true to their old personalities. Tom and Jerry don't talk in this movie and I'm glad because I don't like the cartoons that have them talk.
"In this captivating story, Tom and Jerry are twisted up into a powerful tornado, soar over the rainbow and down the yellow brick road, where they encounter some of the legendary story's most cherished characters including Dorothy, her little dog Toto, the Scarecrow, the Tin Man, the Lion, the Wizard and many others. The cat and mouse team go paw to paw against a legion of flying monkeys and set out on a dangerous quest to storm the Wicked Witch's castle in a heroic attempt to return Dorothy and Toto safely back to Kansas, because after all, there is no place like home! This exciting new story is full of heartwarming and hilarious moments, and beautiful songs, including the memorable, Over the Rainbow."
What the kids have to say:
Buddy: "I like when Tom gets hit in the head by Jerry with wood because he ate a bird"
Monkey: "I like the puppy."
Little Man: "Good!"
Keep in mind that Monkey is 4 and Little Man is 2. Not very descriptive ages! Yes, the show has cartoon "violence" but it's not realistic and hearing my kids laugh and laugh makes it worth it.
Buy It:
Buy Tom and Jerry & The Wizard of Oz wherever you buy videos. It retails for $19.98 SRP for the standard DVD edition and $24.98 SRP for the Blu-ray combo pack, which includes both the Blu-ray and standard DVD editions.
Win It:
One lucky winner will receive their own copy of Tom and Jerry & The Wizard of Oz
Mandatory Entry
Tell me who your favorite cartoon character is.
Extra Entries
Like Frosted Fingers on Facebook
Follow Frosted Fingers on Twitter
Tweet about this contest once every 24 hrs. Please include @frostedfingers. You can use the tweet button at the top or bottom of the post.
Become a Google Friend Connect Follower (on the right)
Subscribe to Frosted Fingers
Disclosure: I was given a dvd to review. All opinions are my own. Contest open to US residents. Contest will close at 11:59 Central 9/7/11.