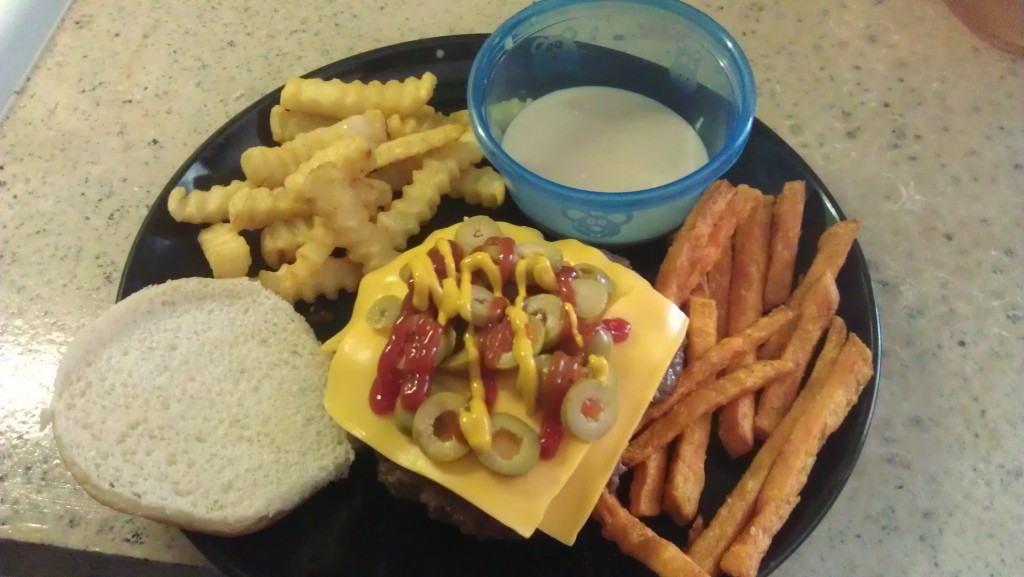 I was recently asked to "Switch my Fries" from regular Ore-Ida fries to Heinz Ore-Ida Sweet Potato Fries. I kept hearing the buzz about these new fries so I decided to give it a try. I was asked to shop at Sam's club, which I document the shop below with a This Moment slideshow. I've been dying to make burgers on the grill all week along with my new Heinz Ore-Ida Sweet Potato Fries, however, being the first week of school and first full week of football practices our schedule is all sorts of messed up.
Since I had to "switch my fries" I made both Ore-Ida crinkle cut fries and sweet potato fries to see which I liked better. I also made a dip for the Heinz Ore-Ida Sweet Potato Fries. (I'll share the recipe below.) Since I've not played with the grill yet I just broiled some burgers for me and the two little ones. I'm still not used to not having Buddy home for lunch anymore. 🙁 I made the crinkle cut fries first and took one right out of the oven to eat. First thing I noticed was how much better they are than the Great Value brand I normally buy. They were the right amount of crispiness and flavor. I didn't even need to add salt! Next I made the dip while the Heinz Ore-Ida Sweet Potato Fries were in the oven since it's supposed to sit in the fridge for 10 minutes to chill. I pulled the Heinz Ore-Ida Sweet Potato Fries out of the oven and tried one. I was really impressed by the taste. I couldn't wait to sit down and eat some with my new dip. I had to broil the burgers really quickly, though. Today was one of those days that I wished I had 3 ovens since the two types of fries had to be baked at different temps and I needed the broiler for the burgers.
I made my burger an olive burger because I've always loved them and hadn't had one in years. I had bought two giant jars of green olives at Sam's so I just chopped up about 5 olives to put on my burger. YUM! I called the kids in to eat and Monkey grabbed a Heinz Ore-Ida Sweet Potato Fry right away and said "YUM! I LOVE IT!" She ate quite a few right away but then they started getting cold and she switched her mind to liking the crinkle cut better. You can watch the YouTube video to see their reactions:
I adapted the following dip recipe from Food.com. I used light mayo and butter syrup because I didn't have real maple syrup.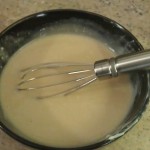 Maple Mayo for Sweet Potato Fries
Maple Mayo dip for Sweet Potato Fries
Ingredients
1/2

cup

light mayonnaise

1/8

cup

maple syrup

1 1/4

tablespoons

brown sugar
Instructions
Mix all ingredients together.

Refrigerate for 10 minutes.

Serve with sweet potato fries.
I would totally recommend Heinz Ore-Ida Sweet Potato Fries in order to switch your fries! I'd also recommend Ore-Ida crinkle cut fries over Great Value any day. I think Ore-Ida just sold me on their products!
Check out Ore-Ida:

Facebook (Please "like" them!)
This project has been compensated as part of a #OreIdaFries shopping mission for Heinz with #CollectiveBias. As always, all opinions are my own.