Life is looking up for me. I was doing Weight Watchers at the beginning of the year and I was doing well. Then I started working outside of the house. All hell broke loose and I started eating out ALL THE TIME. I think I started working about 2 months ago. At my last weigh in I had lost 14.7 pounds. I've gained 9 of those back! It makes me depressed and I feel nasty. Things have changed with work and my new boss is letting me work from home so I can make a difference in my family's diet along with starting a workout routine again. It's time for a change, and here it comes!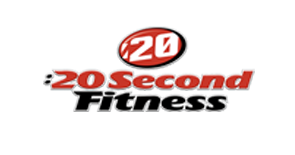 I've been given a chance along with a bunch of my other bloggy friends to try out :20 Second Fitness. The idea behind it is that you need to do 20 seconds of intense training and then a 10 second break and move on to the next exercise. Each day you'll work out 4-6 minutes. I did my first workout last night and could not believe how quickly it was over. I definitely feel like I worked out this morning, so I definitely feel like it was worth it. I can't wait to see the results! Home cooking and working out!!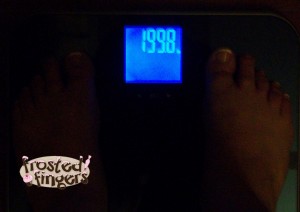 Sorry the photo is so dark. I weighed in last night and if I used the flash it would bounce off the scale. I promise to weigh in when I wake up from now on. (Besides, the number should be lower when I haven't had a day of crap food before weighing in!) I am not quite ready to restart Weight Watchers to go with 20 Second Fitness; not until I get my work schedule straightened out. Until that time, though, I do plan on journaling everything I eat and watching portion sizes.
| | |
| --- | --- |
| | 5/23/2011 |
| Weight | 199.8 |
| Waist | 42.5 |
| Hips | 48.5 |
| Thigh | 25 |
| Arm | 13 |
| Muscle % | 35.20% |
| Fat % | 40.10% |
| TBW% | 35.70% |
| Bone | 4.4 |
How can you get a good workout in as little as 4 minutes?

This is the question we get asked the most. The answer is that results have nothing to do with the amount of time you workout. The results come from intensity. One great example is that an elite athletes can run a mile in about 4 minutes. You know they're getting a great workout. They give it everything they've got for the mile and when they cross that finish line they are both aerobically and physically spent. That's what 20 Second Fitness is — it's you giving it everything you've got for short 4 minute sets. If you still have doubts, check out our demo workout.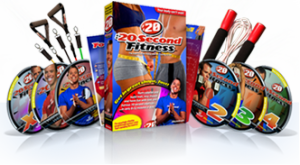 I love that everything I need comes in the box! I really enjoyed my workout last night and can't wait to do today's. Hope you follow along with me and my friends.
Check out these other great bloggers who are using 20 Second Fitness!
20 second fitness: do you have 4-12 minutes a day? from Kim @ What's That Smell?
Follow Alison's 20 Second Fitness Journey
My :20 Second Fitness Story from Shasta @ Faithfully Free
Starting a New Fitness Program from Marianna @ Green Mama's Pad
Getting into Shape: 20 Second Fitness from Xenia @ Thanks, Mail Carrier
20 Second Fitnessfrom Maggie @ My Little Review Corner
working out with 20 second fitness from The Blonde Critic
Rachel @ Yellow Tennessee
Fitness in 20 Seconds? from Amy @ Coffee Lovin' Mom
20 second fitness weight loss from Annie @ Mama Dweeb.
I was given a 20 Second Fitness Program kit free of charge in order to try it out and report back on my progress. I received no monetary compensation and all thoughts and opinions are my own. Always check with your doctor first before starting any fitness routine or program.