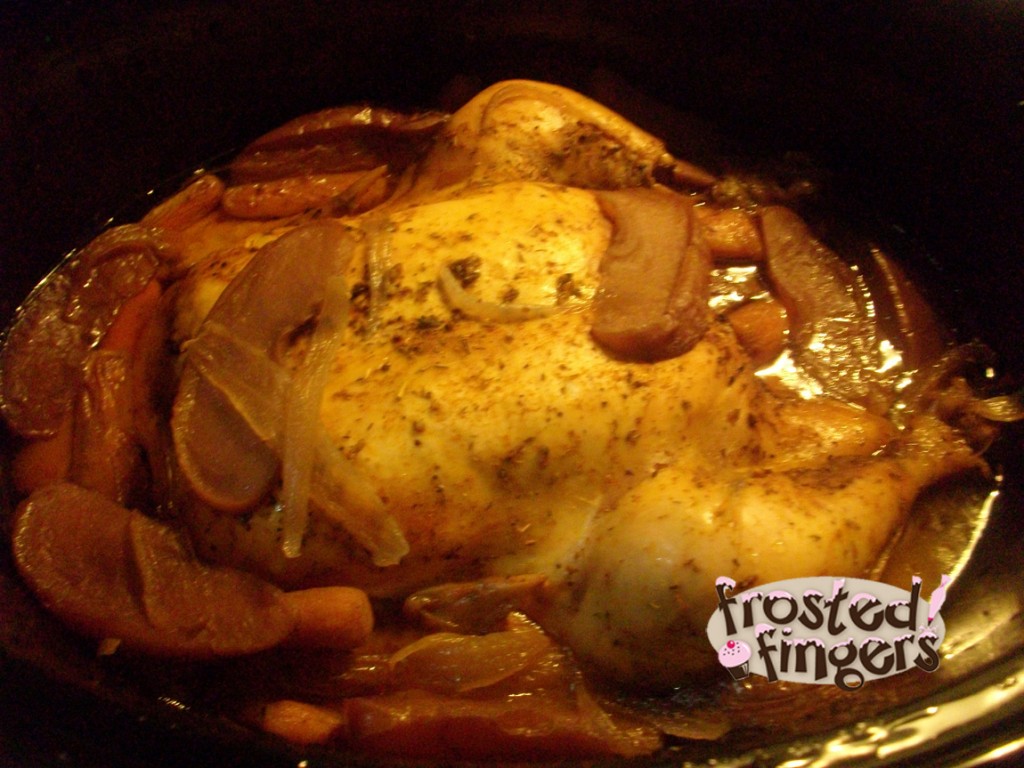 When I was doing my regular blog visiting from favorite blogging forum one day, I stumbled across my friend Julie's recipe for a whole chicken in a crockpot. I would have never thought to try it. It's a very simple recipe. I made just a few changes from Julie's, but not much.
Whole Chicken in a Slow Cooker Recipe
Ingredients:
Rub Ingredients
4 tsp salt
2 tsp paprika
1 tsp cayenne pepper
1 tsp onion powder
1 tsp thyme
1 tsp white pepper
1/2 tsp garlic powder
1/2 tsp black pepper
1 roasting or fryer chicken (3 1/2 to 4 1/2 lbs)
1 cup chopped onion, approx 1 medium to large onion
4-5 carrots, scrubbed, no need to peel, chopped in halves or thirds
2 garlic cloves, peeled and smashed

1 apple sliced- I added this to the recipe. I put half inside the chicken and the rest on the outside
Directions:
Combine rub ingredients in a small bowl.
Remove chicken from packaging and remove neck and pouch with organs. Discard or reserve for later use in another recipe.
Rinse chicken and pat dry with paper towels.
Rub garlic and rub ingredients all over outside and inside of the chicken. Put garlic, onion, and apples inside the chicken.
Place onions and carrots inside the slow cooker. Place chicken on top of the vegetables. Cover crockpot and cook chicken on low for 4-8 hours.  Cook until the internal temperature of the leg is at 160 degrees F or use a pop-up thermometer.
Remove chicken and place in a 9×13 glass baking dish. Place baking dish in the oven under the broiler for about 4-5 minutes. (I didn't do this step because as I tried to pull the chicken out it completely tore in half. Use Julie's idea to use turkey lifters to take the chicken out. That's not something I own yet.)

After the chicken cooked I strained the broth to keep on hand to make other things throughout the week. Another great idea she had with the leftover chicken is to make chicken pot pies. I'm not usually a fan of crockpot foods. I keep trying and trying, but it always seems to me that they taste this same. Not this recipe. I really liked it! It's becoming one of our weekly staples. I plan to make it our Sunday meal so I can put it in before Church and not have to worry about making something at dinner time.
Instead of putting an onion and apple on the inside, you can use a quartered Lemon. That's what Julie used, but I didn't have one on hand.