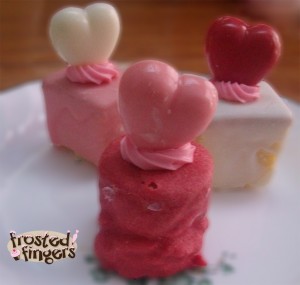 Looking for something quick and easy to take to a Valentine's Day party? How about some Petits Fours? Those little cakes always look like you spend hours on them. Mine are very simple and you can make them more elaborate by adding more decorations.
Ingredients:
16 oz Pound Cake
Wilton Candy Melts
Frosting
Directions:
Cut your pound cake in half lengthwise and then cut into 1″ cubes or use cookie cutter to cut shapes
Melt your Wilton candy melts according to package directions.
Place your cut pieces of cake on a cooling rack over a cookie sheet that is covered in wax paper. Pour your melted candy over the cake. Tap the pan to even it out.
Let cakes harden
Use your frosting to make a little rosette on top of the cake.
I used a heart shaped candy mold to make the little hearts and stuck them in the frosting. Wilton also sells a heart shaped pick candy mold, which is what I wanted to buy, but they were out of them at the store. The pick would work better because my little hearts kept falling over.