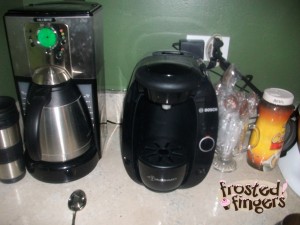 I have had the awesome chance to review the Tassimo T20 Brewbot. Let me tell you, this little machine has become my best friend! I was always wanting coffee, but I can only drink decaf. My husband has a pot of coffee all day, but it's regular. I never want to dump his to make some for me and I don't need a whole pot. Now that I have my Tassimo, not only can I make a cup of coffee whenever I want, but I can make a latte or cappuccino!
TASSIMO is the only Home Brewing system that gives everyone the drink theywant. From coffees and teas to rich cappuccinos and lattes. Even hotchocolate. Tassimo offers more than 40 beverage and flavor varieties to satisfyeveryone – from 13 distinctive beverage brands, including Milka, Gevalia, Maxwell House, Suchard, Mastro Lorenzo, Twining's , Kenco, Jacob's, TAZO ,®Nabob, Carte Noire and Seattle's Best Coffee. TASSIMO even satisfies yourcoffee-house coffee cravings with a great variety of Starbucks brands –including New Cappuccino Primo and Latte Primo.
My current favorite drink is the Gevalia Decaf Cappuccino with a little bit of sugar and a little bit of caramel syrup. YUM! Starting this week I'll be switching to sugar free caramel syrup and I'll be trying out Truvia. I want to make my coffee have as few points as possible! It's currently 4 pts a serving on Weight Watchers.
Through patented technology developed and designed by Kraft Foods, the TASSIMO brewer reads the bar code printed on each T DISC to ensure optimal brewing conditions, including the exact water amount and temperature. Because the brewing takes place inside the T DISC, consumers can prepare different drinks, one after another, with no flavor transfer from cup to cup. This ensures first-cup freshness and consistent taste every time.
I have only two complaints about the machine:
Not a lot of decaf options. I'd love a decaf latte option or even a skinny milk disk that you can buy separate from the espresso, because there's no decaf skinny cappuccino option.
That you can't reuse your disks or have a disk that you can fill with your own coffee.
I made a video of myself making a cappuccino, which I was going to embed here, however, I wasn't thinking when I filmed it and the camera is sideways. It's also a little dark. You can still go watch if you'd like: Paula's Tassimo Cappuccino. You can watch the Tassimo commercial for the Brew Bot. (No, it does not really dance. That would be fun, though!)

Buy It:
You can buy a Tassimo T20 at Amazon
, Walmart, Meijer and other major retailers.
Win It:
Your Winner

(confirmed)

Author: Karen
Website: http://themommytimes-scmomof2boys.blogspot.com/
Comment:

One of my lucky readers will win 1 free Tassimo T20 Brew Bot!
Mandatory Entry
Head to Tassimo and tell me what kind of beverage you'd enjoy making with your new Brew Bot.
Extra Entries
Come brew an awesome hot beverage on a new Tassimo w/ @frostedfingers and @boschappliances https://frostedfingers.com/2011/01/tassimo/
Become a Google Friend Connect Follower (on the right)
Subscribe to Frosted Fingers via RSS (2 entries)
Blog about this giveaway and link back to this post (2 entries)
Put Frosted Fingers button on your page. (worth 2 entries) code on right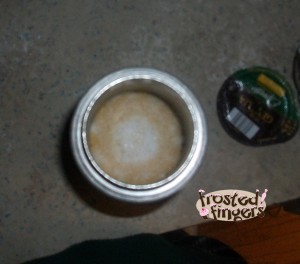 Giveaway is open to US readers only. It will close 1/17/11. A big thank you to Bosch appliances for allowing me to review a Tassimo and giving one to the winner. Tassimo gave me the brewer and products at no cost for review and all opinions are my own. Winner will be selected by the And The Winner Is plugin. Winner will be posted here on Frosted Fingers and notified by email. Winner will have 48 hours to claim the prize.
Other reviews: