I originally shared the recipe below back in January, but this is a GREAT Christmas morning breakfast and I'll be making it for my family. I love pouring syrup over mine and our current syrup of choice is Mrs. Butterworth's. They have come out with cute holiday bottles:
Win It:
One of my lucky readers will win 1 free Limited Edition Mrs. Butterworth's Holiday bottle.
Mandatory Entry
Tell me what your favorite food is to put syrup over or in.
Extra Entries
Make your holidays sweeter w/ @frostedfingers and Mrs. Butterworth's https://frostedfingers.com/2010/12/mrs-butterworth-stuffed-french-toast/
Become a Google Friend Connect Follower (on the right)
Subscribe to Frosted Fingers via RSS (2 entries)
Blog about this giveaway and link back to this post (2 entries)
Put Frosted Fingers button on your page. (worth 2 entries) code on right
Cream Cheese Stuffed French Toast

Ingredients
10 eggs
1 cup milk
1/8 cup favorite syrup
1/2 tsp cinnamon
about 12 thin slices of French bread
2 "spotty" bananas
4 oz cream cheese
Directions
1. In large bowl, whisk eggs and milk. Whisk in syrup and cinnamon.
2. In KitchenAid or using hand mixer, blend bananas and cream cheese until smooth and creamy. (I used my magic bullet the last time I made this and it made it creamier and easier to spread and also distributed the banana more evenly.)
3. In 8×8 baking dish, pour about 1/2 cup of egg mixture into the bottom of the dish, just enough to cover the bottom. Place bread on top of egg mixture to cover as much of the dish as possible.
4. Spread banana/cream cheese over the top of the bread. Cover with a more bread slices.
5. Pour the remaining egg/milk mixture over the top of the bread and cover with plastic wrap. Refrigerate at least 2 hours, but all day or overnight would be ideal!
6. Bake at 350 for 30 minutes. (I have a really old, crappy oven so it normally takes closer to 50 minutes for it to completely set up for me.)
Another tip from Erin: Use rice bread and rice milk for the dish if you are GFCF. And omit cream cheese…will taste great with just the bananas!
One thing I like about this recipe is I buy one loaf of french bread for less than $2 and I get garlic bread/croutons and to make the stuffed french toast twice out of one loaf. This week I plan on using my loaf to make French Onion Soup, Stuffed French Toast and some Garlic Bread to go with my chicken alfredo. Plus whatever garlic bread is leftover I will cut up to make croutons. YUM!
Bread ready for it's 2nd use, in the freezer bag: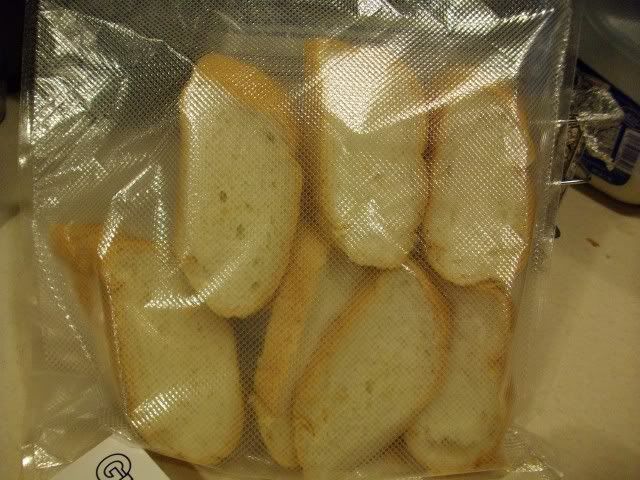 Egg mixture: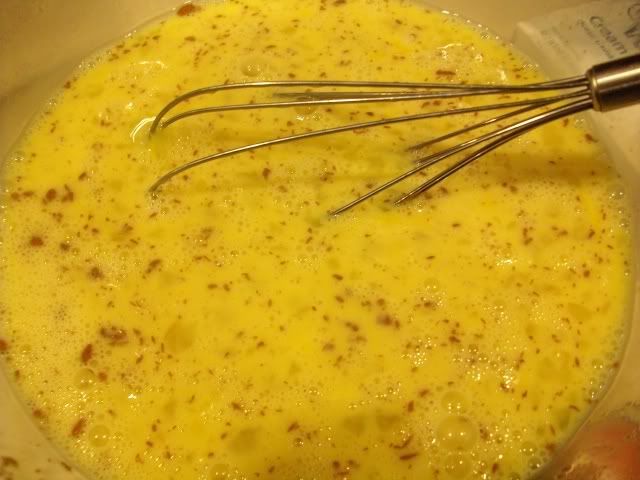 Cream Cheese mixture (after being blended in the Magic Bullet)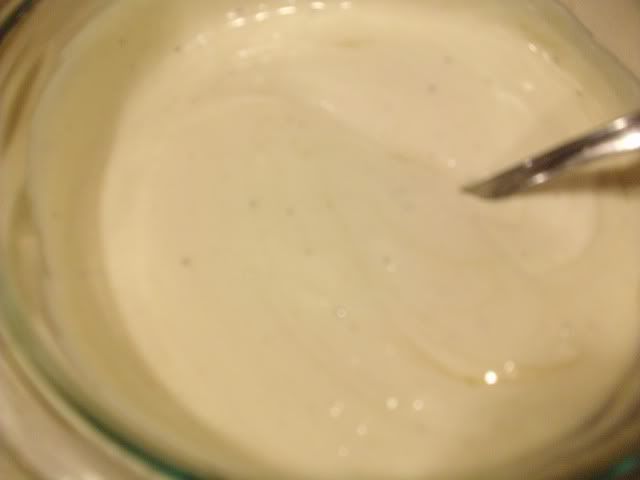 Egg Mixture on bottom of pan: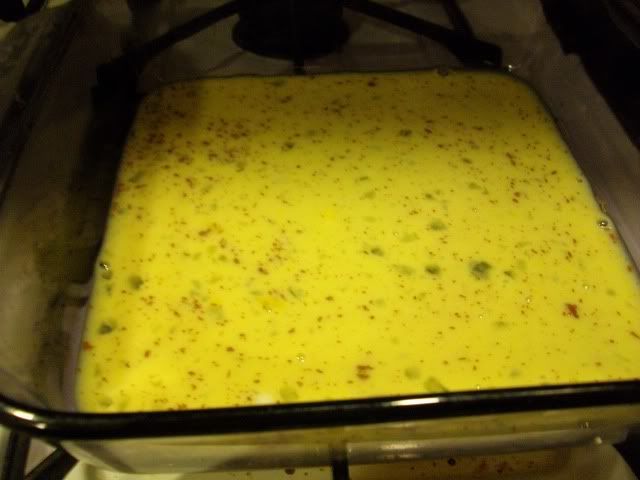 Bread on top of egg: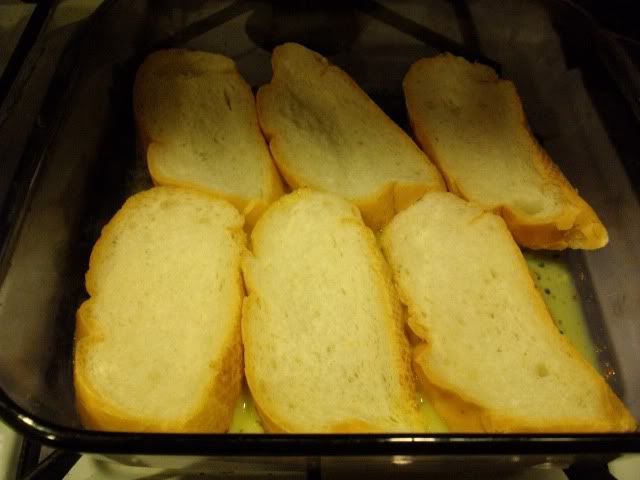 Cream Cheese Added: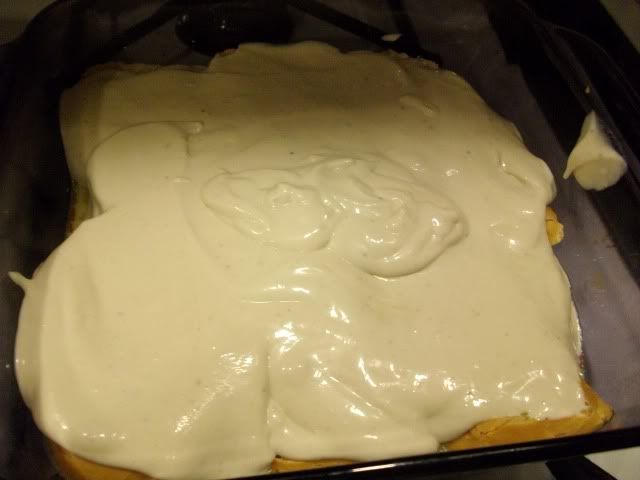 2nd Layer of Bread: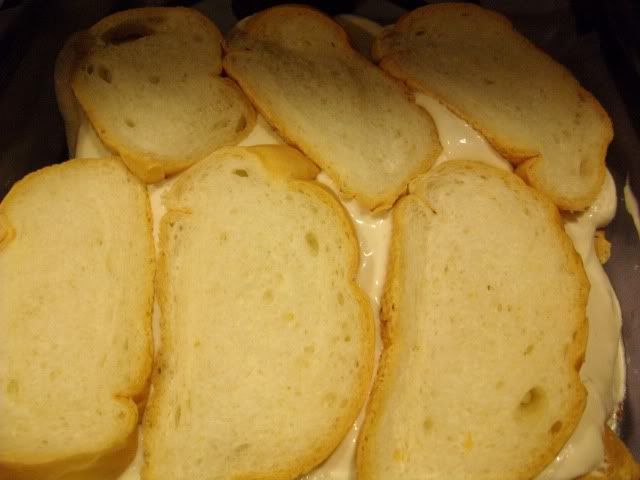 Egg mixture on top:

Ready to enjoy!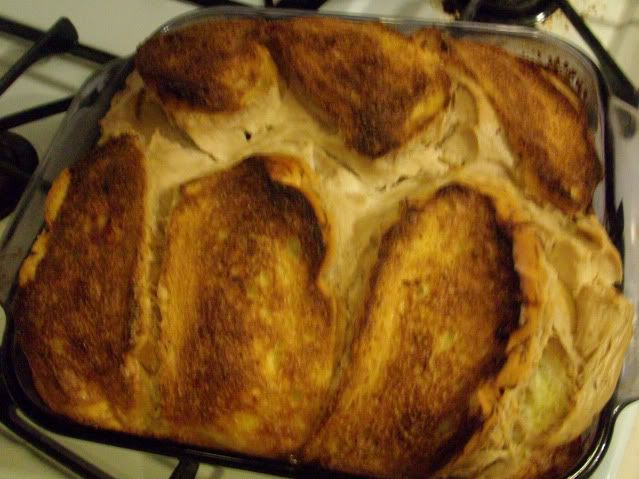 Recipe from Erin over at $5 dinners.
Giveaway is open to US readers only. It will close 12/27/10. A big thank you to Mrs. Butterworth's, Pinnacle Food Groups, and Family Review Network for giving me a bottle to review and one to the winner. While I received this item for review, my opinions are my own and I was not compensated. Winner will be selected by the And The Winner Is plugin. Winner will be posted here on Frosted Fingers and notified by email. Winner will have 48 hours to claim the prize.