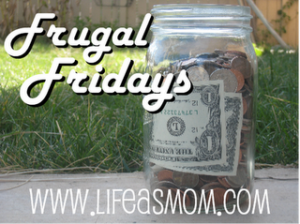 I'm finally jumping back into Frugal Friday. It is put on by Life as Mom. She wants us to share a tip a week about what keeps us staying in the Black. It feels good to get back to couponing. I didn't go all out this week. I went to two stores: Dominick's and Jewel. Jewel didn't go well because I went on a Wednesday to a smaller Jewel so they were out of a lot of what I wanted since it was the day before the sale change. I'm not even going to write about it because it's not worthy.
Dominick's
Make sure you sign up for Dominick's Just for U program. I got a free dozen eggs out of it. They give you personalized deals as well, but so far nothing else has helped me out. (This is also my first time back to Dominick's in a long time, so I'll give it a chance.) What was nice was that I also had 2 coupons loaded on shortcuts.com that worked in my favor as well.
Shelf price $49.16
Fresh Value Savings-$18.57
Mfg Coupons (Cats & RR) -$17.03
Total $13.56
72.42% Savings!
I can't wait to sit down and figure out deals for this week!!
Have a Frugal week!