I was so excited to be able to do a Wilton Review. I LOVE Wilton products. I took all four Wilton cake decorating courses over a year ago and actually started teaching classes at Hobby Lobby. I think due to the economy, people were just not signing up for courses. Due to no interest and my husband's schedule I gave it up. Anyway, back to the review 🙂 I was able to review Wilton's Checkerboard Cake Pan Set
, Wilton 25 pc. Basic Cake Decorating Set
and two sets of pre-made flowers. I'd love to say I tried out a new recipe and made my cakes from scratch, but unfortunately I'm in the midst of packing to move and just didn't have time. I ended up using a box of white and a box of strawberry cake mix to make this cake. I did make the frosting from scratch using Wilton's buttercream icing recipe. This was a different recipe than I am used to. It's different than the one published in the Wilton class books. This was the first time I used actual butter in a buttercream recipe! Instead of using clear vanilla this time I used some Nielsen-Massey Madagascar Bourbon Pure Vanilla. I'll be doing a review of that and The Food Allergy Mama's Baking Book soon. I love the way this buttecream frosting tasted. It was not as sweet as when I normally make frosting from scratch.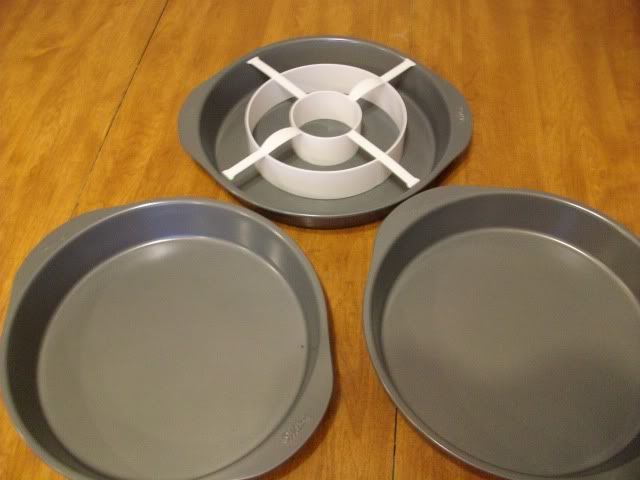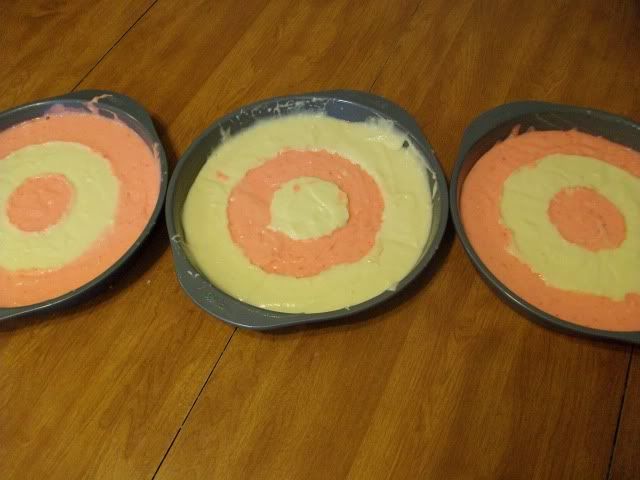 The pan set was very easy to use. You just alternate filling in the different sections of the dividing ring with each flavor of cake. You then lift the ring out, wash, dry and insert into the next cake pan. NOTE: be sure to only fill to the halfway point of the ring. I got to my last cake pan and did not have enough strawberry cake left. I had to dig cake out of my first pan in order to try to even it out. By doing that I screwed up the prettiness of the divisions. I was surprised that I ran out of cake. Going in to it I would have sworn I'd have leftover batter. (I guess I probably should have read directions somewhere, first!)
To be honest, this cake turned out to be one mistake after another. (
Definitely not a Wilton issue, but mine.) First I had the cake issue, not filling correctly, then while making my frosting I realized I didn't have enough Crisco to make my normal frosting or enough butter to make the new recipe! Next I FINALLY figured out how to make my frosting smooth and then screwed it up after already coloring the remainder of my white frosting green for the leaves. I made my frosting too soft so it just melted. I didn't center my pretty ring of flowers in the center and then rand my hand right into the top border and had no way of fixing it because I was out of white frosting.
Decorating Set
The set comes with: metal decorating tips 3, 16, 32, 104 and 352; 12 disposable 12 in. decorating bags; two tip couplers; 4 icing colors (.5 oz. each): Lemon Yellow, Pink, Sky Blue, Leaf Green; 1 1/4 in. flower nail No. 9; instruction booklet.
I only ended up using the star and leaf tip and the leaf green icing color from the kit. I wish I could have had the time to get more fancy with my decorating, but as it was I made the family miss Mass on Mother's Day because I was decorating the cake.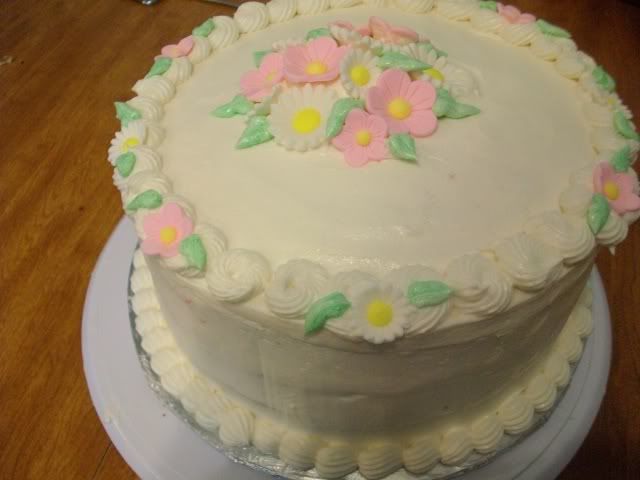 Buy It
You can purchase any of these items used on the Wilton site, most craft stores and other chains.
How would you like to win the same set I just reviewed?
Win It
Mandatory Entry
Head over to Wilton and tell me your favorite cake.
Extra Entries
Like Frosted Fingers on Facebook
Follow Frosted Fingers on Twitter
Tweet about this contest once every 24 hrs. Please include @frostedfingers and @wiltoncakes
Become a Google Friend Connect Follower (on the right)
Subscribe to Frosted Fingers via RSS
Like Wilton on Facebook
Follow Wilton on Twitter
Blog about this giveaway and link back to this post (2 entries)
Disclosure: Giveaway ends May 27. Open to US residents only. Thanks to Wilton for providing a sample for review and the giveaway prize. Opinions are 100% my own.
Winner is #104 Jenny Ford