Tres Leches Cake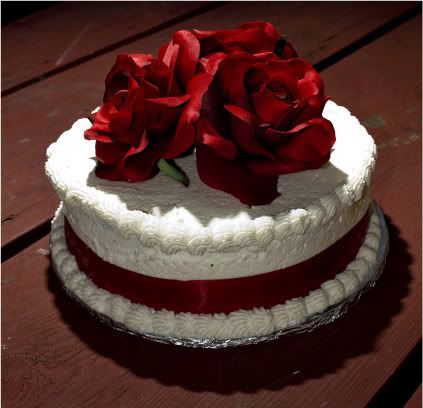 I made this cake three times this past week. I'm doing a wedding on July 3 and the groom really wanted this cake. I had to practice once, I made their taste test cake (shown on the right) and I made a baptism cake for my nephew's party on Sunday. (shown below) I got this recipe from The Pioneer Woman.  I didn't take step by step pictures, but if you want to see them you can check them out on her page, she did awesome with her directions. My biggest issue that I'm running into with this cake is how wet it is. The milks ooze out of the bottom making the frosting run. I need to figure out how to make it stable for a wedding cake. If you have any ideas, please let me know!
Ingredients
1 cup All-purpose Flour
1-½ teaspoon Baking Powder
¼ teaspoons Salt
5 whole Eggs
1 cup Sugar, Divided
1 teaspoon Vanilla
⅓ cups Milk
1 can Evaporated Milk
1 can Sweetened, Condensed Milk
¼ cups Heavy Cream
_____
FOR THE ICING:
1 pint Heavy Cream, For Whipping
3 Tablespoons Sugar
Directions:
Preheat oven to 350 degrees. Spray a 9 x 13 inch pan liberally until coated. (I use Wilton's Cake Release.)
Combine flour, baking powder, and salt in a large bowl. Separate eggs. (is there an easy way to separate eggs? I kind of juggle the yolk back and forth between the two halves of the shell until the whites have all fallen out.)
Beat egg yolks with 3/4 cup sugar on high speed until yolks are pale yellow. Stir in milk and vanilla. Pour egg yolk mixture over the flour mixture and stir very gently until combined.
Beat egg whites on high speed until soft peaks form. With the mixer on, pour in remaining 1/4 cup sugar and beat until egg whites are stiff but not dry.
Fold egg white mixture into the batter very gently until just combined. Pour into prepared pan and spread to even out the surface.
Bake for 35 to 45 minutes or until a toothpick comes out clean. Turn cake out onto a rimmed platter and allow to cool. (If you are using any other sized pan, make sure you watch your cakes. The cake shown above was in smaller pans and they cooked in probably half the time!)
Combine condensed milk, evaporated milk, and heavy cream in a small pitcher. When cake is cool, pierce the surface with a fork several times. Slowly drizzle all but about 1 cup of the milk mixture—try to get as much around the edges of the cake as you can.
Allow the cake to absorb the milk mixture for 30 minutes. To ice the cake, whip 1 pint heavy cream with 3 tablespoons of sugar until thick and spreadable.
Spread over the surface of the cake. Decorate cake with whole or chopped maraschino cherries. Cut into squares and serve.
Thank you so much Ree for posting an awesome recipe! I wanted to share it with my readers since so many people have recently asked me for it!