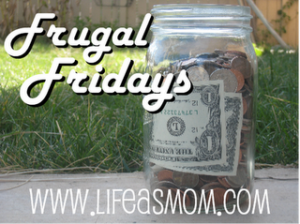 This is my fifth week taking part in Frugal Friday. It is put on by Life as Mom. She wants us to share a tip a week about what keeps us staying in the Black. Since I missed last week, this is actually two week's worth of shopping in one post.
Since I didn't blog last week, I wanted to catch you up on the past two weeks of shopping.
Please hop over to Life as Mom to check out more Frugal Friday posts!
Jewel
Week 1
Jewel had a good deal on Cocoa Pebbles where you could get a Cat and Your Bucks back. Skinny Cow ice cream cups were $1 each and I had a coupon for $1.50 off 4. I got all three Reach dental floss for free. Suave deodorant was on sale for $1.69 each, I had a $4 off coupon and got Your Bucks back!
Shelf Cost $52.82
Store Discount $18.26
Coupons $18.50
Total $16.06 on my Jewel gift card. I also received $8 in Cat back.
Total Savings $36.76 or 69.59%!
Not shown were two really quick deals I did.
1 Gallon of milk for .32 after cats. Savings 91.64%!
1 bag of marshmallows, 2 cans of evaporated milk, 1 container of parmesan cheese. .25 after cats!! Savings 95.65%!!
Week 2
Jewel is running a special right now that if you spend $30 on baby products you get a $10 cat back. If you buy 3 Lunchables you get $1 Your Bucks. Lunchables were on sale for $1.25 each and I had 3-$1 off coupons. I paid .75 for 3 Lunchables and got $1 back. I made .25! Strawberries were B1G1.
Shelf Cost $46.06
Store Discount $.75
Coupons $12.00
Total $33.31 on my Jewel gift card. I also received $11 in Cat back.
Total Savings $12.75 or 27.68% (Not a huge savings but I now have $10 to go get free pullups!)
Speaking of free pullups… I went back and got 2 packages of Jewel's Baby Basics brand pullups at $7.99 each ($15.98) and I used 2- $4 off coupons plus the $10 Cat. I made $2.o2 on the pullups! I also had a coupon from Nabisco from Facebook for Buy 1 Oreo and a gallon of milk and get a free Oreos. The garlic bread was B1G1. The Activia was 2/$4, I used 2-$1 off coupons and received a $2 Your Bucks back= Free! The Tortillas were $2.49 and I used a $1 off coupon plus I'll be getting $1.50 credited to my Upromise account so basically they were free. All was $3.99 and I used $1 off coupon and got $1.25 Your Bucks back. Also not shown in the picture was 1.5 dozen eggs and 3 loaves of bread for .88 ea.
Shelf Cost $66.22
Store Discount $10.34
Coupons $25.29
Total $30.59 on my Jewel gift card. I also received $3.25 in Your Bucks Cats back.
Total Savings $35.63 or 53.81%
Dominick's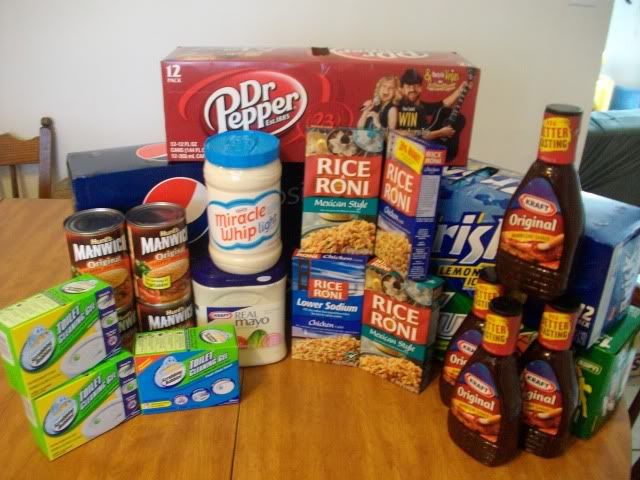 Week 1
Last week Dominick's had a nice sale on Soda (pop). It was buy 2 at $4.99, get 3 Free! They also had Manwich, Rice a Roni and Kraft BBQ sauce buy 4 and get them for .75 each. I had some Rice a Roni and Manwich coupons to help that deal out. Miracle Whip and Mayo was $1.99 each. Scrubbing Bubbles bathroom cleaners were $4.29 each plus get $3 Cat back and I sent in for a $5 rebate and had 3-$1 off coupons. I spent $1.87 for 3 toilet cleaners! (They really make my bathroom smell much cleaner!)
Shelf Cost $77.37
Store Discount $36.43
Coupons $8.50
Rebate $5.00
Total $27.44
Total Savings $49.93 or 64.53%!! (Plus $3 Cat)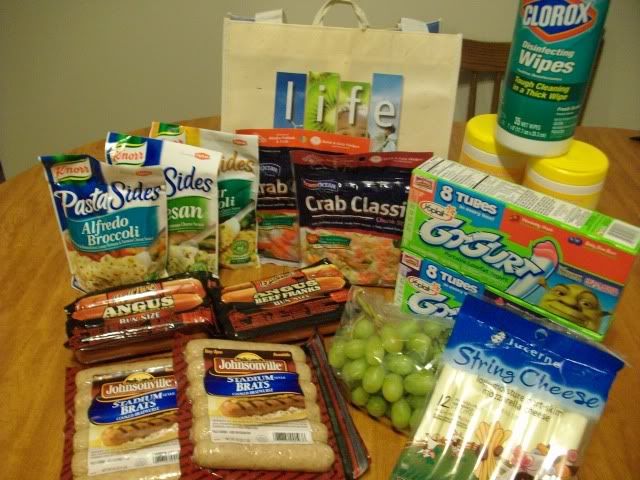 Week 2
I got Gogurt at $1.10 each. Brats at $1.49 each. Angus Beef Hot Dogs for $1.25 each. 2 packages of crab meat for free. Pasta sides for .56 each. Clorox wipes were on sale for $1.99 each. Not the best sale but we're getting ready to move. (I also use them every morning to clean up the litter box area.) I also got the reusable grocery bag for free.
Shelf Cost $57.08
Store Discount $20.69
Coupons $19.46
Total $16.93
Total Savings $40.15 or 70.43%!!
CVS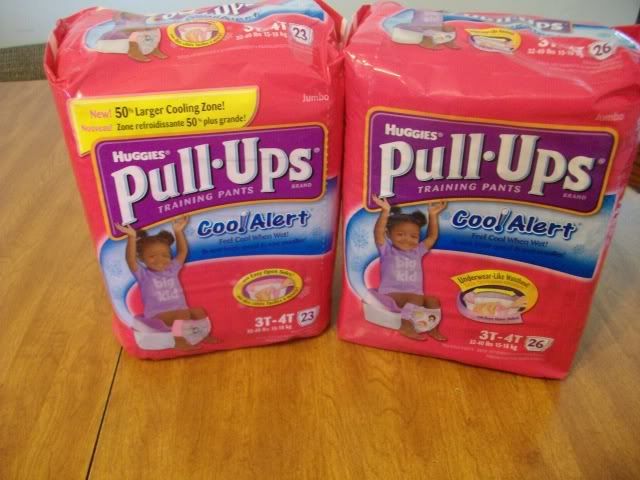 Week 1
CVS had a deal on Huggies products last week. I bought 2 pkgs at $8.99 each, used 2-$2 off coupons and 2-$6 ECB.
Shelf Cost $25.46
Store Discount $6.00
Coupons $16.00
Total $3.46
Total Savings $22.00 or 86.41%!! PLUS I got $5 CVS ECB back! I MADE $1.54 to walk out with 2 packages of Pullups!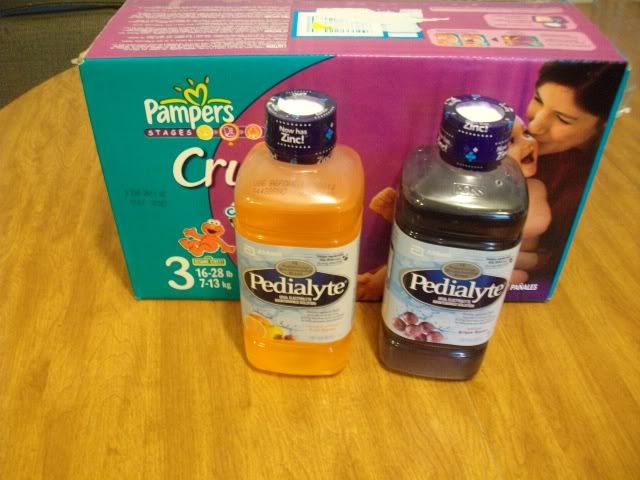 Week 2
This week they had a Pampers deal. (Little man will not run out of diapers for a long time! 3 cases in 1 week!) They had a deal where if you spent $25 you get a $10 ECB back. I had B1G1 on Pedialyte, scanned my CVS card and got a $4.50 CVS coupon, plus had a $2 off Pampers coupon.
Shelf Cost $36.79
Store Discount $5.00
Coupons $16.49
Total $15.30
Total Savings $21.49 or 58.41%! PLUS I got $10 CVS ECB back! ($5.30 for a case of diapers and 2 pedialyte!)
At the end of this week I still have $10 in CVS ECB and $11.00 in Jewel Cats and $3 in Dominick's Cats to start next week out right!
Have a Frugal week!
Please don't forget to enter my $20 Target Gift Card Giveaway