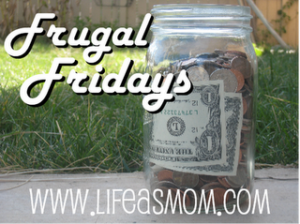 This is my sixth week taking part in Frugal Friday. It is put on by Life as Mom. She wants us to share a tip a week about what keeps us staying in the Black. Since I missed last week, this is actually two week's worth of shopping in one post.
This was a light week of shopping.
Please hop over to Life as Mom to check out more Frugal Friday posts!
Meijer
Trip 1
I didn't take pictures of either of these transactions. I was in a huge hurry to get home and use the items to make a cake for a client.
Trans 1
Supplies for cake:
Eggs, flour, milk, evap milk, cond. milk.
Shelf Cost $7.95
Store Discount $.77
Coupons $-
Total $7.18
Trans 2
I've been carrying around coupons for some free items so decided to get some of them. I got 3 hot sauce, chips, and Heluva Good Dip
Shelf Cost $7.01
Store Discount $.51
Coupons $6.44
Total $.06!!! Pretty dang awesome! I got everything for free
Total Savings $6.95 or 99.14%!!


Trip 2
I used up the rest of my free Frank's Hot Sauce, got a free DiGiorno (from house party) and free Sunchips (facebook fan). The bulk of what cost so much was we needed two radon tests for the new house.
Shelf Cost $67.51
Store Discount $6.06
Coupons $14.19
Total $47.26!
Total Savings $20.25 or 30%!
If I took off the Radon tests, though, it would bring my savings up to 60.39%
Target
I ran to Target to get a good deal on Scrubbing Bubbles cleaner.
Shelf Cost $24.35
Store Discount $0
Coupons $15.59
Rebate $10.00
Total $8.76 on a gift card (no money out of pocket)
Got a $5 gift card back, too!
Total Savings $25.59 or 105.09%!! (Plus $5 gift card!)
Kohl's
About a week ago I spent just a little over $100 at Kohl's to get all 3 kids outfitted for summer. Turns out it was during Kohl's bucks so I got a $20 Kohl's Bucks coupon to spend. I loved that dress for Monkey right around Easter because it came with a dress for her baby, too!
Shelf Cost $56.00
Store Discount $36.21
Coupons $19.79
Total $0!!!
Total Savings $56 or 100%!! I still have .21 left on my Kohl's Bucks but I won't be going back before the sale is over to use it. Well, maybe I will, because I bought Little Man some clothes and today found a GIANT box of clothes from Buddy that will outfit him for the whole summer. I may take back Little Man's clothes that he hasn't worn yet and get more for the other two.
At the end of this week I still have $10 in CVS ECB,$3.25 in Jewel Cats and $13.16 in Target gift cards to start next week out right!
Have a Frugal week!