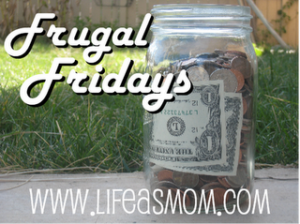 This is my first time taking part in Frugal Friday. It is put on by Life as Mom. She wants us to share a tip a week about what keeps us staying in the Black.
I used to spend probably up to $600 a month on groceries and eating out for my family. I'm trying to find ways to cut back. Two weeks ago I took the Super Couponing class taught by Jill Cataldo. It was so much fun and it taught me a LOT. I've already shared a few of my shopping trips since taking the class. I plan on using my Frugal Friday post to tell you about my deals for the week along with any other money saving tips I can come up with as I go 🙂 Please hop over to Life as Mom to check out more Frugal Friday posts!
CVS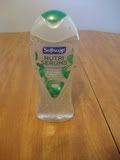 Not much going on there this week. I got a bottle of body wash. Probably not worth the stop in but after ECB it was a money maker.
1 Bottle of Soft Soap $4.99
Mfr Coupon -$1
CVS ECB -$2
Total $2.40 after tax
Received $4 ECB after sale.
Walgreens
I am regretting this trip. I should have just done the razors and laundry detergent. I almost never give my children OTC medicine. I didn't have my head in the game. I was hoping when I got there that the deal would apply to regular Children's Tylenol and not just cold products. It didn't but I didn't think it through. All I was thinking was "get this done and get home." The Tylenol was not a bad deal, I just wish I hadn't done it. Life and learn.
Tylenol Cold $4.99 ea x2= $9.98
Mfg Coupon $3 off 2
Total= $6.98
Get $5 register rewards back
Total $1.98 for 2 or .99 each.
The part that bothers me is the spending $6.98 per pocket on 4 transactions when I never use the stuff. Sigh.
Purex was B1G1F at Walgreens + B1G1F Coupon= 2 bottles FREE!
Razors $8.99 on sale
Mfg Coupon $4 off
Total= $4.99
Get $3 register rewards back
Total $1.99 each.
I had one mail in rebate, as well. So one is actually going to pay me back $7.
I should now have enough razors for myself for the year!
Jewel
This one probably excites me the most. I didn't use any regular coupons on this transaction. Had I looked around I MAYBE could have found one or two coupons for what I got. What excites me, though, is this: These are mostly my normal weekly groceries; fruit, lunchmeat, bread; and a few staples I ran out of. I took this all home for $8.19 out of pocket!! I had so many Register Rewards and Jewel Catalinas that I got to save a TON.
Shelf price $59.93
Preferred Savings-$10.74
Mfg Coupons (Cats & RR) -$41
Total $8.19
86.33% Savings!
There was one more Jewel deal I did not take a picture of but it was a jar of pesto sauce, box of angel hair pasta (featured on Taste Test Tuesday) and a Colgate Toothpaste.
Shelf price $7.62
Preferred Savings -$2.30
Mfg Coupons (Cat) -$5
Total .32 out of pocket! (Plus I received a $1 Cat from the toothpaste)
95.8% savings!
At the end of this week I still have $9 in CVS ECB and $12 in Walgreens Register Rewards to start next week out right! Total money out of pocket for all shown up there: $46.02! Not bad for weekly groceries, 4 razors, laundry detergent, and a bunch of Children's Tylenol cold.
I just have to keep my husband's nagging in my head to not do deals I don't need *cough*children'stylenolcold*cough*!
Have a Frugal week!
Please don't forget to enter my $20 Target Gift Card Giveaway