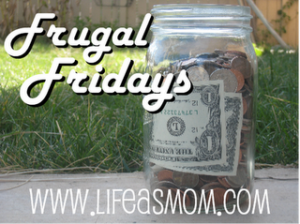 This is my fourth week taking part in Frugal Friday. It is put on by Life as Mom. She wants us to share a tip a week about what keeps us staying in the Black.
Please hop over to Life as Mom to check out more Frugal Friday posts!
Meijer
This was actually from last week but I forgot to post it. Whoops!
They had Oscar Mayer Hot Dogs on sale for 2/$3 plus you got a $2 Catalina for your next purchase. Barilla pasta was on sale for .79 and I had 12- .55 off coupons! Rice a Roni was 5/$5. I used my 2-$2 Catalinas from the hot dogs and got the Rice a Roni for 5/$1.09!!
Shelf Cost $29.95
Store Discount $9.11
Coupons $10.60
Total $10.24
Total Savings $19.71 or 65.81%!
Jewel
I am super proud of this deal! I had a free coupon for the cat litter and Heart to Heart crackers. Bologna was $1 each and if you buy 2 you get a $2 Catalina. Edy's was B1G2F! I had a $4 off coupon for the pullups. It was just an amazing deal all around.
Shelf Cost $65.22
Store Discount $23.52
Coupons $33.69
Total $8.01…but wait, it gets better!
Jewel is running a special right now that if you buy a $250 gift card you'll get an extra $20 OR if you buy a $300 gift card you get an extra $30! I prepaid my groceries for the next few months buying a $300 gift card. I used part of my $30 gift card for this transaction making all of that up there FREE!!!
Total Savings $65.22 or 100%!!
Dominick's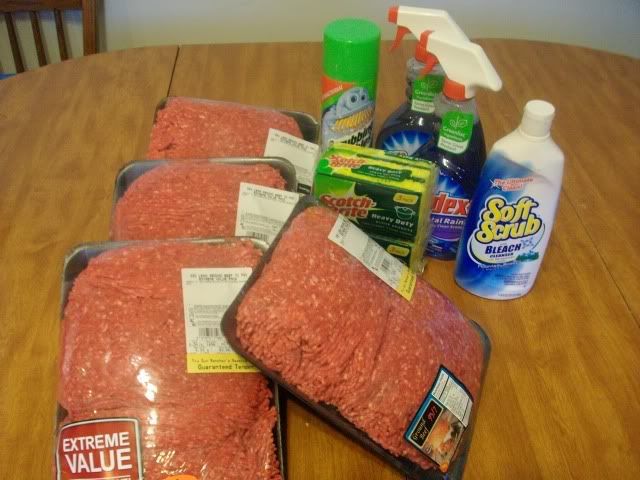 This week Dominick's had a B1G1F on meat sale! I bought close to 17 lbs of ground beef. They also had a sale on cleaning supplies that if you bought 3 or more the price dropped down to $1.99 each.
Shelf Cost $96.18
Store Discount $48.03
Coupons $3.00
Total $45.15
Total Savings $51.03 or 53.06%!!
CVS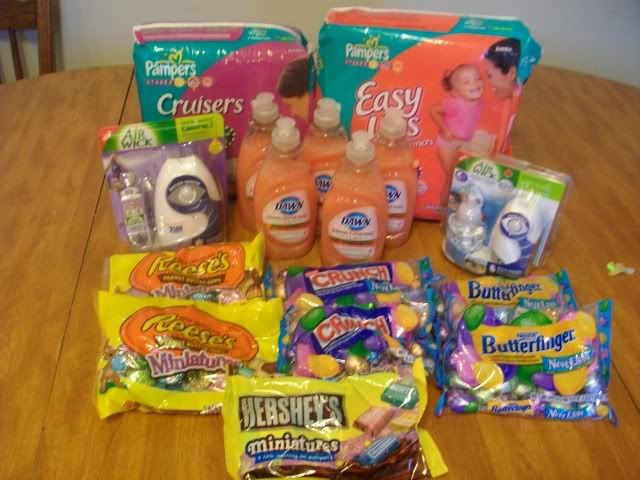 CVS had an Easter Candy and diaper sale where you could get ECB back . They also had Dawn on sale for .96 each and I had .50 off coupons.
Shelf Cost $82.76
Store Discount $20.19
Coupons $33.00
Total $29.57
Total Savings $53.19 or 64.27%!!
At the end of this week I still have $12 in CVS ECB and $13.50 in Jewel Catalinas to start next week out right!
Have a Frugal week!
Please don't forget to enter my $20 Target Gift Card Giveaway