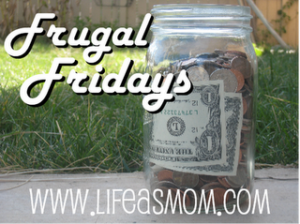 This is my third week taking part in Frugal Friday. It is put on by Life as Mom. She wants us to share a tip a week about what keeps us staying in the Black. Today she is featuring how to make your own instant oatmeal. I am definitely going to give this a try because, like her, we go through way too much in one meal!
Please hop over to Life as Mom to check out more Frugal Friday posts!
This week there were not that many deals. I went shopping twice. One time to Dominick's to do a coupon deal and the other time to Walmart to stock up on some stuff I've not seen couponing yet. Who would have ever guessed I would say this, but I no longer like shopping at Walmart. I spent $106.64 there. I wanted to cry when I saw that total! I was only able to find 2 coupons for what I needed and they were only worth $1.55. I was SO missing my special deals that day!
Dominick's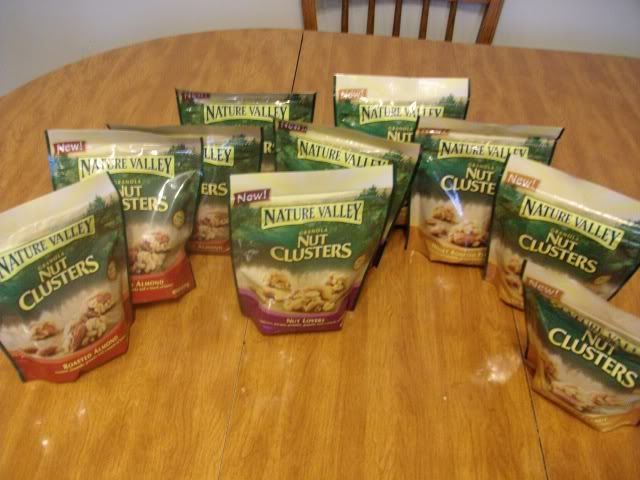 Dominick's had a great deal going with buy 5 get $5 off. I was able to get 10 bags of Nut Clusters (our new favorite snack) and one bag of M&Ms because Monkey wanted a treat for $6.53!
Shelf Cost $41.23
Store Discount $24.90
Coupons $9.80
Total $6.53
Total Savings $34.70 or 84.16%!!
At the end of this week I still have $9 in CVS ECB and $13.50 in Jewel Catalinas to start next week out right!
This week Dominick's is having a meat B1G1F sale so I will most likely be hitting that up! I need some more ground beef.
Have a Frugal week!
Please don't forget to enter my $20 Target Gift Card Giveaway