My kids love chocolate milk but I'm out of all things chocolate. No Ovaltine or Hershey's syrup. I came across this recipe and thought I'd give them one glass of flavored milk today. Just one, this stuff is SWEET!
1 cup of milk
2 Tbl of Jell-O geletin, any flavor (I used Berry Blue because I have a ton of it)
Pour milk into shaker and sprinkle Jell-O over the top. Shake very hard for at least one minute. Pour into glass and enjoy. (Or try not to have a sugar attack!) Also- Drink Fast! I have been sitting here sipping at mine while I write and upload pictures and all the Jell-O has settled to the bottom of my glass. Ick.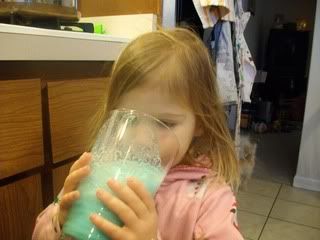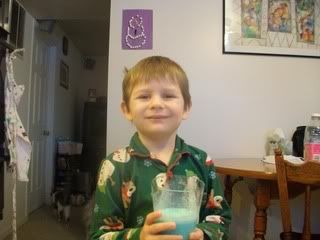 If you have any drink recipes you'd like to share, please send them to me! 🙂