Warning! This recipe is VERY addicting!
My sister made this recipe for our family Christmas party and I had to use it for Little Man's first birthday party on Sunday. It was a huge hit! People will stand around the cheese ball the whole party.
Prep Time: 20 Minutes
INGREDIENTS:
1 (8 ounce) package cream cheese, softened
1/2 cup butter, softened
3/4 cup confectioners' sugar
2 tablespoons brown sugar
1/4 teaspoon vanilla extract
3/4 cup miniature semisweet chocolate chips
3/4 cup finely chopped pecans
Directions
In a medium bowl, beat together cream cheese and butter until smooth. Mix in confectioners' sugar, brown sugar and vanilla. Stir in chocolate chips. Cover, and chill in the refrigerator for 2 hours.
Shape chilled cream cheese mixture into a ball. Wrap with plastic, and chill in the refrigerator for 1 hour.
Roll the cheese ball in finely chopped pecans before serving.
I missed the "mini" chocolate chips in the recipe and got regular sized. Mini would have been much better. I'm also not a huge nut fan so instead of rolling the ball in pecans I used crushed Coco Puffs.
Serve with your favorite cookies, pretzels, fruit, etc. I used Chocolate Cat Cookies from Trader Joes, and two types of graham cracker Goldfish crackers.
How it looks before the outer crust:


The Coco Puffs ready to be crushed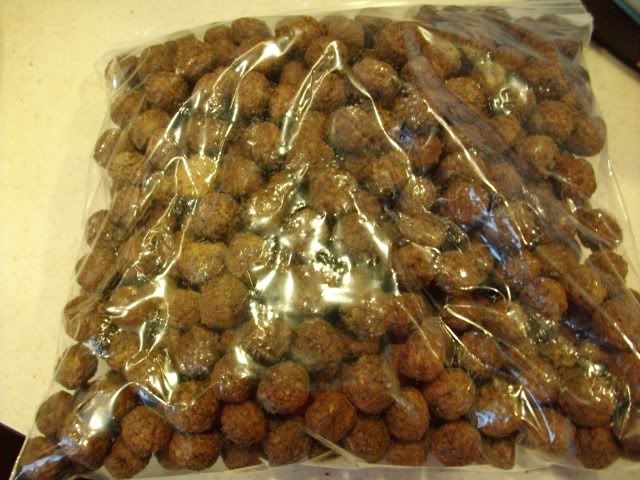 The final product: